Uncle Buck
John Candy delivers one of his best performances in director-writer John Hughes' outrageous comedy. As the carefree and irresponsible Uncle Buck, Candy finds a character who is both humorous and human. There's a lot of guffaws and pathos when Buck gets stuck babysitting his brother's three kids, including a rebellious teenage niece (Jean Kelly) and a sharp-as-a-nail young nephew (MacCaulay Culkin).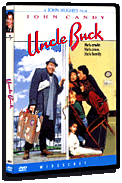 Filled with all sorts of comic mayhem, the film also wears it's heart on its sleeve. There's a wonderful side-plot involving Amy Madigan as Buck's put-upon girlfriend, and a hilarious turn by Laurie Metcalf as a hot-to-trot neighbor who finds Buck irresistible. Candy's best moment comes when he takes on a grade school principal, giving her a taste of her own medicine. A total delight.COMPLETE CHECK-UP VISION: [ X ] EXCELLENT [ ] GOOD [ ] RESUSCITATE [ ] D.O.A.
As good as it gets, a solid transfer that nails the original masters vivid colors and images. The 1.85:1 Anamorphic widescreen ratio is maintained, but the single-layer disc skips the pan-and-scan version altogether.
HEARING: [ X ] EXCELLENT [ ] GOOD [ ] RESUSCITATE [ ] D.O.A.
The Dolby Digital Surround track separates the on-screen shenanigans nicely, and is available in Spanish and French as well. Skip around, because "Uncle Buck" is funny in any language.
ORAL: [ ] EXCELLENT [ X ] GOOD [ ] RESUSCITATE [ ] D.O.A.
Closed-captions in English, and sub-titles in Spanish.
COORDINATION: [ ] EXCELLENT [ ] GOOD [ X ] RESUSCITATE [ ] D.O.A.
There are no extras here aside from the scene selections and cast and crew bios. Not even a theatrical trailer. I'm not sure what I would add, but the screen tests for this film had to be a hoot.
PROGNOSIS: [ ] EXCELLENT [ X ] GOOD [ ] RESUSCITATE [ ] D.O.A.
Nice presentation resurrects the widescreen ratio, but there's not enough here to warrant a purchase unless you're a John Candy or "Uncle Buck" fan, or both. I'm both.
VITALS: $24.98/Rated PG/100 Min./Color/16 Chapters/Keepcase/#20317
ATTENDING RESIDENT: John Larsen
PATIENT: UNCLE BUCKBIRTH DATE: 1989HMO: Universal Studios Home Video