Animal House
I was in college when "Animal House" opened, and I remember laughing so hard that it hurt. It doesn't take a lot to make me laugh, yet "Animal House" spoke a language I knew all too well. It struck a chord with America, becoming one of the biggest grossing comedies of the 1970's, and launched the career of it's stars. It was the first film to sport the moniker of National Lampoon, the highly regarded satirical magazine that was popular with college students.

While it wouldn't be the last, it did capture the irreverence of the magazine perfectly. Only "National Lampoon's Vacation" would come close to matching the gross-out jokes, gags and downright bad taste. "Animal House" kick-started a cottage industry of high-profile raunchy comedies that include the "Porky's" series of films. "Animal House" was there first, and did it better than all of the rest.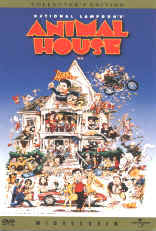 It featured classic themes we all could identify with, but presented them in such a twisted and hilarious way that everything in the film seemed fresh.
Who could resist John Belushi's star-making role as Bluto, the real animal of "Animal House," the human garbage disposal who never turned down a good time or a brew. Belushi's career was already cooking thanks to "Saturday Night Live," but he became red hot after the film was released. The film also served as a launching pad for Tim Matheson, Karen Allen, Kevin Bacon, Tom Hulce, and Peter Riegert. What made "Animal House" such a joy (besides the great cast, script and assured direction of a young John Landis) was that even during the film's most absurd moments, everyone sticks to their convictions.
It would have been so easy to turn to the camera and wink. Instead, the cast sticks to their guns, delivering performances that help ground the jokes in this alternate universe. You believe everything they say and do. Yes, some of it's in bad taste or just cruel, but it never seems out of character in this film. There are so many memorable moments in "Animal House" that it's always a joy to watch the film again.
It's hard to believe that it's been twenty years since it's original release. That means a whole generation of college students who weren't even born when the film premiered can now enjoy it in it's original theatrical presentation on DVD.
COMPLETE CHECK-UP
VISION: [ ] EXCELLENT [ X ] GOOD [ ] RESUSCITATE [ ] D.O.A.
"Animal House" features a clean, faithful digital transfer with only a minuscule amount of visible compression artifacts. The 1.85:1 widescreen transfer (enhanced at 16:9 for widescreen televisions) looks decent. The color scheme is a little muted, but that was an artistic decision, not a transfer flaw. The flesh tones are warm and honest, while the color palette is strong but not spectacular. The blacks are impenetrable. The film occupies one layer of the RSDL disc, while the extras occupy the second.
HEARING: [ ] EXCELLENT [ X ] GOOD [ ] RESUSCITATE [ ] D.O.A.
"Animal House" features Dolby Digital 2 Channel Mono tracks in English, French and Spanish. They're not spectacular, but they do get the job done. Some of the dialogue mix is low, but overall, the sound is crisp and clear. You can't access the various language tracks by clicking on the audio change button. You have to go to the language menu and select the language there. What's that all about?
ORAL: [ X ] EXCELLENT [ ] GOOD [ ] RESUSCITATE [ ] D.O.A.
Closed captioned in English, subtitles in French and Spanish.
COORDINATION: [ ] EXCELLENT [ ] GOOD [ X ] RESUSCITATE [ ] D.O.A.
For a "Collector's Edition," this DVD is extremely light. There's a 30-minute behind-the-scenes documentary called "The Yearbook" that fondly looks back at the lunacy that transpired during the film's shoot. Most of the major players in front of and behind the camera check in to say their piece, while John Belushi's widow Judith recalls her husband's involvement in the film. The documentary, featuring interviews taped in 1998 for this DVD release, is okay, but doesn't go deep enough into the process of making the film.
There's lots of cute stories from the cast and writers, but not nearly enough actual behind-the-scenes footage. The only on location footage was shot by a local television news crew. There's one nice impromptu bit with director John Landis getting Belushi to go through a full range of expressions for the camera. Other than that, it's congenial but not concise. There's also the original theatrical trailer (which looks like Woody Allen got a hold of it during his "Zelig" days), cast and crew bios, and web links to the studio's on-line sites. "Animal House" is the second "Collector's Edition" of a John Landis film (the first was "The Blues Brothers"), and I can't understand why he couldn't have sat down with some of the cast members to record an audio commentary track.
One of the producers admits that a 175 minute version of the film existed at one time before it was trimmed down to 109 minutes. I'd like to see some of that deleted footage. Maybe some poster artwork and a gallery of photos? Perhaps Universal needs to come up with a mid-range price for DVD's that feature some of the extras like in "Animal House," but don't meet the requirements of a "Collector's Edition." $34.98 is an awful lot to ask for the film and a so-so documentary. The DVD also includes standard issue main and scene access menus.
PROGNOSIS: [ ] EXCELLENT [ X ] GOOD [ ] RESUSCITATE [ ] D.O.A.
While I count "Animal House" as one of my favorite comedies of the 1970's, I would think twice about purchasing rather than renting if you're not a die hard fan of the film.
VITALS: $34.98/Rated R/109 Min./Color/36 Chapter Stops/Keepcase/#20396
ATTENDING RESIDENT: John Larsen
PATIENT: ANIMAL HOUSE COLLECTOR'S EDITION
BIRTH DATE: 1978
HMO: Universal Studios Home Video