Mighty Joe Young
There are some movies that audiences immediately dismiss until their video debut. What does it for me is the coming attraction. I have purposely skipped certain films until their home video premiere because of a dubious trailer. Usually my instincts are right. Occasionally I'm the victim of a bad trailer.
I didn't see "Mighty Joe Young" in theaters when it opened last Christmas. I wasn't excited about the trailer.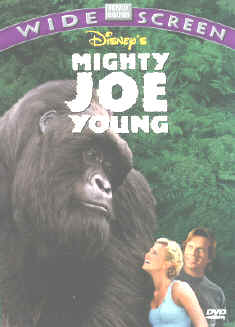 I guess a lot of people felt the same way, as "Mighty Joe Young" failed to live up to its box office potential. However, it has been a huge hit on video, where it's available as a sell-through item. It's easy to see the attraction.
Despite its mechanical plotting, "Mighty Joe Young" is grand adventure. The story is similar to the original 1949 film, although with the help of computers and advanced animatronics, "Joe" looks better than ever. Director Ron Underwood, whose "Tremors" was a great throwback to those campy 1950's bug movies, does a fine job of updating "Joe" without losing the goodwill of the original.
The film has a stalwart hero in Bill Paxton, who plays zoologist Gregg O'Hara. Paxton's wide as Texas grin is always welcome on the screen, and he's on the money here. He's working opposite the lovely Charlize Theron, whose body of work has shown growth as an actress. She's delightful as Jill Young, the orphaned daughter of a noted scientist who was killed years earlier by gorilla poachers. Carrying on her mother's work, Jill also acts as guardian to Joe, a rare 15-foot gorilla. When poachers learn of Joe's existence, Gregg convinces Jill to let him take Joe to a reclusive animal reserve where he will be safe. Unbeknownst to Gregg, the reserve is also being used as a way station for a notorious poacher who deals in animal parts.
Even worse, it's the same poacher who killed Jill's mother and tried to catch Joe. The plot is as old as the hills, but the cast is so appealing and the main attraction, Joe, is well executed, that you can't help but get caught up in the adventure. Like all great ape movies, Joe breaks loose and is on the run in the city, where he outruns police helicopters and finds himself at a seaside carnival. Rated PG, "Mighty Joe Young" contains just enough mayhem to make it exciting without offending the intended audience base. The supporting cast is good, including Rade Sherbedgia as the poacher, and Regina King and David Paymer as animal reserve specialists. It's not a masterpiece by any means, but "Mighty Joe Young" got a bad rap at the box office. It deserves better, and now you can share in the adventure.
COMPLETE CHECK-UP
VISION: [ X ] 20/20 [ ] Good [ ] Cataracts [ ] Blind
Sharp, vivid digital transfer retains the film's original 1.85:1 widescreen ratio, and delivers bright, exciting colors, outstanding flesh tones and impenetrable blacks. The original negative looks a little dirty, but the final product shows only a minute trace of compression artifacts. The image is clear and sharp, with good depth of field and attention to detail. Good color saturation without any bleeding. Nice job.
HEARING: [ X ] Excellent [ ] Minor Hearing Loss [ ] Needs Hearing Aid [ ] Deaf
Adventurous 5.1 Dolby Digital Surround puts you right in the middle of the action. Excellent stereo separation surrounds you with booming basses, outstanding dialogue mix, and an amazing front-to-rear spatial separation. The ambient noise is awesome, catching you off guard on occasion, while the high and middle ends are sharp and concise with no discernable noise or distortion.
ORAL: [ ] Excellent [ X ] Good [ ] Poor
Closed captions in English for the hard of hearing.
COORDINATION: [ ] Excellent [ X ] Good [ ] Clumsy [ ] Weak
There's a 3-minute behind-the-scenes publicity featurette with comments from the stars and some production secrets, but it's lightweight stuff. The main and scene access menus are handsome and functional, but lack any real character. Finally, there's the original theatrical trailer and some additional title suggestions.
PROGNOSIS: [ X ] Excellent [ ] Fit [ ] Will Live [ ] Resuscitate [ ] Terminal
I went ape over this film.
VITALS: $29.99/Rated PG/114 Minutes/Color/16 Chapter Stops/Keepcase/#16538
ATTENDING RESIDENT: John Larsen
PATIENT: MIGHTY JOE YOUNG
BIRTH DATE: 1998
HMO: Walt Disney Home Video