Death on the Nile
Agatha Christie has always been in favor in Hollywood, especially during the thirties and forties, when some of her most famous novels were made into chilling movies. The love affair waned during the late fifties and sixties, but the film version of "Murder on the Orient Express" changed all of that.

Released in 1974, the big budget film featured an A-list roster of stars and lush production design. Audiences were thrilled once again, and Hollywood took notice. They saw a formula and immediately capitalized on it. It didn't take long before Christie was back in fashion. The formula was simple. Get a bunch of good -looking International stars, bring them together in some exotic location, and then kill one of them.
Like Christie's novels, the films were filled with sparkling characters and plenty of red herrings. Audiences greeted each new entry with open arms, eager to play amateur sleuth alongside the film's master sleuths. In "Death on the Nile" and "Evil Under the Sun," the delightful Peter Ustinov plays Inspector Hercule Poirot, who always happens to be at the right place at the right time. Unlike Albert Finney's stuffy Poirot in "Murder on the Orient Express," Ustinov constantly turns on the charm as he interrogates on suspect after another.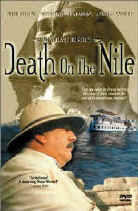 In "Death on the Nile," Poirot is on vacation, taking a luxury cruise down the Nile when an heiress is found murdered. The list of suspects is long, including Bette Davis, Angela Lansbury, Lois Chiles, Maggie Smith, Jack Warden, Mia Farrow, Jane Birkin, David Niven, and Olivia Hussey. It doesn't take long for a reluctant Poirot to take over the case, chasing the suspects around numerous Egyptian locales, including the pyramids.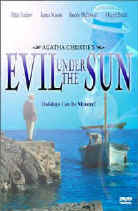 Ustinov pops up again as Poirot in "Evil Under the Sun," vacationing on a private island when a vindictive actress is found murdered. The usual suspects include Maggie Smith, Roddy McDowall, Diana Rigg, James Mason, Jane Birkin, Colin Blakely, and Sylvia Miles. Murder can be so ugly, but just look at all of the pretty people.
"The Mirror Crack'd" introduced Angela Lansbury as Miss Jane Marple, whose small English countryside village is taken over by a big Hollywood movie production. When murder strikes the movie set, amateur sleuth Marple begins her own investigation, using her crime detecting skills to single out the killer. Her suspects included Elizabeth Taylor, Kim Novak, Rock Hudson, and Tony Curtis, who chewed the scenery as fast as they could put it up.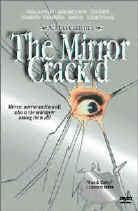 After "The Mirror Crack'd," audiences lost interest in Christie. The formula, which was copied extensively on television, was no longer fashionable. Even Neil Simon found plenty to make fun of with his affectionate spoof "Murder by Death." Audiences wanted more cutting edge fair, and found the ensemble mystery old fashioned.
Ironically, Lansbury went on to star in the long-lived mystery series "Murder She Wrote," where she played mystery writer/amateur sleuth Jessica Fletcher, who like Poirot and Marple, always found herself in the middle of a mystery. "Murder She Wrote" revived the formula, which mature viewers embraced.
Fortunately, for those of us who don't mind being called "Old-Fashioned," Anchor Bay has done a terrific job of bringing these films back into the marketplace. What makes these films so endearing is their ability to still entertain even when we know who did it. I watched all three films back to back and found myself totally involved in the mystery. Poirot and Marple are fun characters, and Ustinov and Lansbury have fun with them.
The supporting cast won't win any Oscars (as Ingrid Bergman did for "Orient Express"), but they do a an excellent job of creating a pleasant diversion. Most of these folks are old pros, and it shows in their work. All three films look great, with lush, handsome production design and sharp, vivid cinematography. How wonderful to travel from Egypt to Spain to England without leaving the comfort of my living room.
COMPLETE CHECK-UP
VISION: Good
DEATH: 1.85:1 Widescreen/16:9 Enhanced
MIRROR: 1.85:1 Widescreen/16:9 Enhanced
EVIL: 1.77:1 Widescreen/16:9 Enhanced
All three films are pretty much the same. The colors are okay, but not extremely vivid, while there is some residue from the digital transfer. It's nothing major, but it's there. Most of the time the images are decent, with warm colors and very little fade out. The whites aren't as pure as they could be, and in "Death on the Nile" the blacks don't hold up in some scenes. Flesh tones are always natural, and depth of field is impressive. Attention to detail isn't precise but good enough not to make it an issue.
HEARING: Good
DEATH: 1.0 Dolby Digital Mono
MIRROR: 2.0 Dolby Digital Mono
EVIL: 2.0 Dolby Digital Mono
The soundtracks are functional but present no challenge to your sound system. Delivered in the respective film's original mono soundtrack, the digital transfer sounds clean most of the time. A little background hiss in some of the quieter moments, but not earth shattering. Dialogue mix is strong, but don't expect too much more. Ambient noise is okay, but there's no bass action.
ORAL: Poor

No closed captions or subtitles.
COORDINATION: Okay
DEATH: Featurette "The Making of Death on The Nile," including interviews with Peter Ustinov, and some horseplay between him and Niven; Interviews with Peter Ustinov and Jane Birkin; Theatrical trailer that looks like it has seen better days; Talent Bios; Collector's Booklet.
MIRROR: Theatrical trailer; television Spot; Talent Bios; Collector's Booklet.
EVIL: Featurette "The Making of Evil Under the Sun," including the traditional publicity info; Theatrical trailer; Talent Bios; Collector's Booklet.
PROGNOSIS: Fit

An excellent gift for the mature mystery fan in your life.
VITALS:
DEATH: $24.98/Rated PG/140 Minutes/Color/Keepcase
MIRROR: $24.98/Rated PG/105 Minutes/Color/Keepcase
EVIL: $24.98/Rated PG/116 Minutes/Color/Keepcase
ATTENDING RESIDENT: John Larsen
PATIENT:
DEATH ON THE NILE (1978)
THE MIRROR CRACK'D (1980)
EVIL UNDER THE SUN (1982)
HMO: Anchor Bay Entertainment