Alien
I was fortunate enough to attend one of the first studio screenings of "Alien" in 1979. It was at the Academy Building in Beverly Hills, and the theater was about half-full. No one knew what to expect. All we knew was that it took place in space. They handed out t-shirts that evening (they were black, with the words "You are my lucky star" on the front, and the title on the back), and since the turn-out was less than half, they let us take all the t-shirts we wanted. Since most people never heard of the film, most people only took one. I grabbed about two-dozen (however, I waited until everyone else was seated just before the movie to snag the additional shirts…I wouldn't dare deprive someone else of a promotional item). I'm glad I did, because after the film, everyone wanted more shirts. I ended up giving my shirts to several friends in the business, but kept six for me. I still have several new shirts in a box somewhere, a reminder of that evening.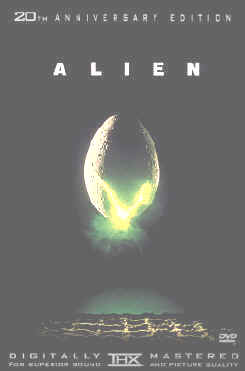 Like I needed a t-shirt to remind me of "Alien." It's a nice souvenir, but nothing will compare to director Ridley Scott's chilling space opera. While the film has been viewed and studied since its debut, nothing will match that first screening. I couldn't keep track of how many times audience members (okay, me included) found themselves either hanging from the rafters or hiding under their seats. Scenes that are so ingrained in our psyche today were startling back then. The film was filled with so many shocks and surprises that it was the equivalent of a roller coaster ride. Scott and writer Dan O'Bannon (working from a story by O'Bannon and Ronald Shusett) were relentless in their updating of those old dark house thrillers from the 50s and 60s. The plotting was basic and simple. Take a group of people and trap them in an environment with something nasty and hungry. Knock the cast off one by one as they make valiant attempts to track down their unwanted guest and eradicate him. Instead of grounding the action in a haunted house, the filmmakers look to the skies for their chills and thrills. What better environment to trap a group of people than in a spaceship? That's where we find the crew of the mining ship Nostromo, heading home after a long job. Their hyper-sleep is interrupted when the ship receives an SOS signal from a nearby planet. Reluctantly, a search party is formed and heads to the planet's surface. There, they discover a derelict alien ship that has crashed. Inside, one of the crew members (John Hurt) finds a cargo of alien eggs. When the contents of one of the eggs attaches itself to Kane (Hurt), Warrant Officer Ripley (Sigourney Weaver in her film debut) refuses to allow him back on the ship. Against Ripley's orders, Dallas (Tom Skerritt), the ship's captain, brings Kane aboard the Nostromo. Thus the fate of the crew is sealed as chaos breaks out. At first the creature (known as a face hugger) is only Kane's problem, but when it starts to breed, it becomes everyone's problem. Loose on the ship and growing with every encounter, the creature (which drips acid for blood) stalks the crew members until it comes down to a showdown between the alien and Ripley. Even though the plot sounds like a million others, it was how the filmmaker's put it up on the screen that made all the difference. Everything about "Alien" looked new and inviting, from H.R. Giger's alien design, which was truly monstrous, to the engaging dialogue and camaraderie between the characters. The actors are so vivid in their portrayals that you instantly know them, which makes their fates even more devastating. This instant familiarity also works against us, as the characters go through the same metamorphosis as the alien. Not everyone is what they seem. Scott and his technicians do an exceptional job of creating an atmosphere that is complete. Not once is the illusion ruined. The special effects (quite daring for the period) are awesome, including one scene that has become a classic in its own right. Jerry Goldsmith's musical score perfectly underscores the tension and suspense while helping create mood. Twenty years after its release, "Alien" still provides quite a punch. The surprise is gone, but the sign of a good film is how well it holds up after several showings. "Alien" still sticks to your face.
COMPLETE CHECK-UP
VISION: [ X ] 20/20 [ ] Good [ ] Cataracts [ ] Blind
Gripping 2.35:1 widescreen digital transfer (enhanced at 16:9 for widescreen televisions) delivers vivid imagery and strong, impenetrable blacks. The film's original color scheme survives intact, including its dark house look. That means blacks are extremely important to the tone of the film, and they stand strong. Colors are good, with excellent flesh tones that are realistic and flattering. Whites and shadows are clean, thanks to clean print that only shows some minor wear and tear. Compression artifacts are almost nil, while depth of field and attention to detail is powerful. Some flecking, but it looks like a negative issue, not a digital one. Color saturation is strong without bleeding, providing for a pleasant viewing experience.
HEARING: [ X ] Excellent [ ] Minor Hearing Loss [ ] Needs Hearing Aid [ ] Deaf
The DVD gives you several options here, including a remastered 5.1 Dolby Digital Surround soundtrack. There are also Dolby Surround soundtracks in French and English, and I'll be honest, I thought the sound mix on the French soundtrack was by far the most expressive. The 5.1 soundtrack seemed a little low, forcing me to crank up the volume in order to appreciate the dialogue. Not that I minded, but every time the music score would kick in, the windows in my neighbor's house would shatter. The English Dolby Surround track was good, with full-bodied sound and decent stereo replication. However, the French soundtrack pumped out the dialogue with authority, while the musical score sounded clean and pure. All three soundtracks sound clean, and the 5.1 does manage to impress with its remastered stereo split. Ambient noise is appreciable, while basses dominate when needed.
ORAL: [ ] Excellent [ X ] Good [ ] Poor
Closed captions in English for the hard of hearing, subtitles in Spanish.
COORDINATION: [ X ] Excellent [ ] Good [ ] Clumsy [ ] Weak
20th Century Fox Home Entertainment put a lot of time and effort into their "Alien Legacy" DVD collection, and judging from the first title in the series, the effort is more than obvious. "Alien" features some of the most impressive extras I've found on a DVD at this price point. The attention to detail is absolutely stunning. It appears that the creators of this special DVD have thought of everything. Here's what you get:

Absolutely dazzling main and scene access menus. Using the theme of the interior of the Nostromo, the animated 3-D menus are worth the price of the DVD. They are sensational. I had a blast navigating from special feature to special feature. I even visited some features several times just to enjoy the menus.

An in-depth, informative and very animated audio commentary with director Ridley Scott.

10 Deleted scenes, including the much-discussed ending where Ripley finds her crew mates cocooned in the bowels of the ship. Outstanding addition.

An art & photo gallery, including conceptual artwork by H.R. Giger and Ron Cobb, plus a healthy selection of still from the film and behind the scenes.

Two isolated music tracks, on featuring Jerry Goldsmith's fabulous score in its entirety, with additional, previously unreleased music, plus another isolated score with alternate music and dialogue from the film. I've always been a big fan of the film's music (I have the soundtrack), and the DVD provides me with even more. How can you go wrong?

Two outtakes from the film, the most notable being the scene where the "Alien" creeps up on Lambert. Scott trimmed the scene because he felt that it gave away too much of the alien and exposed the director's inability to make the creature look less human.

In a hidden feature on the main menu, if you move the highlight down to Scene Selection and then click right, you will highlight a screen that will take you to a special area where you can access the original transmission that the Nostromo receives, plus a crew manifest with dossiers on each crew member. Talk about depth and background. A lot of effort went into this little hidden gem, providing you with a full run down of the characters in the film. Don't miss this exciting feature.

Two theatrical trailers, plus two television spots.
PROGNOSIS: [ X ] Excellent [ ] Fit [ ] Will Live [ ] Resuscitate [ ] Terminal
I love movies that stick to your face, and this one won't let go.
VITALS: $29.99/Rated R/116 Minutes/Color/20 Chapter Stops/Keepcase/#4110430
ATTENDING RESIDENT: John Larsen
PATIENT: ALIEN: 20TH ANNIVERSARY EDITION
BIRTH DATE: 1979
HMO: 20th Century Fox Home Entertainment