Bride of Chucky
Before I go any further with this review, it's important to note two things:
(1) I have a "Chucky" doll hanging on my swinging lamp in the room where I write.
(2) I had a really nasty encounter with John Ritter at a charity benefit once, and ever since then I can't stand is guts.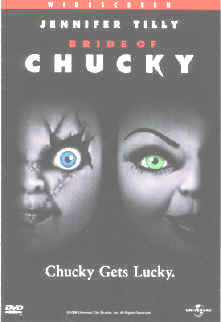 That said, you now know two more things about me: (1) I like the "Child's Play" movies; and (2) any film that kills John Ritter not once but twice has my vote. Since making his debut in "Child's Play" back in 1988, Chucky the killer doll has been very busy. He sliced and diced his way through two sequels, continually tormenting a young boy named Andy who was unfortunate enough to receive the doll as a gift. No reason to get into the particulars. Suffice it to say that when a serial killer (played by Brad Dourif) finds himself mortally wounded inside a toy store, he using an incantation to transfer his soul into the inanimate body of a Good Guys doll. Now named Chucky, the killer has spent three films trying to change his disposition, but to no avail. The last "Child's Play" was released in 1991. After an eight years absence, Chucky is back with a vengeance in "Bride of Chucky," possibly the most engaging sequel in the series. Creator-screenwriter Don Mancini wrote the fourth entry into the franchise, but left the directorial reigns to Hong Kong action director Ronny Yu. Yu breathes new life into the series with a fast and ferocious approach that is extremely kinetic. "Bride of Chucky" may only be 89 minutes long, but Yu packs so much into the film that you never feel cheated. He gets in, gets the job done, and then gets out. It also helps that the ultra-sexy Jennifer Tilly is along for the ride as Chucky's ex-flame Tiffany. Tilly is a hoot, a walking talking vamp who is reluctantly transformed into a doll by Chucky to teach her a lesson. Now both Chucky and Tiffany need human hosts to transfer into, and find them in young couple Jesse (Nick Stabile) and Jade (a very adult Katherine Heigl). Chucky and Tiffany catch the couple as they're trying to sneak away from Jade's creepy uncle Warren (John Ritter), who is also the local police chief. Jesse has agreed to take the dolls to New Jersey, not realizing that they're alive and evil. While on the road, the body count begins to grow (including Ritter, who gets a face full of nails, and is then stabbed to death). No one believes them, and even Jesse and Jade have a hard time believing it themselves when the dolls finally take over. I won't spoil the ending (yes, there's room for more), but the road trip alone is worth it. Mancini and Yu have a blast (literally) with their own brand of malevolence. There's a very splashy encounter with a semi truck (my favorite), and a honeymoon suite mishap that highlights the danger of having a mirror over your waterbed. I've always loved Chucky, but now I want a Tiffany doll. Talk about a wicked little vixen. Voiced by Tilly, Tiffany is saucy and sexy, and very deadly. She's hip, and that's where she shoots from. I hate to admit this, but Yagher manages to get emotional performances out of his mechanical creations. There's almost a sadness at the end when the inevitable happens. The human performers rise to the occasion as well. I can't recommend "Bride of Chucky" enough, especially for horror fans who will eat this stuff up.
COMPLETE CHECK-UP
VISION: [ X ] 20/20 [ ] Good [ ] Cataracts [ ] Blind
Excellent digital transfer delivers the goods and then some. Sharp, vivid images with great attention to detail and depth of field. The colors are exceptional, while the blacks and whites are top quality. Flesh tones are sincere and flattering, while the color spectrum is well represented without any noticeable bleeding or hot spots. No compression artifacts and a pristine negative used for the transfer deliver a clean transfer. The 1.85:1 widescreen transfer (enhanced for widescreen televisions) is superior on all counts.
HEARING: [ X ] Excellent [ ] Minor Hearing Loss [ ] Needs Hearing Aid [ ] Deaf
Boisterous 5.1 Dolby Digital Surround soundtrack is both playful and menacing. Good use of stereo surround effects fill the room with all kinds of rambunctious ambient noise and the giddy sounds of Graeme Revell's musical score. Booming basses and clean, crisp high ends with no noticeable hiss or distortion give the sound system a workout. The stereo split is sharp and precise, while the front to rear spatial separation sounds accurate. The dialogue mix is superior, while the ambient noise engulfs you in the chaos. Crank up the volume and prepare to rock and roll.
ORAL: [ ] Excellent [ X ] Good [ ] Poor
Closed captions in English for the hard of hearing, subtitles in Spanish.
COORDINATION: [ X ] Excellent [ ] Good [ ] Clumsy [ ] Weak
For a normal DVD release, "Bride of Chucky" comes with a lot of the extras found on special editions. For instance, you get not one but two running audio commentaries. One features the film's director, Ronny Yu, waxing eloquently (as well as he can in his limited English) about bringing his Hong Kong sensibilities to an American horror franchise. The second audio commentary features those darlings of the doll world, stars Brad Dourif and Jennifer Tilly, plus creator-writer Don Mancini. Theirs is a much more lively conversation, with the stars offering numerous interesting insights into playing killer dolls. Mancini checks in with his observations about creating an endearing horror franchise like the ones he grew up on. There's also a "Spotlight On" segment that goes behind the scenes of the film, and features both talent in front of and behind the camera. Chucky creator Kevin Yagher discusses the transformation of Chucky from a co-star to star. The DVD also features Jennifer Tilly's diary while making the film (some really funny observations), a history of the Chucky films, plus a healthy dose of production notes and talent bio (Brad Dourif's bio also includes a trailer for "Child's Play 2"), and handsome and efficient menus. Not bad for a DVD that isn't being billed as a "special edition."
PROGNOSIS: [ X ] Excellent [ ] Fit [ ] Will Live [ ] Resuscitate [ ] Terminal
Any movie that kills John Ritter not once but twice has my vote of approval. A killer movie with not one, but two killer dolls!
VITALS: $24.95/Rated R/89 Minutes/Color/18 Chapter Stops/Keepcase/#20521
ATTENDING RESIDENT: John Larsen PATIENT: BRIDE OF CHUCKY
BIRTH DATE: 1998
HMO: Universal Studios Home Entertainment