Stripes
The "Service Comedy" has been a staple of Hollywood since the silent era, and has entertained one decade after another with their military hi-jinks. Everyone from Abbott & Costello ("Buck Privates") to Martin & Lewis ("Jumping Jacks") were recruited to keep the troops happy, a tradition that continues to this very day.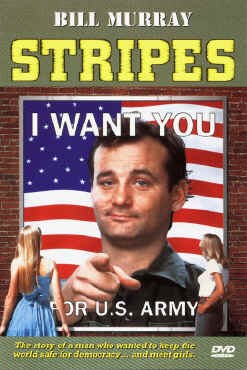 During the early 1980's, Goldie Hawn and Bill Murray were drafted into service, and the military will never be the same again. Hawn marched off with an Oscar nomination for her performance as "Private Benjamin." Bill Murray, hot on the heels of "Caddyshack," hit pay dirt with "Stripes." "Stripes" was one of those good, old fashioned service comedies influenced by the raunchy comedies of the late 1970's. Even with the profanity and bare breasts, "Stripes" still holds up. It's that good.
The gags are universal and timeless, and director Ivan Reitman, who worked Murray's skills as a comic actor to good advantage in "Meatballs," hits the target more often than not. I was primed for "Stripes," especially after seeing "Caddyshack" 900 times. I was ready for more off-the-wall randy humor, and "Stripes," with it's zany screenplay (with heart) by Len Blum, Dan Goldberg and co-star Harold Ramis, never disappoints.
It's filled with sharp, clever dialogue, goofy, widely drawn characters and one outrageous situation after another. There's even a healthy dose of adventure as the film wraps up with an explosive rescue operation. Murray is perfect as John Winger, a man who realizes that his life is going nowhere quick. When Winger loses his job, his apartment and his girlfriend all in one day, he knows he's due for a change.
So it doesn't take much coercion for Winger to consider joining the Army. His best friend Russell (Harold Ramis) is another story. Russell is a follower, and let's Winger talk him in to signing up. In true boot camp fashion, Winger and Russell are thrown together with a goof ball collection of recruits and a no-nonsense drill sergeant named Hulka (Warren Oates). It doesn't take long before Winger and Hulka clash, leading to comical conflict after another. Winger's platoon isn't just bad, they're pathetic.
They're the worst of the worst, and with any luck, their commanding officer will see to it that they repeat boot camp until they get it right. Things take a turn for the better when Hulka is injured in a freak accident, and the men are forced to complete their training on their own. That's like the blind leading the blind, but when push comes to shove, the men rise to the occasion and manage to graduate.
As reward for their initiative, the platoon is chosen to test a new Urban Assault Vehicle in Italy. Things really heat up when Winger and Russell borrow the vehicle to pick up their MP girlfriends (P.J. Soles and Sean Young) in Germany, and then find themselves on a mission to rescue their platoon who have strayed behind enemy lines looking for them. Director Reitman plays out the comedy on the broadest possible terms, and allows the sly dialogue and performances to ground the rest of the film.
The cast is uniformly funny, including such up-and-coming actors as Judge Reinhold, John Candy, John Larroquette and Dave Thomas. Murray and Ramis are the stand outs, and their chemistry is infectious. They play off each other like a well oiled machine. I feel in love with "Stripes" the first time I saw it in 1981, and seventeen years later, the love affair continues.
COMPLETE CHECK-UP
VISION: [ X ] 20/20 [ ] Good [ ] Cataracts [ ] Blind
The "flipper" DVD features both the original 1.85:1 widescreen and P&S version of the film, and both look marvelous. The digital transfer is sharp and vivid, displaying excellent color saturation and strong and bold blacks. The flesh tones are especially lifelike. Even with a smattering of compression artifacts in the form of little specks of white, the overall picture looks even better than when I saw it in a theater. Very enjoyable and easy on the eyes.
HEARING: [ ] Excellent [ X ] Minor Hearing Loss [ ] Needs Hearing Aid [ ] Deaf
Functional but not very expressive Dolby Digital mono soundtrack. The dialogue is strong, and there wasn't much distortion or hiss, but for the most part, what you hear is what you get.
ORAL: [ ] Excellent [ X ] Good [ ] Poor
Closed captions in English for the hard of hearing, and subtitles in French.
COORDINATION: [ ] Excellent [ X ] Good [ ] Clumsy [ ] Weak
Handsome, thematic main and scene access menus, plus theatrical trailers for "Stripes," "Ghostbusters," and "Groundhog Days."
PROGNOSIS: [ ] Excellent [ X ] Will Live [ ] Resuscitate [ ] Terminal
Who's you buddy? Who's your friend? The DVD of "Stripes" is. Now take your buddy out for a spin.
VITALS: $29.98/Rated R/106 Minutes/Color/28 Chapter Stops/Keepcase/#79169
John Larsen ATTENDING RESIDENT
ATTENDING RESIDENT: John Larsen
PATIENT: STRIPES
BIRTH DATE: 1981
HMO: Columbia-TriStar Home Video