The Day I Became a Woman
Somewhere in-between the propaganda and the political rhetoric lies an Iran that is seldom seen by the Western world. Most high school students would be hard-pressed to pick out Iran on a world map, much less express an opinion on the subject. Much of what we know about Iran comes from cable news sound bites.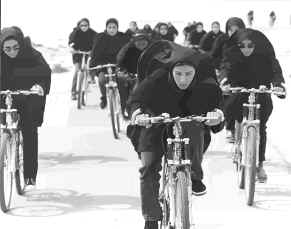 Which is why director Marzieh Meshkini's "The Day I Became a Woman" comes as a complete and pleasant surprise. It breaks through the stereotypes and sound bites to deliver a thoroughly engaging tribute to the spirit of freedom and womanhood.
The wife of noted Iranian filmmaker Mohsen Makhmalbaf ("The Silence"), Marzieh creates not one but three singular voices, each one a vital link to the others. Her trilogy of stories may feature different characters and locations, but they all share the same message. Marzieh's characters are strong and determined.
Like Havva (Fatemeh Cheragh Akhtar), a spirited little girl who is about to turn nine. In her custom, that means putting away childish things and becoming a woman. Havva rebels at the notion. She doesn't feel like a woman. She feels like going out with her friend Hassan (Hassan Nabehan) to buy some ice cream.
The film opens on the sail of a small boat. As the sail billows in the wind, we see that the small boat isn't going anywhere. It wants to move forward, but it can't. This image symbolizes the struggle women face in Iran. They have the wind beneath their wings, but are grounded by tradition and custom. They want to move forward, to evolve, but cannot. What little latitude women are given is explored in the film's three storylines, written by Makhmalbaf.
For instance, Havva negotiates an extra hour of childhood from her mother and grandmother, and instantly sets out to find her friend Hassan. She's given a stick by her grandmother that serves as a sundial. When the stick's shadow is gone, she must return home to become a woman. That leaves Havva little time to play.
When Hassan is unable to come out and play, trapped behind the barred windows of his modest house until he finishes his homework, Havva takes matters into her own hands. First she tempts Hassan to fake his homework, and when he refuses, she agrees to go get the ice cream.
Out of ice cream, Havva returns with candy and fruit, which she shares with Hassan through the bars on the window. There's real innocence in their exchange, especially as Havva feeds Hassan bitter fruit and shares a sucker with him. There's also irony in the reversal of their roles. Soon Havva will be separated from Hassan by the bars of tradition.
There's fierce determination in Shabnam Toloui's Ahoo, the second subject of the film. When we first meet Ahoo, she's participating in a bicycle race. It's an odd sight. Dozens of Iranian women in full black garb pedaling their bicycles. You just know they must be hot. Ahoo isn't just riding for victory, she's riding for her life.
One by one, in comical fashion, Ahoo's ride is interrupted by the men in her life. First her husband, who pulls up alongside her on horseback and demands that she stop riding and return home. He yells at the other women, "Why are you all riding? Don't you have a man?" It's obviously a male dominated society, but as long as she's on that bicycle, Ahoo is in charge of her own destiny.
Soon Ahoo's father and brothers and fellow tribesmen have joined the pursuit. Ahoo's husband even goes as far as brining along a religious man to end their marriage if she doesn't stop. I haven't laughed so hard in a long time.
We hardly know anything about Ahoo, but we want her to succeed. With each demand to return home Ahoo pedals faster and harder. It becomes obvious that the men in Ahoo's life are afraid of her succeeding. The segment ends with a truly powerful shot that leaves us and Ahoo's future in doubt.
The final story is filled with whimsy and a terrific performance from Azizeh Seddighi as Hoora, an old woman who arrives at an airport with enough money to buy everything she has always wanted. Frail, Hoora hires a local boy (a winning Badr Irouni Nejad) to cart her around town in a wheelchair.
Their shopping spree is filled with many flights of fancy, including a makeshift pit stop on the beach to inventory her purchases. In order to remember what she came for, Hoora has wrapped colorful pieces of cloth around her fingers. She removes them one by one until she is done. The one piece of cloth left on her finger remains a mystery, just as where all of the money came from.
It's not important. What is important is the freedom that Hoora enjoys. On her shopping list is a refrigerator, because she has always wanted cold water. Things we take for granted. The director's message is a little confusing. Does Hoora have more freedom because she's old and no longer bound by tradition, or has money bought her this freedom? Perhaps she's been cast aside and no longer has to answer to anyone but herself.
We don't get to spend a great deal of time with any of the women, but thanks to Meshkini's skillful direction, we get a true sense of who they are. Every one of the women show remarkable conviction and strength, plus deliver natural and inviting performances. We want to embrace their characters and spirit.
"The Day I Became a Woman" features a triumphant musical score by Mohammad Reza Darvishi who mixes traditional Iranian music with a jazz riff to create a bouncy, buoyant atmosphere.
Completed as her thesis for film school, "The Day I Became a Woman" shows director Meshkini's talent for storytelling. Her images and characters are vivid and memorable. They stay with you long after the film is over. I hope she got an "A". She deserves it.
WOMAN POWER
Iranian film explores diversity of its women
THE DAY I BECAME A WOMAN
Fatemeh Cheragh Akhtar, Hassan Nabehan, Shabnam Toloui, Cyrus Kahouri Nejad, Azizeh Seddighi, Badr Irouni Nejad. Directed by Marzieh Meshkini. Not Rated. 75 minutes.
LARSEN RATING: $5