EdTV
"Wyatt Earp." "Armageddon." "EdTV." With the exception of "Armageddon," sometimes it doesn't pay to be second. Literally. "Wyatt" Earp" had the bad luck to arrive after "Tombstone," while "Deep Impact" beat "Armageddon" to the punch. "Armageddon" managed to make a bigger impact at the box office.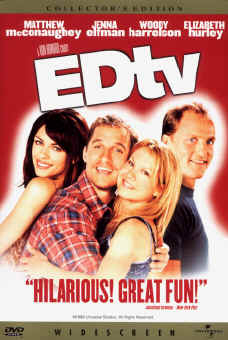 The same fate didn't await Ron Howard's comedy "EdTV," which failed to capture the revenue or reviews of the similar "The Truman Show." While "The Truman Show" remains an exemplary experience, "EdTV" isn't a bad movie. It just had the bad fortune to be released after "The Truman Show." "EdTV" would have done much better (without denting the experience of "The Truman Show") if it had been released before "Truman." Audiences were predisposed to see "The Truman Show" based on the strength of Jim Carrey's performance. Ron Howard and company had to work overtime to get what little recognition it did. I'm sure audiences will discover "EdTV" on video and DVD, and they'll be glad they did. Those who with DVD will appreciate the experience even more. Even though the premise is slightly similar, the two films are very different beasts.
Carrey's "Truman" was a man who had no idea that his life was actually a television show for the masses, Matthew McConaughey's Ed Pekurny actually volunteers to turn his life into a 24-hour television show. Ed does it for his brother Ray (Woody Harrelson), who needs a break in his life. The money and exposure could help Ray start his own gym. So immediately you like Ray because he's doing all of this out of love for someone else. It doesn't take long before celebrity catches up with Ed, whose personal life becomes a soap opera for millions of viewers who have put their own lives on hold to live vicariously through Ed. At first Ed's life seems rather mundane, but all of that changes when Ed falls for his brother's girlfriend Shari (Jenna Elfman).
Celebrity also begins to take its toll on Ed's family, who can't get a moment's peace. Like all Ron Howard films, especially those written by pals Lowell Ganz and Babaloo Mandel, the comedy is served up with equal doses of reality and heart. The filmmaker's try to keep it as real as possible, and to that end they have hired professional news cameramen to play cameramen in the film. Their video footage was incorporated into the filmed footage to create a unique visual experience that never seems fake. The script stumbles occasionally, but the cast is more than ready to pick up the pieces. McConaughey is the perfect actor to play Ed, a laid-back gentleman who still has a little growing up to do. There's a real sweetness to his approach, one that makes you forgive some of his immature behavior. Elfman sparkles as the girlfriend with a heart of gold, even if it gets a little tarnished towards the middle of the film. Harrelson is excellent as Ed's overbearing brother, while Sally Kirkland and Martin Landau stand out as Ed's parents.
Ellen DeGeneres is the film's voice of a reason, the cable executive who got the ball rolling and now realizes the impact it's having on Ed. The film is technically sound, including an effective musical score by Randy Edelman, punctuated with a great song score. I admire Howard for his ability to create characters and situations that matter, even if the situation is really out there. If we buy the characters, it is easier to accept their place in the film's universe. "EdTV" may not be a great film, but it does entertain on a high level.
COMPLETE CHECK-UP
VISION: [ X ] 20/20 [ ] Good [ ] Cataracts [ ] Blind
Outstanding digital transfer in the film's original 1.85:1 widescreen ratio, enhanced at 16:9 for widescreen televisions. Cheerful colors, outstanding blacks and extraordinary depth of field and attention to detail make for sharp and vivid images. Colors are natural, with good saturation. Flesh tones are perfect, while blacks are so strong they absorb light. Pristine negative allows for clean whites and shadows. No noticeable compression artifacts.
HEARING: [ X ] Excellent [ ] Minor Hearing Loss [ ] Needs Hearing Aid [ ] Deaf
Rambunctious 5.1 Dolby Digital Surround soundtrack completely involves you in every aspect of the film. Outstanding dialogue mix makes every line easy to hear, while the stereo mix is exemplary. Sounds not only surround you, they embrace you. Front left-to-right stereo split is effective, while the front-to-rear spatial separation sounds accurate. Rear speakers come alive with a plethora of sounds, including superior ambient noise that is authentic, and surround effects that are awesome. Basses are strong and appropriate, while middle and high ends are pure and clean. No noticeable audio hiss or distortion.
ORAL: [ ] Excellent [ X ] Good [ ] Poor
Closed captions in English for the hard of hearing.
COORDINATION: [ X ] Excellent [ ] Good [ ] Clumsy [ ] Weak
Universal Studios Home Video has included an impressive assortment of extras on this Collector's Edition DVD.

Not one, but two full-length audio commentaries. First up is director Ron Howard's commentary, and like the films he creates, the experience is both entertaining and engaging. Then there's a commentary by writers Lowell Ganz and Babaloo Mandel. These guys have been partners so long that they are completely in sync with their comments and insights.

An original behind-the-scenes documentary "Caught in the Camera's Eye" that dishes up everything you would want to know about the production of the film. There are interviews with all of the talent, both in front of and behind the camera, plus insights from everyone involved. The documentary is extensive.

More than 40-minutes of deleted scenes from the film. This is an outstanding effort, as it allows us to see what was shot and what was assembled into the final product. It also makes instant editors of the viewer. For instance, there were several scenes in the finished film that I would have trimmed in order to add some of the deleted footage that in my opinion added more to the character's depth and background. Regardless of the outcome, it is a delight to be able to see all of the hard work that didn't make it into the final cut.

There's also hilarious reel of outtakes that prove Woody Harrelson is a real joker on the set. Everyone else seems to have had a good time making this film.

A catchy soundtrack presentation, plus a menu that allows you to jump directly to your favorite songs in the film. Very impressive. There are also two music videos by Bon Jovi ("Real Life") and Barenaked Ladies ("Call and Answer").

Productions notes, cast & crew bios and filmographies, and theatrical trailers complete the package.
PROGNOSIS: [ X ] Excellent [ ] Fit [ ] Will Live [ ] Resuscitate [ ] Terminal
"EdTV" may not be in the same ballpark of "The Truman Show," but the film and DVD are a lot of fun.
VITALS: $34.98/Rated PG-13/124 Minutes/Color/18 Chapter Stops/Keepcase/#20560
ATTENDING RESIDENT: John Larsen
PATIENT: EDTV-COLLECTOR'S EDITION
BIRTH DATE: 1999
HMO: Universal Studios Home Video