The Sadist
Written and directed by James Landis in order to capitalize on the "Psycho" phenomenon, "The Sadist" is a textbook example of what happens when money speaks louder than logic. Based on the real-life Charlie Starkweather murders, "The Sadist" features Arch Hall Jr. as Charlie Tibbs, the psycho in question.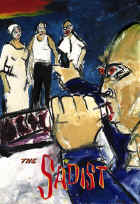 Hall comes from the Neanderthal school of looks and filmmaking, but found niche roles because his daddy had money. Too bad, because with Hall Jr. front and center, "The Sadist" would have been a much better movie. When the car of three teachers break down in a small, remote town, the trio search for help but find trouble in the form of psycho Tibbs and his mute girlfriend Judy (Marilyn Manning).
Basically a one-set psychological piece, "The Sadist" survives only a as a piece of nostalgic camp, and as a springboard for Oscar-winning cinematographer Vilmos Zsigmond ("Close Encounters of the Third Kind").
COMPLETE CHECK-UP
VISION: [ ] EXCELLENT [ X ] GOOD [ ] RESUSCITATE [ ] D.O.A.
Okay, here's the rub. The film features moody black and white cinematographer Zsigmond, and the transfer is remarkably clean and sharp. Unfortunately, the only complete print that survived was run through a projector and received some damage. The nicks and scratches stand out like a poodle at a pit bull conference. It's not that annoying, and the production notes explain what happened. Except for that, the film looks good. Presented in it's original widescreen format.
HEARING: [ ] EXCELLENT [ ] GOOD [ X ] RESUSCITATE [ ] D.O.A.
No big deal. 2-track mono. It gets the job done, but your sound system will feel let down.
ORAL: [ ] EXCELLENT [ ] GOOD [ ] RESUSCITATE [ X ] D.O.A.
Subtitles only if you read lips.
COORDINATION: [ ] EXCELLENT [ ] GOOD [ X ] RESUSCITATE [ ] D.O.A.
Extras? We don't need no stinkin' extras! Hey, the box cover features artwork by cult filmmaker and acclaimed artist (that's what the box says) Matt Sesow. What more do you want? There is an audio commentary by Zsigmond, but it's very low and hard to hear. He's better at shooting images than he is discussing them.
PROGNOSIS: [ ] EXCELLENT [ ] GOOD [ X ] RESUSCITATE [ ] D.O.A.
Only resuscitate for cult fans.
VITALS: $24.95/Not Rated/91 Min./B&W/27 Chapters/Keepcase/#97080001
ATTENDING RESIDENT: John Larsen
PATIENT: THE SADIST
BIRTH DATE: 1963
HMO: Allday Entertainment