Romy And Michele's High School Reunion
"Romy & Michele's High School Reunion" couldn't be any more relevant than it is now. Released two years ago, the film deals with two high school outcasts who were tormented by the more popular cliques on campus. Instead of dressing up in leather jackets and killing their classmates, Romy (Mira Sorvino) and Michele (Lisa Kudrow) just get on with their lives. You see, even though they're not popular, they're happy.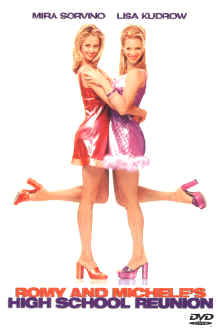 Even though they would like acceptance, they don't rely on it to fuel their existence. Instead, they focus their attention on things that matter to them, like fashion. If nothing else, Romy & Michele know fashion, or at least their idea of fashion. The film, directed with style by David Mirken from a witty screenplay by Robin Schiff, begins 10 years after graduation. Romy & Michele are still best friends, living together in a small apartment near Venice Beach in California. Romy is a cashier at a Jaguar dealership while Michele is out of work. That doesn't stop them from having the best time of their lives, which they celebrate by dressing up in their creations and hitting the retro dance floors of a local club.
Their carefree life is interrupted when Romy bumps into fellow classmate Heather (Janeane Garofalo) at the dealership and is informed about their upcoming reunion. Romy and Michele desperately want to attend, but are afraid to return and face their peers unless they have something to show for their lives. They decide to pretend to be successful business women (the one's who created Post Its), and complete the illusion with business suits they designed and a borrowed Jaguar. In a clever bit of plotting, we follow Romy and Michele to their reunion, where they not only pull off the ruse, but actually become the belles of the ball. Of course, that bit of business is all a dream, one followed by a real life nightmare.
After having a fight on the road, the two decide to split up when they arrive at the prom. Unfortunately, there's strength in numbers, and Romy & Michele are going to need all the help they can get when Heather unexpectedly shows up and exposes their lie. That doesn't help their cause, especially when the popular girls use the lie to embarrass them in front of the entire class. Romy & Michele may be down, but they're never out, and Schiff's screenplay rebounds nicely with sharp wit and lots of revelations. Mirken has chosen his cast wisely, as Mira Sorvino and Lisa Kudrow are just excellent.
The whole film rests on their shoulders, and these two create characters strong enough to accept that burden. Even though they are a little flighty and shallow, Romy & Michele become two valuable assets thanks to Sorvino and Kudrow. They make Schiff's dialogue sparkle. Janeane Garofalo is one of my favorite people, and she's so damn funny here. Alan Cumming also has some nice moments as Sandy Frank, the class nerd who grows up to become a multi- millionaire.
The dance he shares with Romy & Michele is so surreal it's hilarious. That is what I appreciated most about "Romy & Michele's High School Reunion." Its ability to not only entertainment me, but constantly surprise me. It's light, breezy, wicked, and always a lot of fun. If you have to get even with someone, do it by being yourself. It's more invigorating than shooting someone.
COMPLETE CHECK-UP
VISION: [ X ] 20/20 [ ] Good [ ] Cataracts [ ] Blind
Cheerful colors and strong saturation are just the tip of the iceberg of the digital transfer in the film's original 1.85:1 widescreen ratio. Outstanding flesh tones that look realistic, industrial strength blacks and pure whites and shadows. A minute trace of flecks, but thanks to a pristine negative, everything else looks sharp and vivid, with good depth of field and attention to detail. Compression artifacts aren't an issue. However, the vibrant color scheme is one of the most fluid I have seen. Each and every color of the spectrum shines with intensity, while their saturation never bleeds or fades. Overall viewing experience is one of joy and satisfaction.
HEARING: [ X ] Excellent [ ] Minor Hearing Loss [ ] Needs Hearing Aid [ ] Deaf
Lively, energetic 5.1 Dolby Digital Surround soundtrack is a great showcase for the film's catchy musical and song score. Nicely rendered dialogue mix makes each delicious line a keeper. Effective yet not overpowering stereo effects, plus lots of action in the rear speakers during the film's musical numbers. Good ambient noise and surround effects (helicopters taking off, etc.). Basses are okay but not powerful, while middle and high ends are clean and pure. No noticeable hiss or distortion.
ORAL: [ ] Excellent [ X ] Good [ ] Poor
Closed captions in English for the hard of hearing.
COORDINATION: [ ] Excellent [ X ] Good [ ] Clumsy [ ] Weak
The DVD features playful main and scene access menus, plus a production featurette and the film's original theatrical trailer.
PROGNOSIS: [ X ] Excellent [ ] Fit [ ] Will Live [ ] Resuscitate [ ] Terminal
Totally. For sure.
VITALS: $29.98/Rated R/92 Minutes/Color/17 Chapter Stops/Keepcase/#17378
ATTENDING RESIDENT: John Larsen
PATIENT: ROMY & MICHELE'S HIGH SCHOOL
BIRTH DATE: 1997
HMO: Touchstone Home Video