Monster In Law
The events that transpire in Monster-in-Law could only happen in the movies. Too bad they didn't happen in a better movie, or even a mildly engaging movie. No, they had to happen in this loud, abrasive, nails-on-the-chalkboard character comedy so over the top even the actors appear to lose consciousness.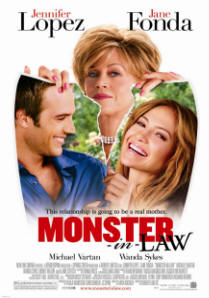 The air and jokes are awfully thin up there, gasping reminders that Monster-In-Law can't breathe new life into a corpse, or in this case, Jane Fonda and Jennifer Lopez. Apples and oranges, you choose. If you choose to see Monster-in-Law, you'll end up with sour grapes.
How else can you explain a broad comedy about broads which comes off so anorexic? The screenplay by Anya Kochoff is so slight and insignificant the actresses are forced to chew the scenery, and what a feast. By the time these dueling divas are done the only thing left behind are two big steamy piles of poop. And the award goes to…
After a fifteen year absence, Jane Fonda returns to the screen as a powerful television talk show hostess who has seen better days. With her assistant Ruby (Wanda Sykes, the only reason to see the film), Viola Fields (Fonda) struts the halls with the assurance of a seasoned pro. Perhaps a bit too seasoned, and when the network decides to skew for that all important younger demographic, Viola is unceremoniously released from her contract. Being the pro she is, Viola agrees to host one last show, taking down a mindless Britney Spears clone in the process.
After an extensive stay in rehab, Viola is ready to move on with her life, knowing she can always count on her doctor/son Kevin (Michael Vartan) for unwavering love and support.
Enter Charlie (Lopez), a professional temp, who is destined to walk dogs for a living while waiting for Mr. Right. Charlie shares her life with a small group of friends who only exist in the movies: Remy (Adam Scott), gay and sassy, and Morgan (Annie Parisse), whose catering gig conveniently brings Charlie and Kevin together. Well sort of. First she has to overcome his high rent friends who look down their noses at dog walkers, caterers, and people previously engaged to Ben Affleck.
Monster-in-Law eventually evolves into a battle of wills between the sour and dour Fonda, who is devastated when Kevin proposes marriage to Charlie in front of her, and the perky, beaming Lopez, who is more than up to the challenge. Now if only the script was equally as challenging instead of a series of silly one-upmanship between two women who deserve better. This is the sort of movie Fonda made back in the late seventies (Nine to Five), a high concept comedy where the line between fantasy and reality blurs.
Monster-in-Law is too high concept to be believable. Every set-up and pay-off is obvious and expected. Even the smallest moments feel like staged events. You know a film lacks subtlety when Wanda Sykes is the voice of reason. Don't blame Sykes, who not only steals the film from her high priced co-stars, she should be allowed to cash their checks. A highlight reel of Sykes' hilarious double-takes and snappy comebacks would be better than all of Monster-in-Law.
Directed by Robert Luketic (Legally Blonde) with an emphasis on farce, Monster-in-Law would make a better play, where these divas could project to the back row without fear of reprisal. On film, their antics are so gaudy and garish you wish they would end up bitch fighting in a mud pit. Now that's entertainment.
Dueling DivasLopez and Fonda Drop Another Bomb
Monster-In -Law
Jennifer Lopez, Jane Fonda, Michael Vartan, Wanda Sykes. Directed by Robert Luketic. Rated PG-13. 95 Minutes.
Larsen Rating: $3.00