Supergirl DVD
An act of desperation if ever there was one. Realizing that their "Superman" franchise had run out of gas, producers Alexander and Ilya Salkind turned their attention to the man of steel's pretty cousin, "Supergirl."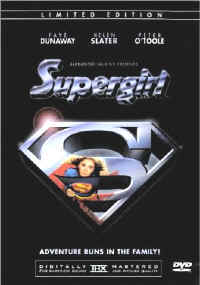 If you thought the last two "Superman" films were a disappointment, stay tuned. "Supergirl" takes the franchise to a new low, a product of bad writing, direction and acting. The special effects aren't really special, and emerge as an embarrassment of the time. Were the visual effects really this cheesy the first time I saw the film?
The story is pure comic book, and so is the acting by most of the cast. In a bold move, director Jeannot Szwarc allows virtually the entire cast to overact, chewing scenery faster than Marlon Brando at a Las Vegas buffet.
Helen Slater stars as Supergirl, who accidentally loses her home planet's power source and winds up chasing it to Earth. There, she becomes Kara, and enrolls in a private girl's school as a cover. When she's not teaching vulgar truckers a lesson, she becomes embroiled in a love triangle with Lois Lane's little sister Lucy.
When Supergirl tracks down the power source, she finds it in the grips of a sorceress named Selena, played way over the top by Faye Dunaway. Selena plans to use the power source to conjure up the ultimate in black magic. It's a world domination thing. Been there, done that.
What differentiates the film from the "Superman" series is that none of this is taken seriously. You expect some camp, but not total camp. There isn't one moment in the film that a midnight audience wouldn't hoot and holler at. The visual effects are just as one-dimensional as the performances and script.
Slater is rather lackluster as the woman of steel, taking poor direction instead of trusting her instincts. She's mostly hitting marks and trying to look good in the red suit. Dunaway is so bad that her performance in "Mommie Dearest" is a step up. Has this lady no shame? Her performance is so over-the- top you wonder if her star clout excluded direction of any kind. This is a Golden Turkey performance.
The rest of the cast is just as bad, including Brenda Vaccaro, taking time out from hawking Kotex to play Selena's spineless assistant. Hart Bochner looks terrific, but is given little to do but stand around with his shirt off. Peter O'Toole shows up briefly as the savior of Supergirl's home planet, while Marc McClure reprises his role of Jimmy Olsen from the "Superman" franchise.
The real problem lies in Szwarc's turgid direction, which really drags the film down. A spoof or a comic book approach really dictates a much shorter film. "Supergirl" just goes on forever, and on the Limited Edition of the DVD, that length is even longer. This is definitely a case where less would have been more. At it's current running time, the seams show. Tighter editing could have fixed some of the trouble spots.
"Supergirl" is one of those films you either love or hate. Those who really like the film will appreciate all of the effort that Anchor Bay went through to make this a special edition.
COMPLETE CHECK-UP
VISION: Good
Disc 1

2.35:1 Widescreen

16:9 Enhanced

RSDL
Disc 2

2.35:1 Widescreen

16:9 Enhanced
Decent widescreen digital transfer, but like the Army slogan, it's not all that it can be. The colors are attractive, but depth of field is limited and attention to detail comes and goes. Overall the images are sharp but not overly vivid, and there are some minute traces of compression artifacts. Blacks are okay but not industrial strength, and whites look clean. Flesh tones are specially attractive, and the color palette is accurate, perhaps a little warm. The director of photography was going for a comic book look, and it comes across with respect. Some of the source material in the extended versions is lacking, displaying some uncommon grain. Not bad, but not pristine.
HEARING: Good
Disc 1 & 2

Dolby Digital 5.1 Surround

Dolby Digital 2.0 Surround
Better-than-average soundtrack puts all of the elements into play, including a impressive surround track that attempts to put you in the middle of the action. The front sound stage is the strongest, with an excellent dialogue mix that keeps everything front and center, and some distinctive left-to-right stereo splits that show care was taken in the mix. The rear speakers are used for surround effects and musical cues, and they come through loud and clear. The front to rear spatial separation is only moderately defined, while the basses fail to rock the Casbah. The middle and high ends are clean, with no noticeable hiss or distortion.
ORAL: Good
Disc 1 & 2

Closed Captions for the Hard of Hearing
COORDINATION:
Disc 1

10 Minutes of extra footage not seen in theaters. In this case, it's not much of a draw. The film is too long as it is.

Full-length audio commentary featuring director Jeannot Szwarc and special project consultant Scott Michael Bosco. Fortunately, Szwarc, who directed one of my favorite romantic films ("Somewhere in Time"), explains why the film looks the way it does. He confesses that the visual effects are indeed rudimentary by today's standards, and goes into great length at how difficult they were to achieve without computer technology. I wish he would have explained his decision to allow the actors to play every scene like a melodrama.

"The Making of Supergirl" featurette, which is a pretty intensive look at the mechanics of making a special effects epic. Included here are the customary interviews and on-set shots, plus some interesting behind-the-scenes secrets.

Nice collection of domestic and international trailers.

Television spots.

Original Storyboards.

An extensive still and poster gallery.

Cast & Crew bios.

Animated main and scene access menus
Disc 2

The Director's Cut of the film, with animated main and scene access menus.
PROGNOSIS: Good

Okay, so I wasn't high on this film. There are those of you who are. This is a must have for fans of the film.
VITALS: $29.99/Not Rated/124 & 138 Minutes/Color/24 Chapters/Keepcase
ATTENDING RESIDENT: John Larsen
PATIENT: SUPERGIRL-LIMITED EDITION
BIRTH DATE: 1984
HMO: Anchor Bay Entertainment