Unfaithful DVD
Does the world really need another thriller about the reverberations of adultery?
In director Adrian Lyne's "Unfaithful," we're asked to believe that content wife and mother Connie Sumner (Diane Lane) would jeopardize her marriage to successful and handsome husband Edward (Richard Gere) for a fling with womanizing book seller Paul (Olivier Martinez).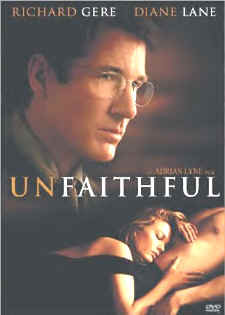 It's a bit of a stretch, but then so is Lyne's half-baked remake of director Claude Chabrol's seminal 1969 French thriller "La Femme Infidele." Lyne seems like the ideal choice to remake the sexually charged tale of love, betrayal and revenge. Except for "Jacob's Ladder," Lyne's films have been sexual odysseys like "Fatal Attraction," "Indecent Proposal" and "Lolita." What Lyne has done is turn a once-gripping thriller into a sexual morality tale that wallows in its own excess. "Unfaithful" is the film equivalent of a televised Southern California freeway pursuit. We watch for two hours hoping that something smashing will happen, and when it finally ends peacefully, we are disappointed.
"Unfaithful" is the B-side of Lyne's "Fatal Attraction." In that 1987 cautionary tale, Michael Douglas played a happily married husband who cheats on wife Anne Archer with deranged temptress Glenn Close. In "Unfaithful," it is the wife who does the cheating, but the results are pretty much the same.
Edward and Connie Sumner live with their 8-year-old son Charlie (Erik Per Sullivan) in one of those Home and Garden spreads in upstate New York. As Connie tends to Charlie and charity, Edward runs an armored car company. One day while shopping in SoHo, Connie is literally swept off her feet by a strong wind and into the arms of bookseller Paul Martel.
Noticing that she is bleeding, Paul invites Connie up to his apartment so he can tend to the wound. Connie is swayed by his French accent and unkempt look, eventually looking for excuses to go back into the city and into Paul's bed. While Edward ponders his wife's inattentive behavior, Connie and Paul find themselves making obsessive love in all sorts of places.
The writers wring a modicum of suspense from a sexual encounter between Connie and Paul in a coffee house bathroom as Connie's best friends (Kate Burton, Margaret Colin) wait for her. Once Edward catches on, "Unfaithful" settles down and becomes a traditional revenge thriller that rarely thrills. The director and writers are more interested in dissecting the dynamics of a marriage in trouble than dealing with the peripheral damage that the affair produces.
It's difficult for me to understand why Connie (Lane) would even consider cheating on Edward (Gere). He's Richard Gere, for goodness sake. If Connie were married to Tom Greene or Louie Anderson, I would have no problem accepting her indiscretion. Connie has a dream life, so it doesn't make sense that she would want to trade it in for a living nightmare.
"Unfaithful" was written by Alvin Sargent (Ordinary People) and William Broyles Jr. (Apollo 13), whose script remains faithful to Chabrol's original, but only up to a point. Anyone who has seen "Fatal Attraction" knows when someone strays from the marriage, something bad has to happen. Remember, this is a morality tale, so evil must be punished.
Lyne has assembled a sturdy cast, but the real revelation is the powerful performance of Diane Lane, who turns a conventional character into someone textured and complicated. Lane has always been endearing, but here she's also vulnerable and enigmatic. For the plot to move forward, we have to believe Connie's evolution from complacent Westchester County wife to reckless adulteress.
Lane takes us through her character's journey with self-confidence, turning common moments into soulful expressions. After her first sexual liaison with Paul, Connie finds herself reliving the experience on a train. The more she remembers, the hotter she becomes, until she can't hide her embarrassment anymore. Even though Lane takes off her clothes during the film, she is never more naked than she is here.
Gere is good as her understanding husband who slowly begins to realize he's on the end of a lit fuse. He would have been much better as Paul. Gere excels playing characters who know they're good looking and use it to their benefit. Olivier Martinez, the excellent French actor, has dark, smoldering European looks, but he is too conspicuous a choice to play Paul.
I could understand Lane leaving Martinez for Gere, but as cast, the triangle feels lopsided. Except for Connie, the writers paint all of the characters into a corner, leaving them very little to do expect the apparent. It's to the credit of the cast that we care enough not to ask for a refund.
"Unfaithful" has all of the ingredients of a successful erotic thriller, from a good-looking cast and slick production design. It's just too bad Lyne left the cake out in the rain.
DESSERT
Okay but not superior digital transfer looks a little grainy, but end result is a picture that doesn't embarrass itself. The transfer is a little warm and fuzzy to be considered sharp and vivid, but the colors are still flattering and flesh tones are warm and inviting. Blacks are not strong to the point of being solid, and details are a little lacking in some scenes. Since this is not a big budget, special-effects driven project, most of these little oversights are forgivable. Instead, concentrate on the pleasantly pleasing interiors that are long on atmosphere and mood, and the stark exterior scenes that are almost as cold and calculating as the plot. The Dolby Digital 5.1 soundtrack gets the job done, but there's nothing in the film's original soundtrack to make your system sit up and take notice. Dialogue is strong and center, while the occasional ambient noise peaks out from the rear speakers. Stereo split is there, but not showcase quality, while basses are missing in action. No noticeable hiss or distortion. International tracks include 2.0 Dolby Digital French and Spanish language dubbed.
Director Adrian Lyne contributes a scene-specific, feature-length audio commentary, and has a lot to say about his appreciation of the art form, French films, and connects the dots between this film and "La Femme Infidele." Lyne is always a pleasure to listen to, and his comments alternate between the process of making the film and his struggle to make the characters sympathetic enough to withstand the film's twists and turns. Diane Lane and Olivier Martinez also chime in with recorded comments on their approach to the character's motivation. While these comments are appreciated, they seem like afterthoughts to spruce up the contents. The DVD features eleven deleted scenes, plus the film's original alternate ending that was dumped in favor of the one that has left audiences scratching their heads. The deleted scenes are okay, but really don't really add anything to the final cut. A fifteen minute featurette entitled "An Affair to Remember: On The Set of Unfaithful" goes the distance and avoids the pitfalls of the commonplace PR piece. There is a lot of background information included here (ever wonder how to create a fierce windstorm in Manhattan?), plus some pivotal comments from the director and cast on the process of making the film. Editor Anne Coates gets her own little featurette, while Lyne, Gere and Lane sit down for a nearly twenty-minute chat with Charlie Rose.
The lead actors also sit down for a Q&A session, and the results are pretty much what you would expect. Lane gets the most screen time, and all three discuss their approach to the film and creating their characters. Anyone who has ever wanted to sneak a peak at the director's shooting script will appreciate the Director's Script Notes feature that allows just that. Tacked onto the DVD are upcoming trailers for "Daredevil" and "Dancer Upstairs."
UNFAITHFUL 2002
20TH CENTURY FOX HOME ENTERTAINMENT
RATED R
Richard Gere, Diane Lane, Olivier Martinez, Erik Per Sullivan, Chad Lowe, Kate Burton. Directed by Adrian Lyne. Rated R. 123 Minutes.
MAIN COURSE