Boogie nights
While some may find Paul Thomas Anderson's epic look at the adult film industry hard to swallow, there's plenty to recommend it. Anderson's sophomore film is a rare treat, an adult drama about an adult subject handled in an adult fashion. Anderson and his camera never flinch, but instead manage to get up close and personal with a randy group of adult filmmakers whose world is rocked during the late seventies and early eighties.
Mark Wahlberg is sensational as the naive busboy whose shorts are the real home of the Whopper.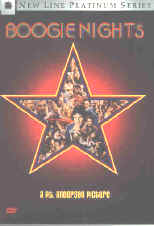 Before long, he's Dirk Diggler, the biggest new star in adult films. Dirk is taken under the wing of director Burt Reynolds and female adult star Julianne Moore, who become his surrogate family. Through thick and thin (usually thick), Dirk jumps from one life experience to the next, taking the adult film world by storm, and taking himself far too seriously.
Anderson's script is a multi-layered canvas of ordinary people caught up in the most extraordinary lifestyle. Outstanding cast includes Heather Graham, Don Cheadle and John C.Reilly as members of Reynold's stable, William H. Macy as a director whose wife will jump into bed with anyone but him, and Philip Seymour Hoffman as an assistant with a big crush on Dirk. Anderson sidesteps every opportunity to turn the proceedings into a seedy affair, instead delivering a stylish film that reminded me of Martin Scorsese. Not for everyone, but one of my choices as one of the top ten films of 1997.
COMPLETE CHECK-UP
VISION: [ x ] EXCELLENT [ ] GOOD [ ] RESUSCITATE [ ] D.O.A.
Director Anderson and director of photography Robert Elswit incorporated numerous film stocks in order to faithfully capture the time and place. The widescreen digital transfer mirrors the original film print. Anderson's dazzling camera angles and use of low, garish light would normally lend themselves to noise or some sort of distortion, but I didn't come across any. The 2.35:1 aspect ratio allows the carefully constructed scenes to fill the screen. The colors are hot and vibrant, the muted tones natural. Even the perfectly replicated adult film clips of the era look sharp in their own grainy sort-of-way.
HEARING: [ x ] EXCELLENT [ ] GOOD [ ] RESUSCITATE [ ] D.O.A.
Time to Boogie down! "Boogie Nights" makes excellent use of the 5.1 Dolby Digital Surround track. The film is chock-full of classic tunes from the late seventies-early eighties, and they sound better than ever on the well-defined stereo separation. Good mix puts the action in the right place. Interestingly, the 5.1 track is available in both English and French. Mmmm.
ORAL: [ x ] EXCELLENT [ ] GOOD [ ] RESUSCITATE [ ] D.O.A.
Subtitles in English, French and Spanish.
COORDINATION: [ x ] EXCELLENT [ ] GOOD [ ] RESUSCITATE [ ] D.O.A.
This New Line Platinum Series presentation is an excellent example of what all DVD's should strive to be. Forget the fact that there's no pan-and-scan version on the DVD. To fully appreciate the dizzying opening shot, you have to watch the film in widescreen. Both Diggler and this DVD are packed with extras. Join writer-director Anderson as he discusses the difficulties of making the film, providing insight that's not nearly as passionate as the film. Included are 9 deleted scenes that don't really bring anything new to the party, but are fascinating to watch. One features Heather Thomas stripping down again, so that's a plus for fans. Another is an extended sequence where Wahlberg and Luis Guzman keep going over a scene until they get it right. There's also a music video by Michael Penn, and a nifty feature that allows you to jump to your favorite song in the film. Great inter-active menus and the usual cast and crew bios complete the package, that like Diggler, is huge.
PROGNOSIS: [ x ] EXCELLENT [ ] GOOD [ ] RESUSCITATE [ ] D.O.A.
Some folks won't be able to look past the adult film angle to see a great film about extended family. Those willing will find "Boogie Nights" a unique experience. The DVD enhances that experience.
VITALS: $24.95/Rated R/155 Min./Color/37 Chapters/Snapcase/#N4650
ATTENDING RESIDENT: John Larsen
PATIENT: BOOGIE NIGHTS
BIRTH DATE: 1997
HMO: New Line Home Video