Possession
"Possession" isn't the latest Calvin Klein perfume, but director Neil LaButes' film of the same name still has the scent of an intelligent, romantic drama. I never had the courage to read A.S. Byatt's mammoth tome "Possession," but admire LaButes' courage to bring the tale of star-crossed lovers to the screen.
Some of Hollywood's brightest filmmakers have tried and failed. The stumbling block has always been the novel's size.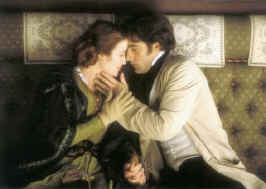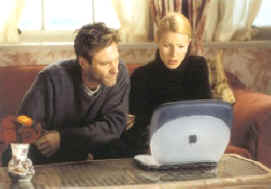 To his credit, LaBute, working from previous adaptation by playwright David Henry Hwang and Laura Jones (director Gillian Armstrong's wordsmith), has created a satisfying blend of modern day romance and Victorian mystery to please anyone looking for a film that features engaging performances, pin-sharp dialogue and consummate direction.
There's much to enjoy here, including a terrific set of performances from Gwyneth Paltrow and Aaron Eckhart as the modern day literary sleuths, and Jeremy Northam and Jennifer Ehle as the Victorian-age poets whose secret romance sets the plot into motion. LaBute uses narration to speed matters along, a verbal shorthand to help incorporate as much of the novel as possible into 102 minutes.
Gwyneth Paltrow, exploring a very subtle yet effective British accent, plays Maud Bailey, an English professor focusing on the life of poet Christabel LaMotte (Jennifer Ehle). Aaron Eckhart plays American scholar Roland Michell, currently in England on a fellowship. As England celebrates the centennial of noted Victorian poet Randolph Henry Ash (Jeremy Northam), Michell believes he has found a lost link between Ash and LaMotte.
No one believes Michell, including Bailey, a direct descendant of LaMotte who insists that she was a lesbian who had a long relationship with her assistant Blanche Glover (Lena Headey). As more clues surface, the modern day couple find themselves running all over the English and French countryside trying to unravel the mystery.
There's not much action in "Possession," but that doesn't stop the film from being exciting. Most of the time the couples sit around and talk, but it's what they say and how they say it that brings us into the story and their lives. "Possession" reminded me a lot of director Karl Reisz's film of John Fowles' bestseller "The French Lieutenant's Woman."
In that film, Meryl Streep and Jeremy Irons play dual roles, one set a modern day couple making a film, the second the actual characters depicted in the film. Employing creative editing, Reisz succeeded in turning a complex, non-linear story into a breathtaking whole.
LaBute, a master storyteller (In The Company of Men, Your Friends and Neighbors), walks the same narrative high wire, and never teeters. In some respects, "Possession" is LaBute's best work, a film that's more about romance than sex. With film editor Claire Simpson, LaBute seamlessly shifts time periods. Both worlds benefit from Lucianna Arrighis' exquisite production design, perfectly framed by director of photography Jean Yves Escoffier.
Paltrow and LaBute are blessed to have discovered each other. LaBute forces Paltrow to take chances, be they so slight, in becoming the smart, enigmatic woman who slowly begins to realize that her work is her life. Eckhart's Michell helps change that, and you instantly see her attraction in him. Since he put on the pounds to play the sleazy office worker in "In The Company of Men," Eckhart has never had an opportunity to show off his natural good looks.
Michell is much more than a pretty-boy role, and Eckhart shades the character with doubts and insecurities. He comes off cocky, but underneath we see a man who has been hurt by someone or something, and keeps his guard up. It's a real pleasure watching Paltrow and Eckhart slowly tear down each other's defenses.
Jeremy Northam is very good as Ash, a celebrated poet who has everything but the intimacy of his devoted wife (Holly Aird). His quest for physical love leads him to LaMotte, whom he meets at a dinner party. Even though LaMotte shares her life with Glover, something inside of her yearns as well. Ehle is absolutely splendid as LaMotte, whose heterosexual sexual awakening is one of the films most powerful and romantic moments.
There are many puzzles to be solved in "Possessions," and LaBute manages to put every piece in place. "Possessions" is unlike anything LaBute has done to date. How gratifying to discover that LaBute can still make an adult film without making it adult. He doesn't feel the need to shock us. Instead, he has created a film that embraces many positive aspects of life. LaBute still challenges us, but we leave the theater feeling good about ourselves and what we have just seen.
A PERSONAL "POSSESSION" Director LaBute wrestles with best-seller and winsPOSSESSION
Gwyneth Paltrow, Aaron Eckhart, Jeremy Northam, Jennifer Ehle, Lena Headey. Directed by Neil LaBute. Rated PG-13. 102 Minutes.
LARSEN RATING: $7.00