Without a Paddle
In 1972s Deliverance, four city friends gather for a weekend of canoeing and get caught in a current of backwoods sexual politics and hillbilly justice. Tightly packed into a rubber wetsuit and sporting a deadly bow and arrow, Burt Reynolds emerged as a superstar.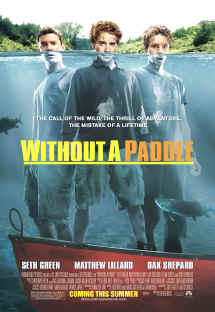 In 2004s Without a Paddle, three city friends get together to honor the memory of a fourth by navigating an Oregon river in search of legendary hijacker D.B. Cooper's lost loot. As the three friends learn important lessons in animal husbandry and nature chicks, their biggest revelation is finding Burt Reynolds still hanging out by the river.
Reynolds is the best thing about Without A Paddle, which isn't so much a compliment as a declaration. Reynolds effectively evokes the spirit of a backwoods hermit who is obviously smarter than the city boys who have wandered into his little neck of the woods. Unfortunately, the character is trapped in a water-paint-by-numbers teen comedy that wants to be a gross out comedy but lacks the conviction.
Not that Without A Paddle suffers from a deficient of gross-out moments, but they seem generic and lack inspiration. Even the congenial cast, Seth Green as a phobic doctor; Matthew Lillard as a corporate slacker; and Dax Shepard as the smart-ass ladies' man, seem waterlogged. Perhaps that look of fear in their eyes isn't acting but the sudden realization they agreed to make a nothing teen comedy in freezing New Zealand waters for three months.
The scenery is pretty, but Without A Paddle isn't a travelogue. Director Steven Brill and his team of five credited writers constantly seem to be paddling upstream. Their jokes are obvious and immature, and even when they do zero in on a gem, it turns out to be fool's gold. The white water roadblocks seem old and dated, including a pretty tree hugger who is all natural, much like the Brown Bear who mistakes poor Green for a cub.
Brill, a longtime Adam Sandler collaborator, knows where to put the camera for maximum effect, and the river scenes are actually engaging and occasionally breathtaking. Unfortunately the characters are so thinly written and developed we don't care if they suck rubber or go over the falls.
The actors, like the trained bear, manage to hit their marks and execute the joke. Only Green, a natural comedian with a devilish edge, seems in tune with the childish nature of the project and goes with the flow.
RAPID DESCENTTeen comedy hits shallow water
WITHOUT A PADDLE
Seth Green, Matthew Lillard, Dax Shepard, Ethan Suplee, Abraham Benrubi, Rachel Blanchard, Burt Reynolds. Directed by Steven Brill. Rated PG-13. 93 Minutes.
LARSEN RATING: $2.00