Young Frankenstein
As a budding entertainment writer, "Young Frankenstein" was my first major studio screening. Invitations went out a month before the screening, and I immediately R.S.V.P.'d. A week later, I was in a nasty automobile accident that ripped off half my face and broke my right knee. I was a mess, but I was determined to attend the screening.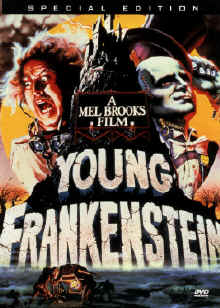 I had three weeks, and I knew that the over 1,000 stitches in my face would be removed by then. Oh sure, I still looked like a mess, and I still had a cast on my right leg, but I wasn't going to miss "Young Frankenstein." The screening was at the old Writer's Guild Theater on Doheny in Hollywood. It no longer exists except in the memories of those who ever saw a movie there.
I took my mom to the screening, one because she was my mom, and two, I couldn't drive with my right leg in a cast. We made sure that we got to the theater early so that we could get an aisle seat so I would have someplace to put my cast. We got aisle seats, which was both a blessing and a curse. A blessing because it made it easier for me to get up and down. A curse because people kept wanting to get past me, which meant a lot of getting up and down. My mom started getting upset, and wondered how come people couldn't use the other side.
This went on for thirty minutes, and then my mother snapped. This guy wanted in our row, and my mom jumped all over him. Read him the riot act and kept pointing to her poor, injured son and his cast. It wouldn't have been so bad if the guy was Joe Nobody. He wasn't. It was Gene Wilder. My mother had never seen him in a movie before, so she had no idea she was ragging on the star of the film.
I was almost crimson when Wilder looked down and saw the cast, and immediately apologized for not noticing. He was so nice and sincere I felt like the monster in the movie. I was the hideous creature and my mom was Frau Blucher. I knew who Wilder was. I loved him in "Blazing Saddles," and had been following his career since "Bonnie & Clyde." It was one of those moments you wish you could wash from your memory, but the stain is there permanently.
I thought I would never get invited to another screening after that, or if I did, the invitation would come with a personal note that read "Please leave your mother at home." So "Young Frankenstein" holds a place near and dear to my heart. Now that "Young Frankenstein" is on DVD, it was a pleasure to catch up with an old friend. It's hard to believe that it's almost been 25 years since that screening. A quarter-of-a-century has passed, and "Young Frankenstein" is still as potent and funny. That's the sign of a true classic. Some critics have said, and I would tend to agree, that "Young Frankenstein" is the definitive parody.
It's true to the original yet sets out to carve an identity all its own. The back story of "Young Frankenstein" is so strong and pure that co-writers Mel Brooks and Gene Wilder can dangle the most outrageous joke on it and not look foolish. That's the sign of excellent writing. Story first, jokes second. The idea for "Young Frankenstein" came from Wilder, who teamed up with Brooks to bring the story to the big screen. Their collaboration is a homage to the great Universal horror films, complete with moody black and white photography and stunning sound stage sets.
It's an elaborate set-up for some of the most inspired lunacy on film. Wilder is tremendously funny as the last vestige of the Frankenstein legacy, Frederick. Frederick is so ashamed of his lineage that he calls himself Fronk-en-steen. Frederick's charmed life as a teacher and fiancee to socialite Elizabeth (Madeline Kahn, so funny it hurts) is thrown for a loop when he inherits the family castle back in Transylvania. Eager to put his past behind him, Frederick travels to Transylvania to sell off the property. He's sidetracked in his mission by former lab assistant Igor (Marty Feldman), who convinces the good doctor to hang around and soak up the scenery.
The scenery includes buxom lab assistant Inga (Teri Garr, so innocent) and his famous grandfather's secret laboratory. With some nudging by creepy housekeeper Frau Blucher (Cloris Leachman), Frederick finds his grandfather's secret diaries, and begins to believe that he can duplicate his experiments. That means he'll need a body and a brain, and with Igor's help, secures both. Their actions stir the interest of local constable Inspector Kemp (Kenneth Mars), who lost his right arm to a previous encounter with a Frankenstein monster.
So all of the classic horror movie elements come together: lightning, rioting townspeople, monsters roaming the fog shrouded countryside, all delivered in crisp black and white images rich in mood and shadows. Director Brooks captures it all with a sense of respect. Unlike "Blazing Saddles," which basically threw in everything but the kitchen sink, "Young Frankenstein" is much more reserved. The jokes are carefully laid and executed, and when you look at the additional scenes that were deleted, you know Brooks' instincts are correct.
The film is tighter than a hooker who mistook Super Glue for Preparation H. Filled with marvelous performances, an excellent musical score by John Morris, and superb production design, "Young Frankenstein" is a classic comedy that will endure.
COMPLETE CHECK-UP
VISION: [ ] EXCELLENT [ X ] GOOD [ ] RESUSCITATE [ ] D.O.A.
Except for some flaws on the original negative and the occasional compression artifact, the digital transfer of "Young Frankenstein" is sharp and impressive. The black and white images are solid, especially the ever important blacks. There are noticeable scratches on the film, usually around the reel changes. Why wasn't the original negative afforded better care? "Young Frankenstein" is delivered in it's original 1.85:1 widescreen ratio on an RSDL disc. Nicely rendered.
HEARING: [ X ] EXCELLENT [ ] GOOD [ ] RESUSCITATE [ ] D.O.A.
They say that comedy is universal, and to prove that point, the "Young Frankenstein" comes with three Dolby Digital mono tracks. There's English, French and Spanish mono tracks, and all three get the job done. No fancy surround or digital stereo here, which actually works in the film's favor. It was done as a tribute and parody of the classic Universal horror films, so a standard mono track enhances that effect. The dialogue mix is superb. You never have to strain to hear any of the priceless lines. The musical strains of John Morris' excellent score are pure and clean, with no audible hiss or distortion.
ORAL: [ ] EXCELLENT [ X ] GOOD [ ] RESUSCITATE [ ] D.O.A.
Closed captions in English.
COORDINATION: [ X ] EXCELLENT [ ] GOOD [ ] RESUSCITATE [ ] D.O.A.
The DVD of "Young Frankenstein" is much more than just a movie. It's a thorough examination of a comedy classic. This "Special Edition" truly deserves the title.
§ First up is director Mel Brooks' running audio commentary (it's a little low, so pump up the jam). Brooks, in an interview recorded in 1996 for the Laser Disc Version, casually takes us through the film. He doesn't have an agenda, and occasionally he wanders off the subject, but his insights and observations are truly inspiring. He's funny and to the point, and delivers the goods. You can sense his devotion to the cast and crew, and tries to mention each and every one by name. Brooks also clues us in on some of the cheats he had to use because the cast kept breaking up during the shoot. Insert shots became a necessity in order to complete a scene.
§ There's an in-depth documentary called "Making Frankensense of Young Frankenstein," which features interviews with Wilder, the producers, and some of the behind-the-scenes crew members who discuss the various aspects of making the film. The documentary is engaging and entertaining, although I wish they could have corralled up more of the cast members to reminisce. The documentary also features outtakes from the film, plus observations from the cinematographer on how the perfect black and white images were obtained. Wilder also goes into detail (as does Brooks on the audio track) about the "Putting on the Ritz" musical number, and how Brooks wanted to cut it out of the final print. How they came to an agreement makes for fascinating listening.
§ The DVD features five (count 'em, five) "Young Frankenstein" trailers. You get to see a rare "Showrama" pitch by Brooks, plus two variations of the American theatrical trailer, and one re-release trailer. There's also an International Trailer that gives a different spin on the proceedings.
§ There are three (3) television spots (check out the spelling of "Special Feetures" on the menu here).
§ Seven deleted scenes that prove what a good director Brooks is. While these scenes are fun to watch out of context, it has to be agreed that they would have stopped the film dead in its tracks. Some are extensions to other scenes, while others stand on their own. Finally, there's an "Actor's Parade" where all of the cast members descend the castle staircase and parade past the camera. Brooks considered using this shot for the final credits, but it's more fun to watch here.
§ A series of outtakes and bloopers that prove how much fun it was to make this masterpiece of comedy.
§ Mexican television interviews with Marty Feldman, Gene Wilder and Cloris Leachman. The funniest is watching the announcer trying to keep up with Marty Feldman while translating his antics.
§ An extensive library of still shots from the film and behind the scenes. This library is so big you could spend an afternoon just flipping through the pages.
§ Handsome interactive menus that feature stills from the film, and a healthy selection of scene access chapters.
PROGNOSIS: [ X ] EXCELLENT [ ] GOOD [ ] RESUSCITATE [ ] D.O.A.
It's alive! It's Alive! IT'S ALIVE!
VITALS: $29.99/Rated PG/106 Min./B&W/28 Chapter Stops/Keepcase/#4109070
ATTENDING RESIDENT: John Larsen
PATIENT: YOUNG FRANKENSTEIN: SPECIAL EDITION
BIRTH DATE: 1974
HMO: Fox Home Video