Films Review Octrober
BRIDGET JONES'S DIARY (R)
I really adore Renee Zellweger, so excuse me while I gush about her delightful performance in this sweet and extremely funny romantic comedy. Zellweger is perfectly cast as 32-year-old Bridget Jones, a plump, friendly and optimistic woman whose New Year's resolution is to pull her life together.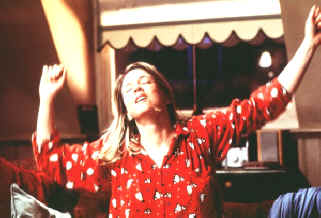 She wants to lose weight, quit smoking, cut back on the booze, and land herself a man. In order to record her progress, Jones begins a diary. While beating herself into shape, Jones sets her sights on two men: Mark (Colin Firth), a longtime friend and a lawyer who is a bit of a snob, and Daniel (Hugh Grant), her boss, a real charmer. She settles for Daniel, who encourages her to change, while Mark, who likes Jones just the way she is, takes up with a an associate. Director Sharon Maguire hits every note with perfection, delivering a romantic comedy that contains healthy helpings of both. You instantly fall in love with Jones, a testament to Zellweger's ability to create likeable characters. Hugh Grant plays the suave shark without missing a stroke, while Colin Firth is memorable as Mr. Right but not Mr. Right Now. Not a chick flick, but a film dedicated to the spirit of turning over a new leaf. (Miramax)
CRIMSON RIVERS, THE (R)
Oddly, Columbia-TriStar Home Video has decided to release director Mathieu Kassovitz's French thriller in a dubbed version. The only way to see the film in its original language is on DVD. While the dubbing is not bad, it still distracts from the matters at hand. Jean Reno stars as French police investigator Pierre Niemans, whose latest case involves the desecration of a tomb. Vincent Cassel co-stars as policeman Max Kerkerian, investigating a ritual killing near a noted university in the French Alps. The two men cross paths when their investigations begin to point in the same direction. There's a serial killer at work, leaving mutilated bodies around to make a statement. Ignore the lip synching and you'll appreciate this taut, tight thriller that features gorgeous scenery and lots of macabre moments. (Columbia-TriStar)
You really can't blame them. They are powerless to do anything. Once they fall under her spell, the men in Jewel's (Liv Tyler) life become her playthings. Jewel isn't your ordinary garden variety femme fatale. She's like the siren who lures men to their death. They know she's trouble, but they can't help themselves. That's the set-up of "One Night at McCool's," a dark comedy featuring a full-blown sexy turn from Liv Tyler. Jewel is one part Carroll Baker in "Baby Doll," one part Sue Lyons in "Lolita" and one part Ann-Margret in "Kitten with a Whip." Tyler's performance is the sum of all those parts, a cool, calculated vixen who will do anything to fulfill her dreams. Most of Jewel's dreams deal with possessions, like owning the perfect house with perfect furniture. Oh yeah, and she wants a DVD player. After all, what big-screen entertainment center is complete without one? Jewel's quest to make her dreams come true involve three different men, all of whom believe they are her one and only. (USA) Please click on title for complete review.
PROS & CONS (R)
Painful waste of talent stars comedian Larry Miller (who also wrote the screenplay) as an accountant who is framed by his clients and sent to prison. In prison Ben (Miller) shares a cell with Ron (Tommy Davidson), another framed inmate. Through a series of non-comic complications (they're supposed to be funny but they're not), Ben and Ron win the respect of the other inmates. Their newfound power allows them the freedom to plan an escape and clear their names. If it sounds pretty straight-forward, well it is. Miller has recruited a number of friends to play with him, and their appearance really tests the limits of friendship. The gags and set-ups are reminders of how not to write comedy. Director Boris Damast doesn't help matters, turning every misfire into an explosion of humiliation. (New Line)
RAT (R)
Clever, well-executed fantasy-drama-comedy about what happens when a boozing Irish father and husband literally turns into the rat that he is. High in concept but delivered with complete conviction, "Rat" is an Irish comedy unlike no other. Even though it was directed by Steve Barron ("Teenage Mutant Ninja Turtles") with special effects help from the Jim Henson Creature Shop, "Rat" is not a kiddie flick. It's a thoughtful, funny, telling tale of what happens to a family when their patriarch is reduced to a four-legged rodent. His wife (Imelda Staunton) is a bit put off by the situation, while his children are both amused and alarmed. When a reporter (David Wilmot) enters the scene with the offer of help (we know better), things really become complicated. What I appreciated most about the film was that even though it deals with fantasy themes, they're treated as everyday events. Once the shock has worn off, the family comes to accept their father's transformation. "Rat" is filled with wonderful characters, witty insights about life, and excellent performances that never break the spell. (Universal)
TOWN & COUNTRY (R)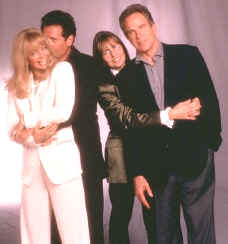 Extremely frustrating romantic comedy starring Warren Beatty as successful architect going through a past-mid-life crisis. Lots of talented people are throw to the lions in this unfunny, bleak and sad contemporary comedy that doesn't deliver one genuine laugh. It's amateur hour with "A' list performers. Beatty is a good actor, but he's hardly convincing as a happily married man whose recent indiscretions with just about everyone in the cast (Nastassja Kinski, Goldie Hawn, Andie McDowell) make his life miserable. On top of that he has to deal with best friend Griffin (Garry Shandling), whose wife Mona (Hawn) has just stumbled across his affair with a man. With both men in the dog house, they jet off to Aspen for a little rest and recovery, with Porter (Beatty) finding himself attracted to wacky locals Jenna Elfman and McDowell. Director Peter Chelsom misses every comic beat, while the cast seems to be wandering around in space. There isn't one original idea floating through this film, which eventually sinks under its own weight. (New Line)
ALSO NEW THIS WEEK:GOLDWYN (NR/Columbia-TriStar)
HOSTAGE HIGH (R/Artisan)
SERIES 7: THE CONTENDERS (R/USA)
STARDOM (R/Universal)