The Wedding Singer
As far as decades go, the 1980's are always good for a laugh. There's plenty of laughs and a lot of heart in director Frank Coraci and writer Tim Herlihy's sweet and nostalgic romantic comedy, "The Wedding Singer." Comedian Adam Sandler ("Billy Madison" "Happy Gilmore") is sensational as small town wedding singer Robbie Hart.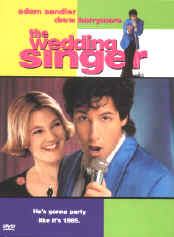 Hart is the very best at what he does, and he looks forward to his own wedding. He may be great at saving the day for other couples, but finds himself helpless when his selfish girlfriend Linda leaves him stranded at the altar. His friends rally around him, most notably wedding hall waitress Julia Sullivan (Drew Barrymore), who desperately needs Hart to help her plan her own wedding.
Robbie reluctantly agrees, if only to help mask his hurt. Then a funny thing happens on the way to Julia's wedding. Robbie realizes he's in love with Julia. They share the same passion for the little things in life, and they make each other laugh. Now Robbie has to find a way to get rid of Julia's vain and pompous boyfriend and sweep her off her feet. How writer Herlihy accomplishes this task makes for engaging viewing.
The first time I watched "The Wedding Singer," I instantly fell in love with the film. It made me feel good inside, and I truly liked the characters. Sandler and Barrymore both moved up a notch in their careers with "The Wedding Singer." It's a kinder, gentler Sandler, who still gets the laughs but shows a welcome maturity in his performance. Barrymore is luminous as Julia, a sweet, trusting young woman who deserves better in her life. The chemistry between Sandler and Barrymore is magical. They glow in each other's presence.
Director Frank Coraci does a splendid job of evoking the time and place. "The Wedding Singer" feels authentic. The theme may be timeless, but "The Wedding Singer" nails down 1985 with a nostalgic hammer. There are many small pleasures in "The Wedding Singer," from topical references to touching moments like when Robbie gets Julia to dance with a long-faced kid at a Bar Mitzvah. Your heart really goes out to these characters, and you find yourself rooting for them. Depending on the caliber of films that fill out the remainder of 1998, "The Wedding Singer" may just find a place on my year-end top ten list.
COMPLETE CHECK-UP
VISION: [ x ] EXCELLENT [ ] GOOD [ ] RESUSCITATE [ ] D.O.A.
Production designer Perry Blake's cheerful color scheme was perfectly lit and captured by director of photography by Tim Suhrstedt. The digital transfer respects all of that hard work with sharp, vivid colors and strong blacks. The flesh tones are especially appealing. The DVD features both the original 1.85:1 widescreen transfer on one side and a full-screen version on the other. Neither showed any major compression loss or artifacts, although one background pattern showed some signs of strobing.
HEARING: [ x ] EXCELLENT [ ] GOOD [ ] RESUSCITATE [ ] D.O.A.
Get ready to rock! "The Wedding Singer" is a treasure chest filled with some great (and not- so-great) tunes from the period, and they all sound terrific on the 5.1 Dolby Digital Surround track transfer. Strong vocal mix keeps everything up front and center, while the side and rear speakers fill the room with ambient noise and party perfect music. No noticeable hiss, and the sound range is accomplished. Booming basses feel comfortable next to the higher frequencies. "The Wedding Singer" DVD also features a 5.1 Dolby Digital French language track (which is just as impressive). In either language, "The Wedding Singer" is a great movie.
ORAL: [ x ] EXCELLENT [ ] GOOD [ ] RESUSCITATE [ ] D.O.A.
Closed captions for the hard of hearing in English, subtitles in French and Spanish.
COORDINATION: [ x ] EXCELLENT [ ] GOOD [ ] RESUSCITATE [ ] D.O.A.
For a non-Platinum Series DVD from New Line, "The Wedding Singer" comes with some impressive extras. First and foremost is the fact that New Line offers both the widescreen and full- screen versions of the film. While "The Wedding Singer" doesn't scream out for widescreen treatment, it's nice to have the choice. The interactive, animated menus are fun and original. Take a spin around the wedding parlor and you might wind up in the Karaoke parlor. Here, you can sing along to five Karaoke songs from the film (including "White Wedding" and "Rapper's Delight") as the lyrics appear on the screen. The lyrics are accompanied by stills from the film. A punch of the alternate audio track button and you can remove lead vocals instantly. There's also a Wedding Album featuring still from the film, and an 80's music trivia game where you have to guess song titles based on their lyrics. I flunked most of the questions, but still got to the pay off. The DVD also feature the customary cast and crew biographies, but no theatrical trailer. A nicely thought-out package of extras.
PROGNOSIS: [ x ] EXCELLENT [ ] GOOD [ ] RESUSCITATE [ ] D.O.A.
I can't imagine "The Wedding Singer" DVD being stood up at the altar like Robbie. All DVD owners should enter into a union that will bring "The Wedding Singer" and their collections together for life.
VITALS: $24.95/Rated PG-13/97 Min./Color/24 Chapter Stops/Snapcase/#N4660
ATTENDING RESIDENT: John Larsen
PATIENT: THE WEDDING SINGER
BIRTH DATE: 1998
HMO: New Line Home Video