Intermission
According to a recent Google search, the population of Dublin, Ireland hovers just above one million people. Add in the boroughs and that number shoots up another five-hundred-thousand. Like the Naked City, that's a lot of stories, but if you are to believe the new Irish comedy-drama "Intermission," they're all somehow connected. It's a Gaelic "Six Degrees of Kevin Bacon."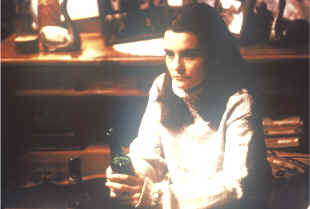 It really is a small world after all in "Intermission," a patchwork quilt of characters and situations sewn to perfection by first time director John Crowley. Crowley casts aside all pretense, getting to the heart of Mark O'Rowe's witty and spirited screenplay. Even though Crowley and O'Rowe draw inspiration from the legacy of Quentin Tarantino's "Pulp Fiction," the director resists every temptation to show off. Instead, he allows the characters and the witty and sparkling dialogue to speak for him. Crowley is assured in the way he captures people at their most natural and vulnerable.
The characters in "Intermission" don't just inhabit the frame, but given the chance, become real to us. It takes a few moments to grasp their dialect, but once you understand what these characters are saying, you hang on every word. What I absolutely love about O'Rowe's screenplay is his ability to create such a wide palette of characters, and give each and every one of them something smart and important to say. Characters don't talk in this film just to hear themselves, they share information and personal details that makes us feel like part of their inner circle.
In "Intermission" the circle of life begins with ruggedly handsome thug Lehiff (Colin Farrell), just as charming as he is brutal. Fall under his spell and you could end up with more than a broken heart. Just ask the poor cashier at the coffee cafe. Lehiff is the pet project of veteran police detective Jerry Lynch (Colm Meaney), who wants to collar the punk as much as star in his own "Cops" reality show.
Also on this merry-go-round of life are supermarket clerk John (Cillian Murphy), who tests girlfriend Deirdre's (Kelly Macdonald) loyalty by breaking up with her. John is shocked when Deirdre uses the "Intermission" to hook up with married banker Sam (Michael McElhatton), who has just walked out of his sixteen-year-marriage to Noeleen (Deirdre O'Kane). At a singles bar, Noeleen falls for John's buddy Oscar (David Wilmot), who struggles to keep the older woman satisfied.
The biggest surprise and treat is Shirley Henderson ("Bridget Jones's Diary") as the plot's ugly duckling, Deirdre's plain-Jane sister Sally, whose first attempt at love left her battle scarred. With a whisper of hair under her nose (often compared to Burt Reynolds) and a stagnant mop of black hair, Henderson turns the unlikely underdog into a complete charmer. She not only allows us to see Sally's pain but the beautiful swan waiting to rise to the surface. We have hope for Sally, not just because she's a victim, but because Henderson makes us believe she deserves it.
We also have hope for Murphy's John, a misguided young man who takes out his disappointment and lack of advancement on a girlfriend most men just dream about. Even when Deirdre's moral compass points south, Macdonald remains angelic.
When bus driver Mick (Brian F. O'Byrne) loses his job after an incident with a rock-throwing kid, he teams up with John and Lehiff to hold Deirdre hostage and force Sam to rob his own bank. A foolproof plan, unless you're dealing with fools. O'Rowe brings all of the diverse plot threads together with the flair of a master storyteller. Crowley excels in bringing all of these ingredients together, creating a film that constantly catches us off guard.
Crowley and director of photography Ryszard Lenczewski do an outstanding job of capturing the local color. This isn't a Hollywood movie. There are no star turns, no plot mechanics guaranteed to satisfy the appetites of sixteen-year-old boys. "Intermission" is a film about people, how they connect with each other and deal with the high and lows of life. "Intermission" accomplishes that with humor and intelligence.
It's A Wee World After All
Intermission catches strangers at emotional crossroads
INTERMISSION
Colin Farrell, Colm Meaney, Cillian Murphy, Kelly Macdonald, Shirley Henderson, David Wilmot, Deirdre O' Kane, Michael McElhatton. Directed by John Crowley. Rated R. 106 Minutes.
LARSEN RATING: $7.00