Vigilante
After scoring cult success with "Maniac," director William Lustig tackled the "Death Wish" formula with "Vigilante." It's been sixteen years since its release, and "Vigilante" definitely shows its age. Robert Forster ("Jackie Brown") stars as a family man who turns his back on his friends (including Fred Williamson) when they form a vigilante squad to rid the streets of gangs.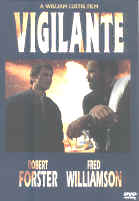 He changes his tune when gang members kill his son and viciously attack his wife, who leaves him after her recovery. When a crooked judge clears the gang member of the crime, Forster goes berserk in the courtroom. Sent to prison for thirty days for trying to strangle the judge, Forster tries to make the best of a bad situation. He befriends Woody Strode, who literally saves his ass in the prison showers. When Forster is released, he joins his friends and hunts down the scum that ruined his life. Lustig claims (in the audio commentary) that he was making cutting edge cinema, and that he had to trim the film because of violence. The DVD contains the uncut director's version, and even with the few extra seconds, the film is still pretty pedestrian. It's standard exploitation fare presented in simple terms. Lustig makes good use of a limited budget and sets, but fails to make the film anything more than it is. I honestly think Lustig believes he was responsible for the cult success of "Maniac," when in fact, it was Tom Savini's disturbing make-up effects that pushed that film over the top.
COMPLETE CHECK-UP
VISION: [ ] EXCELLENT [ x ] GOOD [ ] RESUSCITATE [ ] D.O.A.
Problematic. At first I was concerned, because some opening scenes were just dreadful. Faded out. Grainy. Lots of artifacts. I thought I was in for another Anchor Bay DVD nightmare like "Halloween." Then something funny happened. Within minutes, the picture looked okay. Not great by today's standard, but perfectly acceptable for early 1980's exploitation fare. So either Lustig used a lousy film stock for those opening night shots (I don't have the tape so I can't check) which made it impossible for a decent transfer, or someone at the lab missed the boat on the first five minutes. The remainder of the film is decent. This was the first time that Lustig had shot in 35mm Cinemascope (the transfer is in the film's original 2.35:1 widescreen ratio) and director of photography James Lemmo delivered the goods. The blacks aren't as strong as I would like, but the colors come through with assurance. Artifacts pop up every now and then, but not nearly as often as at an Egyptian excavation.
HEARING: [ ] EXCELLENT [ x ] GOOD [ ] RESUSCITATE [ ] D.O.A.
Even though the DVD is presented in 5.1 Dolby Digital Surround (Dolby Surround in French), there's not much here to warrant such treatment. Except for some ominous strains of Jay Chattaway's score, the surround tracks are wasted. What's there does the job, but it's not one of those engulf and devour soundtracks. The mix is nice, and none of the dialogue is hard to hear or lost in the shuffle.
ORAL: [ ] EXCELLENT [ ] GOOD [ ] RESUSCITATE [ x ] D.O.A.
No subtitles.
COORDINATION: [ ] EXCELLENT [ x ] GOOD [ ] RESUSCITATE [ ] D.O.A.
I had seen "Vigilante" in theaters when it first opened, so I was more interested in the alternate audio commentary track featuring director Lustig and actors Forster, Williams and Frank Pesce, who sounds like you know who. The commentary was recorded for the laser disc version of "Vigilante" (Lustig refers to the format frequently), and it sounds like the foursome was shoved into a room with a couple of mikes while the film played in front of them. Williamson must have been the furthest one from the microphone, because you can hardly hear him. I like roundtable discussions, especially when they're about film, even bad ones. These guys have a lot to say (I appreciated their candor on the rigors of renegade film making), and talk like classmates getting together at a reunion. Even though the commentary isn't polished, it's real. Lustig points out the notorious scenes that got him in to trouble with the Motion Picture Association of America rating board, but by today's standards they're pretty tame. "Vigilante" was a big hit in Europe, and the DVD features theatrical trailers from Italy, France and Germany, where it was known as "Street Gangs." There's also a behind-the-scenes still gallery, and the original U.S. theatrical and television spots. One last note, and this is either a good thing or a bad thing, depending on how you look at it. The DVD and the insert list 9 chapters in the scene access, yet there are actually 30. Sure you get more choice, but it's misleading nonetheless.
PROGNOSIS: [ ] EXCELLENT [ ] GOOD [ x ] RESUSCITATE [ ] D.O.A.
As a footnote in 80's exploitation fare, "Vigilante" seems like an odd choice to make such an ado about. You'd have to be a real fan of the genre to get any pleasure from the DVD. For the rest, do not revive.
VITALS: $29.99/Not Rated/90 Min./Color/30 Chapter Stops/Keepcase/#DV10493
ATTENDING RESIDENT: John Larsen
PATIENT: VIGILANTE
BIRTH DATE: 1982
HMO: Anchor Bay