Videodrome
Director-writer David Cronenberg has guts, and he isn't afraid to show them. From his early films ("They Came from Within") to his later films ("Scanners"), Cronenberg has show a propensity for exposing his actor's innards. People pits up parasites, their heads explode, and in "Videodrome," they become human VCRs.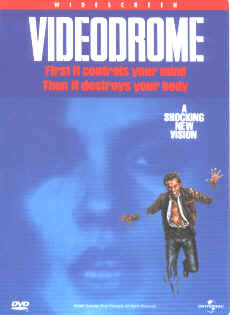 Mixing black humor and science-fiction horrors, Cronenberg" makes a wicked statement in "Videodrome." It's a world where video can control and alter your life. It's a world where former Blondie singer Deborah Harry uses her breast as an ash tray. It's a world where kink and sadomasochistic behavior are the norm.
Even worse, it all happens in Pittsburgh, which provides one of the film's funniest lines. James Woods stars as Max Renn, a partner in a sleazy cable station that deals in shocking broadcasts. With his two partners, Max scans the airwaves for new and exciting fare. By mistake, Max and his chief technician Harlan (Peter Dvorsky) record a signal for a show called "Videodrome." Max is immediately transfixed by the images of sexual torture that he sees, and wants more.
His search for the source of the signal leads him into a world filled with sinister characters and realistic hallucinations (or are they?). Harry plays talk show host Nicki Brand, who falls into Max's kinky world. She's in to the rough stuff, and heads off to Pittsburgh to audition for "Videodrome." Then things get really freaky. Max finds his life controlled by the "Videodrome" signal, and his body changing. Before long, he has a vagina-like opening in his stomach where the "Videodrome" people can program him with living, breathing videocassettes. It's a freaky site (courtesy of special effects creator Rick Baker), one of many that fill the movie. Cronenberg paints a bleak picture of television.
He suggests that we have become weak by the endless stream of images we watch on a daily basis. It's an interesting premise, but at a scant 89 minutes, is considerably too short to make a real impact.
COMPLETE CHECK-UP
VISION: [ ] EXCELLENT [ x ] GOOD [ ] RESUSCITATE [ ] D.O.A.
Decent 1.85:1 widescreen transfer. The colors are sharp and vivid, the flesh tones (even when they're turned inside out) are realistic and warm. The blacks are incredibly strong. There are some minor compression artifacts near the beginning (or was it snowing in Canada that day?), but not bad enough to ruin the picture. No pan-and-scan version or anamorphic version available.
HEARING: [ ] EXCELLENT [ x ] GOOD [ ] RESUSCITATE [ ] D.O.A.
Dolby Digital 2 Channel Mono is nicely mastered and distortion free. Howard Shore's unnerving music sounds terrific, while the dialogue mix is strong and up front. The "Videodrome" audio mix won't give your sound system any nightmares, but it does get the job done. There's also a Dolby Digital 2 Channel Mono French language soundtrack included.
ORAL: [ x ] EXCELLENT [ ] GOOD [ ] RESUSCITATE [ ] D.O.A.
Closed captioned in English and French, subtitles in Spanish.
COORDINATION: [ ] EXCELLENT [ ] GOOD [ x ] RESUSCITATE [ ] D.O.A.
The DVD of "Videodrome" is the complete uncut version that includes footage never shown in theaters. Most of it is gross-out stuff (blood gushes out of a head wound, a man explodes until his organs are all over the place) but it's nice to see the film the way Cronenberg intended. The DVD features the customary production notes, cast & crew bios, film highlights, and colorful menus with scene access.
PROGNOSIS: [ ] EXCELLENT [ x ] GOOD [ ] RESUSCITATE [ ] D.O.A.
A nice, tidy little exercise in horror and paranoia, "Videodrome" could have been a masterpiece in terror is Cronenberg had put a little more effort into it. The DVD captures his limited vision in sharp detail and color.
VITALS: $24.95/Not Rated/89 Min./Color/16 Chapter Stops/Keepcase/#20387
ATTENDING RESIDENT: John Larsen
PATIENT: VIDEODROME
BIRTH DATE: 1982
HMO: Universal Studios Home Video