Thunderball
After "On Her Majesty's Secret Service," "Thunderball" is my favorite James Bond movie. Filled with spectacular stunts, outrageous action, gorgeous women and a sturdier than ever Sean Connery, "Thunderball" was everything a Bond film should be. Directed by Terence Young, "Thunderball" took Bond to new heights and depths.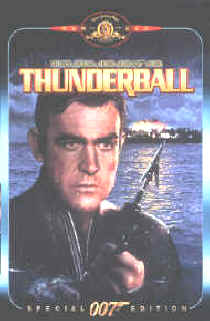 As the fourth film in the popular series, "Thunderball" benefited from a bigger budget. Shot mostly in the Bahamas and England, "Thunderball" featured more of everything audiences had come to love about Bond films. More gadgets, more bad guys, more stunts, more babes, more jokes and more action. Bond finds himself involved with a madman who has stolen nuclear warheads and threatens to detonate them unless a ransom is paid.
The story is pedestrian at best, but the screenplay by Richard Maibaum and John Hopkins is no walk in the park. The writers do an exceptional job of breathing life into the characters and situations. Bond was back, and he was better than ever. Connery is more mature this outing. His Bond is world weary. You believe he has lived life.
After a high flying pre-credit sequence, we find Bond taking a breather at a country spa. It is here where he uncovers the plot of Emilio Largo (Adolfo Celi), an agent of SPECTRE. Largo has made elaborate plans to steal nuclear warheads and hold the world for ransom, and only Bond can save the day. The only problem is that Largo has cleverly hidden the warheads, so Bond has to do a little snooping first.
His investigation takes him from bed to bed and from one close call to another. All roads lead to Largo, whose private estate features swimming pools stocked with sharks. As Bond wines and dines and beds his way closer to Largo, time begins to run out. Out of desperation, Bond disguises himself as one of Largo's henchmen. He learns the truth, but will he be able to stop Largo before the deadline?
Hey, this is a Bond film. "Thunderball" ends with one of those terrific battle sequences that has become a trademark of the series, only this one takes place underwater. How thrilling to watch the good guys and bad guys duke it out underwater.
Remember, "Thunderball" was shot in 1964, and our only exposure to SCUBA diving was "Sea Hunt." Underwater director Ricou Browning puts us right in the middle of the action as dozens of stuntmen dodge deadly spears and sharks.
Claudine Auger is winning as Domino, whose allegiance to Largo is questioned when she meets Bond. Luciana Paluzzi is delicious and dastardly as Fiona, Largo's assistant. Her encounter with Bond on a dance floor is one of the film's best jokes.
"Thunderball" was remade as "Never Say Never Again" starring Sean Connery, and is so memorable that fans of the "Austin Powers" films will recognize a lot of the film's references. With a great theme song sung by Tom Jones, exciting and exotic locations and action, and an international cast that believes in the cause, "Thunderball" remains one of my favorite Bond films. It's all there, wrapped up in a nice tight little package.
COMPLETE CHECK-UP
VISION: Good

2.35:1 Widescreen

16:9 Enhanced

The original negative displays some age issues (lines, scratches), but overall the images are absolutely smashing. The blues are extremely blue, while the earth tones are warm and realistic. Flesh tones are also flattering, while blacks hold up under the most tightest scrutiny. The dirty negative doesn't allow for pure whites, but shadows are clean. Depth of field is good, plus attention to detail is better than average. Colors are bright and vivid, with excellent saturation. No bleeding or fading here. No real compression artifacts or noise to speak of.
HEARING: Good

5.1 Dolby Digital Surround

Mono French Language

The remastered soundtrack sounds great, but is hardly a definitive example of 5.1 Dolby Digital Surround. Some of the music cues and ambient noise have been shifted to the rear speakers, providing for a full- bodied sound field, but there is very little separation. Dialogue mix is strong, and there does seem to be a generous amount of discrete bass action. Middle and high ends sound sharp. No real surround effects or left-to-right stereo personality. The soundtrack sounded better than I expected it to, so the remastered effort is just fine with me. No audible hiss or distortion.
ORAL: Good

Closed captions in English for the hard of hearing, subtitles in French.
COORDINATION: Excellent
Here are the DVD extra features:

Not one but two fascinating full-length audio commentaries. Each filled with a wealth of information and gossip, the commentaries are actually fond recollections by cast and crew. Recorded for the laserdisc release of "Thunderball," one commentary features a plethora of Bond accomplices, from co-stars Luciana Paluzzi, Martine Beswick and Desmond Llewelyn, to behind-the-camera talent production designer Ken Adams, underwater director Ricou Browning, director Terence Hill, special-effects supervisor John Stears, and so many more. The second commentary features several treasures, including various foreign language tracks (Spanish, French, German), plus the film's original opening song ("Mr. Kiss Kiss, Bang Bang" by Dionne Warwick. There is also some insightful observations by editor Peter Hunt and co-writer John Hopkins. Together, the tracks equate into four-and-a-half hours of engaging dialogue.

Three nostalgic documentaries that pretty much sum up the "Thunderball" experience. The first is "The Making of Thunderball," which relates the task of mounting such an enormous undertaking. "The Thunderball Phenomenon" looks back at the effect the film has had on the franchise and world cinema in general. "Inside Thunderball" is the promotional featurette they shot during the making of the film for television broadcast.

An exciting still gallery featuring more than 150 behind-the-scenes images from the film.

Three theatrical trailers, including a double feature trailer with "You Only Live Twice." As is common with older trailers, they look like crap, but their inclusion here is welcome nonetheless.

Five television spots, plus numerous radio spots (a total of ten).

A preview of the "Tomorrow Never Dies" Play Station Game.

Exciting main menus that featuring dazzling animation and clips from the film, plus a functional scene access menu.

A collectible booklet inside the DVD case with interesting and fascinating tidbits about the film.
PROGNOSIS: Excellent

This DVD is so hot you'll need asbestos gloves to handle it.
VITALS:

$34.98/Rated PG/130 Minutes/Color/52 Chapter Stops/Keepcase/#907857
ATTENDING RESIDENT: John Larsen
PATIENT: THUNDERBALL-SPECIAL EDITION
BIRTH DATE: 1965
HMO: MGM Home Entertainment