Mouse Hunt
It's hard to believe that it's been nine years since writer-producer John Hughes created "Home Alone." It's even harder to believe that since that time, the "Home Alone" formula has become a genre all its own. Not only did the first film spawn two sequels, but numerous imitations.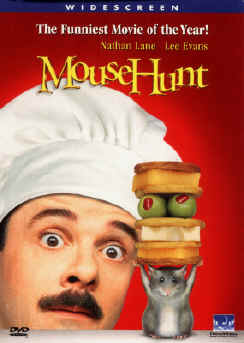 One of the best of the latter is Gore Verbinski's "Mouse Hunt," starring Nathan Lane and Lee Evans as two brothers who try to remove a crafty mouse from their newly inherited house. You may not know Verbinski, but you're probably familiar with his work. He's the guy who directed the first Budweiser frog commercial. Verbinski has a unique style, which translates well on the big screen.
Working with director of cinematography Phedon Papamichael, Verbinski puts his camera in the most unusual places. "Mouse Hunt" is a live action cartoon, inhabited by real life actors working on that level. Nathan Lane and Lee Evans are sensational as the modern day Laurel and Hardy. Lane and Lee play Ernie and Lars Smuntz, who at the opening of the film are mourning the loss of their elderly father (William Hickey, near death). Ernie owns a chic restaurant and lives the good life. Lars works at his father's strong factory and puts up with his demanding wife (Vicki Lewis).
They're as opposite as Patty and Cathy Duke on "The Patty Duke Show." When the will is read, Ernie is devastated to learn that the only thing his father left him was the factory and a run down old house in the country. Lars is thrilled owning the factory, and stops Ernie's attempts to sell it. It's what their father would have wanted, both brothers, working together for life. Ernie has other plans, plans that go down the toilet when a nasty incident at his restaurant puts him out of business.
Desperate for money and a place to stay, Ernie and Lars spend the night at the old house. Through a small accident, the two learn that their dilapidated old house is actually a valuable structure worth millions. They just have to renovate it. What should have been a simple job turns into a living hell when the renovation upends the life of a little brown mouse living in the walls. Ernie and Lars take immediate steps to eradicate the problem, but they're not dealing with an ordinary mouse. The little guy is smarter than both of them together, and he's not going to give up the house without a fight.
That includes making mincemeat of the exterminator (Christopher Walken, very funny) they hired, and giving one of the nastiest cats on the face of the Earth a lesson is gravity. The mouse is smart, just like Macaulay Culkin in "Home Alone." He's just defending his turf the best way he knows how. Adam Rifkin's script is filled with one hilarious misadventure after another, all perfectly realized by Lane and Evans. Lane has always been a favorite, and he doesn't disappoint here. He's all huff and puff in the best Stan Laurel tradition.
Evans is so funny it hurts. He's having a great year, including his hilarious turn in "There's Something About Mary." "Mouse Hunt" is light and breezy, filled with the best stunts, gags and visual effects that money can buy. It's wild and crazy fun that is unlike anything you have seen. Imagine "Tom and Jerry" written and directed by Joel and Ethan Coen. Wicked!
COMPLETE CHECK-UP
VISION: [ X ] 20/20 [ ] Good [ ] Cataracts [ ] Blind
Exceptional digital transfer in both the film's original 1.85:1 widescreen ratio (enhanced at 16:9 for widescreen televisions) and a full-frame 1.33:1 version. The disc is a flipper, but I appreciate that Dreamworks Home Entertainment allows us the choice. I imagine the decision to include both versions stems from the fact that "Mouse Hunt" is a family film, and that children would probably prefer a full- frame version of a widescreen one. Either way, both versions feature sharp and vivid images that produce exceptional detail, with excellent color saturation and natural flesh tones. I didn't spot any noticeable compression artifacts. The original negative is pristine, allowing for a flawless transfer. The colors are especially impressive, including the striking and bold reds and blues. The Earth tones are warm and realistic. Excellent definition and depth of field.
HEARING: [ X ] Excellent [ ] Minor Hearing Loss [ ] Needs Hearing Aid [ ] Deaf
One of the most playful 5.1 Dolby Digital Surround tracks that I have heard. Crank up the volume and enjoy the demolition derby of noise that features precision stereo separation and definitive ambient noise. The soundtrack will test your sound system, so be prepared to see it sweat. Rumbling basses bowl you over while the high ends with rattle you windows. Absolutely no distortion or hiss. The dialogue mix is outstanding, allowing each and every one of Lane's snide remarks to shine through. The DVD also features Dolby Surround tracks in French and Spanish.
ORAL: [ ] Excellent [ X ] Good [ ] Poor
Closed captions for the hard of hearing in English, subtitles in Spanish.
COORDINATION: [ ] Excellent [ X ] Good [ ] Clumsy [ ] Weak
Once again, Dreamworks piles on the extras. Most standard issue DVD's contain the film and the trailer, and cast & crew bios if you're lucky. Dreamworks DVD's (at least the first three on the market) contain enough extras to qualify as special editions. While there is no audio commentary with the director or actors, nor a much-needed behind-the-scenes documentary (how did they do some of those wonderful cartoon sequences?), the DVD does include five deleted scenes that help flesh out the plot. A majority of the deleted scenes feature Christopher Walken's exterminator character, plus some sensational larger- than-life special effects sequences. There's also the original theatrical and teaser trailers, cast and crew biographies and filmographies, production notes, plus excellent, colorful animated menus that take the theme of the film and run with it. The scene access menus feature clips of each scene.
PROGNOSIS: [ X ] Excellent [ ] Fit [ ] Will Live [ ] Resuscitate [ ] Terminal
ATTENDING RESIDENT: John Larsen
PATIENT: MOUSE HUNT
BIRTH DATE: 1998
HMO: Dreamworks Home Entertainment