Stir of Echoes
I love banana-nut ice cream. It's difficult to find. I believe it is a seasonal thing. Even 31-Flavors doesn't carry it. Several years ago a couple of my friends and I got together and created our very own brand of banana-nut ice cream.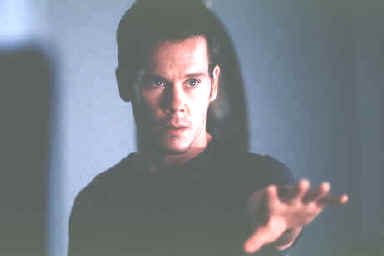 We added in bits of chocolate and called it "Funky Monkey." Imagine our surprise when another company called Ben & Jerry's (anyone every hear of this upstart company?) Introduced the same product a month earlier called "Chunky Monkey."
They were both delicious, and had the same rich ingredients. Yet we knew that there would be little interest in our product because someone had beaten us to the punch. We also didn't want to face the burden of being second out of the gate and have people complain that we just an imitation.
That is how writer-director David Koepp must feel with the release of "Stir of Echoes," a chilling little mystery suspense based on the novel by Richard Matheson. It's about a man who becomes hypnotized at a party, only to have the experience turn him into a receiver for the dead. At first he's freaked out by the experience, but is reassured by his young son. "Don't be afraid of them, Daddy."
You see, the little boy sees dead people too. Hmmm. Now where have I heard that before? "Stir of Echoes" has the unfortunate task of playing clean up to "The Sixth Sense," which shares similar themes. "The Sixth Sense" has become such a huge success that "Stir of Echoes" seems destined to get lost in its wake.
Which is too bad, because the film is actually a creepy exercise in suspense. Kevin Bacon is outstanding as Tom Witzky, a Chicago lineman who lives in one of those great little boroughs where everyone knows their neighbor and there's a block party every weekend. Tom shares a comfortable home with his lovely wife Maggie (Kathryn Erbe) and his young son Jake (Zachary David Cope).
One night after a neighborhood beer bust, Tom makes fun of his sister-in-law Lisa's ability to hypnotize people. After some goading, Tom agrees to be hypnotized, and finds the experience somewhat distressing.
Soon Tom is seeing things, including a dead girl on his couch. He thinks he is going nuts, but young Jake sets him straight. While Maggie searches for answers, Tom and Jake attempt to unravel a local mystery involving a missing girl.
"Stir of Echoes" has more in common with Edgar Allen Poe's "The Tell-Tale Heart" than "The Sixth Sense," but there are some similarities. Both films deal with retribution, and use a small boy as the catalyst. The coincidences end there. While "The Sixth Sense" was more of a supernatural thriller, "Stir of Echoes" is actually a mystery.
"Stir of Echoes" also addresses family issues on a deeper level. Erbe is excellent as a wife and mother who can't understand the changes her family is going through. Even when she does something totally out of character, like visiting the wild side of town at night, it is done with conviction.
Bacon is sensational as Tom. He gives us an everyday person we can relate to and feel for. When his life starts spinning madly out of control, we understand where he is coming from and want to take the journey with him.
I truly adore Illeana Douglas, and she's an asset here. She plays characters with such ease it doesn't look like she's acting. She's wonderful as the sister-in-law whose concern seems real. I also liked Kevin Dunn as one of the neighborhood fathers whose pride in his football star son appears honest. The film does an excellent job of establishing a feeling of community.
Writer-director Koepp has fashioned a film that may feel familiar, but has its share of surprises. He doesn't rely on dizzying special and visual effects but instead on character reaction and an overall sense of foreboding. He never goes for the cheap thrill. The script is tight and literate, so characters rarely say or do stupid things.
I really liked "Stir of Echoes." It does an admirable job of luring you into its web. While it is not nearly as chilling as "The Sixth Sense," it is equally creepy.
A POE MAN'S "SIXTH SENSE"
STIR OF ECHOES
Kevin Bacon, Kathryn Erbe, Kevin Dunn, Zachary David Cope, Illeana Douglas in a film written and directed by David Koepp. Rated R. 110 Minutes.
LARSEN RATING: $6