Best films of 1999
It's that time of year again. Time to make a list. 1999 has been the year of the list. As the millennium drags to an end, everyone has been checking in with a list. The best of the year. The best of the decade. The best of the century. The best of the millennium.
Santa had his list, and so did Schindler. I take a list with me every time I go shopping, but unless the store is out of Possum Patties, the list doesn't mean much to anyone but me.
Then there's my annual list of top ten movies of 1999. Every year at this time I am compelled to look back and reflect on the best and worst films of the past twelve months. It may seem like an easy task, until you realize that this year alone more than 400 films danced across the nation's screens.
Fortunately, 1999 proved a bountiful year for good films. There were several years in the 1990s where I literally had to scrape to find enough worthy films for a best list. No problem this year. In fact, I had to juggle the list several times, and even now, it may not be definitive.
Due to editorial deadlines, please note that I have not had a chance to see the following films before compiling this list: Magnolia, Man on the Moon, The Talented Mr. Ripley, The Cider House Rules, Snow Falling on Cedars, and Cradle Will Rock. Based on their merits, this list could change dramatically.
So without further adieu, here is my final list of the millennium.
BEST FILM OF 1999
GREEN MILE, THE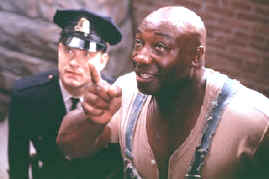 Every time director Frank Darabont and writer Stephen King get together, something magical happens. With "The Shawshank Redemption" and now "The Green Mile," Darabont and King make great bed partners. Their share similar sensibilities, a gift that makes Darabont's big screen adaptations of King's printed word so personal and involving. A lot of films have been made from King's library of work, but only a few have been able to capture King's ability to tell a story. "The Green Mile" is one of the exceptions, a thrilling journey of personal redemption told through the eyes of a Depression era death row prison guard played by Tom Hanks. Darabont's screenplay shows uncommon depth and assurance as it deals with the human condition, allowing us not only to get close to the characters, but feel their pain and joy as well. Hanks delivers yet another consummate performance as a man who deals in death yet chooses to embrace life. Michael Clarke Duncan is exceptional as the death row prisoner whose stature betrays his kind and gentle soul. A good film takes you away for a couple of hours. A great film stays with you, and "The Green Mile" has haunted me ever since I saw it. It is an unshakeable masterpiece of filmmaking. Darabont creates indelible images and characters that take on a life of their own. For all that, "The Green Mile" emerges as the Best Film of 1999.
TOP TEN
AMERICAN BEAUTY
Making what is perhaps a consummate director's debut, Sam Mendes paints a portrait of a family that is not only dysfunctional, but completely detached. On the surface the Burnham's seem to have it all. Look a little closer and you notice some chips in the china. Hang out with these people for two hours and you learn how ugly people really can be. Alan Ball's screenplay is a real pleasure, filled with sharp, satiric dialogue, interesting characters and bold dialogue. Mendes and Ball take chances that pay off. In their hands, "American Beauty" is both quirky and calculated. Even at its darkest hour, "American Beauty" is a comedy. You laugh because you're not these people. Their lives are so pathetic you immediately feel better about yours.
BEING JOHN MALKOVICH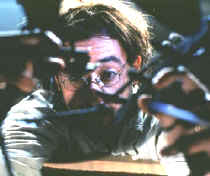 The brainchild of writer Charlie Kaufman and director Spike Jonze, "Being John Malkovich" is decidedly one of the most unexpected delights you will experience at the movies this year. Jonze, a former music video director, does a splendid job of making extraordinary situations seem normal and everyday. Kaufman's plot is really out there, yet Jonze reels it in without sacrificing any of the script's delightfully offbeat moments. He also gets uncommonly good performances from the cast, whose convictions help ground the flights of fantasy.
FELICIA'S JOURNEY
Bob Hoskins delivers one of the year's most memorable and calculated performances in director Atom Egoyan's haunting tale. Hoskins plays kindly factory cafeteria chief Joseph Ambrose Hilditch, whose sweet and good natured way betrays a dark and sinister secret. Elaine Cassidy is Felicia, the unassuming Irish girl who comes to England in search of the boyfriend who knocked her up. Their paths cross several times before Felicia turns to Hilditch for help out of desperation. He takes her in, but what begins as an act of charity leads to some chilling soul searching. Director Egoyan, working from a screenplay he wrote from William Trevor's novel, skillfully guides us through a landscape filled with booby traps and land mines.
LEGEND OF 1900, THE
Another marvelous fable from Italian director Giuseppe Tornatore ("Cinema Paradisio"), this one starring a mesmerizing Tim Roth as an extraordinary man trying to live an ordinary life. Roth provides the emotional ballast for this tale of a man who is born, raised and lives aboard a passenger liner, never setting foot on solid ground. Discovered abandoned in the ship's ballroom on New Year's Day at the turn of the century, the baby is named 1900 and raised by the crew. As an adult, 1900 becomes a musical prodigy, and earns his keep playing in the ship's orchestra. Tornatore fills his first English language film with marvelous theatrical moments, including a fanciful musical duel between 1900 and Jelly Roll Morton. Bathed in a golden, nostalgic amber, "1900" looks like a dream. You know what you're seeing isn't real, but you can't help but get swept up in the proceedings.
RED VIOLIN, THE
When most people look at a Stradivarius, they only see a musical instrument. When someone who has a passion for music sees a Stradivarius, they see more. They see its soul, its history, and most of all, its allure. It's not just musical instrument, but a connection to a time and place that no longer exists. French-Canadian director Francois Girard and writer Don McKellar understand that connection, and bring it to the screen in one of the year's most alluring films, "The Red Violin." Told against a tapestry that spans four centuries, "The Red Violin" is a film that is both inspirational and passionate.
SIXTH SENSE, THE
"The Sixth Sense," is a film that is both creepy and chilling. Directed by M. Night Shyamalan, "The Sixth Sense" is a first-rate thriller that slowly creeps up on you until you have no choice but to surrender to it. Shyamalan has done his homework. "The Sixth Sense" reminded me of the best of Alfred Hitchcock, a moody, calculated character study with engaging characters, intelligent dialogue and an ending that will leave you breathless. Shyamalan doesn't go for the cheap thrill. He has something more unnerving in mind, and sets into motion a film that fulfills on that promise.
THOMAS CROWN AFFAIR, THE
Without a doubt one of the smartest and sexiest crime capers to come along in some time. Tightly directed by John McTiernan from a snappy, clever screenplay by Leslie Dixon and Kurt Wimmer, "The Thomas Crown Affair" proved to be a better film than the Steve McQueen-Faye Dunaway original. Pierce Brosnan is dynamic as the billionaire playboy who steals valuable art for fun, while Rene Russo literally sets the screen on fire as the insurance investigator hot on his trail. Filled with delicious dialogue and a sexy cat and mouse romp that culminates with a daring art museum heist, "The Thomas Crown Affair" is a class act from the first frame to the last.
THREE KINGS
Nothing is what it seems in director David O. Russell's "Three Kings," an anti-war film that ranks up there with the best of them. Like Robert Altman's "M*A*S*H," Russell's film mixes black comedy with gritty, realistic war scenes. This unexpected blend of comedy and carnage constantly catches you by surprise, creating a visceral experience that is hard to beat. One moment you are laughing, the next you are gripping your seat cushion for comfort. David O. Russell has proven himself a master of finding humor in the most unexpected places. His edgy style works because his characters are so well drawn and executed that you're willing to follow them anywhere.
TOY STORY 2
The original "Toy Story" was such a marvel and delight, I thought it would have been impossible to make a sequel that could match, much less exceed, the original. Even though computer animation has made great leaps and bounds since "Toy Story" arrived in 1995, the big challenge would be in duplicating the original's sense of wonder and joy. Sure, thanks to current technology the toys would look great, but would they have the same heart and soul as the original? "Toy Story 2" is that rare sequel which is actually better than the first. Originally slated as a direct-to- video sequel, "Toy Story 2" arrives with all of the bells and whistles of the first film. All of our favorite characters are back, but this time their mission is bigger and bolder. New animation techniques allow the filmmakers to explore their fantasies on a larger canvas, yet maintain the simple pleasures that made the first film so popular with adults. Filled with laughs and tears, "Toy Story 2" leaves such an impact that you will feel compelled to go home and play with your toys.
WINSLOW BOY, THE
Often filmed but seldom fully realized, there is a distinct pleasure in seeing someone bring writer Terence Rattigan's play to the screen without all of the traditional British stuffing. Rattigan's tale of family and honor, set in London, 1910, began life as a 1940 play. Since then, it has seen several incarnations, including numerous television movies. None compare to this sterling silver production, adapted and directed by playwright David Mamet. Mamet has rounded up a splendid cast, including a powerful Nigel Hawthorne as the noble father who risks everything to defend his son. Mamet takes what is basically a chamber piece and turns it into a riveting piece of filmmaking.