Stephen King Trilogy
Anchor Bay Entertainment, never one to rest on their laurels, have scoured the nether regions looking for lost and ignored movies that have slipped through the cracks. After the hunt, they always return with something interesting and tasty.
Their recent round of acquisitions netted some marginal 80's horror titles that all feature a Stephen King tie-in. One, "Maximum Overdrive," is written and directed by King, his first foray behind the camera. The second, "Children of the Corn," is a feature-length adaptation of King's short story. The third, "Creepshow 2," features a King short story among it's trilogy of terror.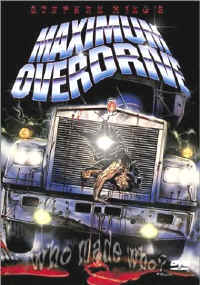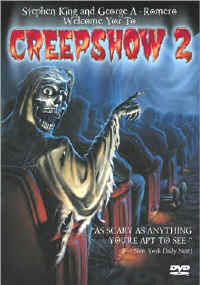 Anchor Bay Entertainment isn't promoting the films as the Stephen King trilogy, but I felt that since they share so much in common, it would be fun to review them as such.
CHILDREN OF THE CORN
It's hard to believe that Stephen King's short story about demonic kids who hang out in a cornfield would launch a film franchise. When "Children of the Corn" arrived at the tail-end of the Stephen King film phenomenon, audiences could tell that filmmakers were bottom feeding. Instead of a novel, "Children of the Corn" was based on a short story, and in that milieu worked quite well. A quick read, in and out. By stretching the story into a feature length film, the filmmakers have padded the story with too many artificial boos. The story is creepy, but once you get it, there's not much more to recommend it. Peter Horton and Linda Hamilton star as a couple who get lost and wind up stranded in a small town strangely void of adults.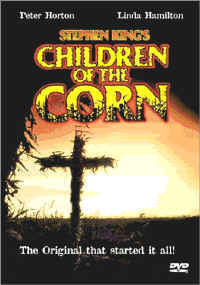 That's because the children, who worship something in the fields called "He Who Walks Behind the Rows," have dispatched everyone over 18. Now Hamilton and Horton must rely on two seemingly normal children to escape from the cult's leader Issac (John Franklin) and his associates. There is a modicum of thrills in this interesting idea, but not enough to sustain it's running time. Most of the scares are of the common garden variety, while the performances seem as animated as the corn.
CREEPSHOW 2
Second-string sequel lacks the same bite and wit of the original "Creepshow," which benefited from the full-time participation of George Romero and Stephen King. Behind the camera is Michael Gornick, who lacks the visual flair to make a live action comic book. What worked in the first "Creepshow" is sadly lacking in the sequel, which was made by another studio. Once again, three tales of terror are wrapped around a comic book opening. The trilogy includes a tale about a Cigar Store Wooden Indian that comes to life to avenge the death of its owner; a woman who accidentally runs over a hitchhiker and keeps going, only to bump into him several more times; and a creepy little entry about four high school kids whose trip to the local swimming hole pits them against a giant fungus. Thank goodness the stories lend themselves to natural suspense, giving the film some sense of foreboding. The cast is also second-string, with appearances by George Kennedy, Lois Chiles and Dorothy Lamour, who all appear as stiff as the wooden Indian.
MAXIMUM OVERDRIVE
Dissatisfied with the way his stories were being turned into movies, writer Stephen King knew the only way to keep the faith was direct one himself. So he did. The results were "Maximum Overdrive," a vicious, brutal, wicked horror film about what happens to a small group of strangers when trucks and other machines take on a life of their own. Don't try to make sense of this mess. That's not the point. King's point was to see how people react under life and death situations, and with his satiric screenplay, he succeeds. Even though most of the inhabitants of the Dixie Boy truck stop cafe' are stock characters, King gives them plenty to say. King also defies traditional Hollywood rules and goes for the jugular. When he turns up the heat, he really sets the screen on fire. He throws abandon out of the window and creates horrific images that stay with you. There's an unspoken rule in Hollywood that says you can't kill kids or dogs. Steven Spielberg broke the rule in "Jaws" (by doing both in the same scene), so leave it up to King to up the ante and actually show the results. We've been trained by convention to believe that when a kid on a bike is being chased by an out of control steamroller, the kid will get out of the way at the last moment. Yeah, right. Not here. The steamroller not only rolls over the kid, but his bike as well. In the scene before that, a dog meets an unfortunate end when he gets nailed by a flying can of soda. Ouch. Inside the cafe, Emilio Estevez and Pat Hingle try to make sense of the phenomenon and so they can stop it. By setting "Maximum Overdrive" inside a truck stop cafe, King allows himself the freedom to create a wide range of characters and situations. There's plenty of danger and close calls (not to mention road kill), and enough hard rock on the soundtrack (AC/DC anyone?) to make this horror thriller rock.
COMPLETE CHECK-UP
VISION:
CHILDREN OF THE CORN: Cataracts
1.66:1 Widescreen
16:9 Enhanced
Shot on a low budget, the film's meager production values really play havoc with the digital transfer, which strains to make a good thing out of a bad situation. The moody, low lit scenes aren't solid and lack detail, but under the conditions they are pretty decent. Flesh tones are good, while colors are realistic but not as vibrant or vivid as they could be. Images are flat, so they lack depth of field, and attention to detail is limited.
CREEPSHOW 2: 20/20
1.85:1 Widescreen
16:9 Enhanced
Except for some minor edge enhancement, the digital transfer is excellent. Presented in the film's original widescreen format, the images are filled with sharp, crisp images, bright colors, solid blacks and nice attention to detail, especially in low light situations. Color saturation is warm, with no bleeding or fading. There is a little speck here and there (common with older films) but they are hardly noticeable. Flesh tones are very good, while earth tones look warm and inviting. Reds are true to their source.
MAXIMUM OVERDRIVE: 20/20
2.35:1 Widescreen
16:9 Enhanced
A big film about big trucks needs a big screen, and Anchor Bay obliges with this big and bold widescreen transfer that puts everything into perspective. The colors are solid and vivid, especially the flattering flesh tones that are very life like. Blacks are industrial strength, never wavering, even during the night shots. Pristine print allows for an equally clean transfer, with no grain or pixelation. Whites are pure, shadows full of detail, while the depth of field goes on forever. Nicely realized effort.
HEARING:
CHILDREN OF THE CORN: Good
5.1 Dolby Digital Surround
2.0 Dolby Digital Surround
The new 5.1 Dolby Digital Surround soundtrack is much better than the video transfer. It makes full use of the various sound fields, creating an ominous blanket of noise that envelops you. The front sound fields sound accurate, with a strong dialogue mix. Rear speakers and surround effects pick up on the rustling of the corn and the film's creepy score. Ambient noise sounds realistic. Basses are there but not bombastic, while middle and high ends get by with very little hiss or distortion.
CREEPSHOW 2: Okay
Dolby Digital Mono No big deal. The mono soundtrack efficiently dispenses the proper doses of dialogue and music cues without any annoying hiss or distortion.
MAXIMUM OVERDRIVE: Okay
5.1 Dolby Digital Surround
2.0 Dolby Digital Surround
The DVD features a new 5.1 Dolby Digital Surround soundtrack, which does include more data, but also sounds manufactured. The mix is low, so you have to turn up the volume, which is a little jarring when you switch over to the television. Turning up the volume also turns up the flaws in the new mix, which makes full use of the sound fields, but lacks conviction. You never feel like you become part of the experience. That said, what is there works. The musical score, featuring AC/DC pumps up the jam, and the bass action seems more active. Rear speakers seem to have more to do, especially during the film's more high octane moments. Dialogue mix is a little low, but this isn't Shakespeare.
ORAL: Good
Closed Captions in English for the Hard of Hearing
COORDINATION:
CHILDREN OF THE CORN: Okay
The film's original theatrical trailer
16-Page Collector's Booklet
Animated main menu and standard issue scene access menu
CREEPSHOW 2: Good
The film's original theatrical trailer
Behind the Scenes Still Gallery
Animated main menu and standard issue scene access menu
MAXIMUM OVERDRIVE: Okay
The film's original theatrical trailer
Stephen King Biography
Animated main menu and standard issue scene access menu
PROGNOSIS: Good
While not for everyone, these three horror titles with a Stephen King tie-in will please fans of the genre. Anchor Bay once again does a good job of unearthing lost titles and bringing them to the marketplace for rabid horror fans.
VITALS:
CHILDREN OF THE CORN – $24.98/Rated R/92 Minutes/Color/Keepcase
CREEPSHOW 2 – $24.98/Rated R/96 Minutes/Color/Keepcase
MAXIMUM OVERDRIVE – $24.98/Rated R/98 Minutes/Color/Keepcase
ATTENDING RESIDENT: John Larsen
PATIENT: STEPHEN KING TRILOGY
CHILDREN OF THE CORN – 1984
CREEPSHOW 2 – 1987
MAXIMUM OVERDRIVE – 1986
HMO: ANCHOR BAY ENTERTAINMENT