The Quiet American
Sir Michael Caine is such a consummate actor he makes it easy for us to forget we're watching a performance. The two-time Oscar winner (Hannah and Her Sisters, The Cider House Rules) is so adept at drawing us into his character's life that he can make even a bad movie good.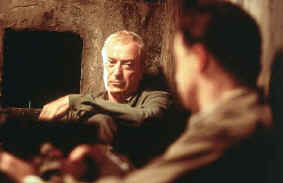 Caine gives the performance of his life in "The Quiet American," a soul searching, gripping examination of a British journalist in 1952 Saigon who befriends an American aid worker, only to watch his comfortable, simple life come unraveled.
Based on Graham Greene's 1952 novel, "The Quiet American" is the second screen version of the story, the first produced in 1958 and starring Audie Murphy. When that version was released, a lot of Greene's anti-American sentiment was removed, and the film, like the book, lacked the foresight of what was to transpire in Vietnam.
Director Phillip Noyce, working from a smart, linear screenplay by Christopher Hampton and Robert Schenkkan, takes advantage of hindsight by infusing the film with political posturing that was only hinted at when Greene wrote the novel. Time has been good to "The Quiet American," which allows us to look back at the events that led to American troops entering Vietnam, first as advisors to the French, later as soldiers fighting the war against Communism.
The story is told by veteran British journalist Thomas Fowler, a London Times correspondent who has come to love Saigon and its people, especially young mistress Phuong (Hai Yen Do), a former taxi dancer who dreams of the day Fowler will divorce his wife and marry her. Fowler has become so seduced by the exotic considerations of Saigon he has only filed three stories in the past year, forcing the Times to call him back to London.
Just as Fowler begins looking for a story to keep him in Saigon, he meets American aid worker Alden Pyle (Brendan Fraser), a smart, strapping, good-looking chap who claims to be on a mission of mercy. The two strike up an immediate friendship, one that is tested when Pyle meets and falls in love with Phuong (Vietnamese for Phoenix).
The British author's obvious disdain for Americans, an undercurrent running through many of his novels, takes precedence when Fowler suspects that Pyle isn't what he claims to be. Fowler is less worried about Pyle sweeping Phuong off her feet than his ability to sidetrack an important story involving early American involvement in the French Indonesian-Vietnam conflict.
Noyce, the acclaimed Australian who feels equally at home directing big budget thrillers (The Patriot Games, A Clear and Present Danger) and small, personal films (Rabbit Proof Fence) manages to bring both worlds together in "The Quiet American." On the surface, the film is a drama about three people whose lives become intertwined by love and circumstance, but look deeper and "The Quiet American" becomes a wartime political thriller filled with suspense and espionage.
Christopher Doyle, the brilliant Hong Kong cinematographer (In The Mood for Love, Happy Together), and production designer Roger Ford have done an excellent job of recreating the inviting and sultry look of Saigon of the 1950s. Shot on location and in Australia, "The Quiet American" looks and feels like the real McCoy.
While Caine anchors the story, the supporting cast is equally absorbing. Fraser stands tall as "The Quiet American" who may not be so quiet, a man supposedly devoted to helping people but whose presence leaves people talking. At first Fraser's performance is questionable, but once it becomes clear who and what we're dealing with, it all makes sense.
Following her powerful debut in "Vertical Ray of the Sun," Chinese actress Hai Yen Do is exceptional as the love interest that first divides and then brings together Fowler and Pyle. She doesn't say much, but her presence is always felt, her feelings always a consideration. Her internal conflicts, should she stay with the man she can't marry, or marry the man who can take her away from Vietnam, come through loud and clear in her expressive eyes.
Caine is the glue that holds "The Quiet American" together, and as the story develops, so does the intensity of his performance. Caine slowly strips away convention to deliver a character who not only understands the consequences of his actions, but accepts them at all costs.
A lot has been written, filmed and discussed about the Vietnam conflict, and even though some films, especially Ted Post's realistic and gritty "Go Tell The Spartans," have dealt with the early American occupation of Vietnam, none have come close to examining the personal and political devastation better than "The Quiet American."
THE UGLY AMERICAN Caine is able as British journalist in Vietnam
THE QUIET AMERICAN
Michael Caine, Brendan Fraser, Hai Yen Do, Tzi Ma, Rade Serbedzija. Directed by Phillip Noyce. Rated R. 101 Minutes.
LARSEN RATING: $8.00