Spike And Mike
Spike & Mike, those bad boys of animation, have been bringing their signature brand of sick and twisted humor to film festivals and video for years, and now they take on DVD with a vengeance. This compilation features 35 animated shorts from various friends and associates, the kind of folk you wouldn't trust to be left alone with your pets.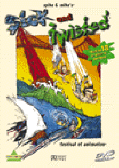 Each one is sicker and more twisted than the previous one, and because of the perverse and violent nature of some of this stuff, you must be 18 or older to purchase this DVD. That means every 14-year old male will want to own a copy. Hey, I'm a big boy, but some of this stuff caught me off guard.
That's not necessarily a bad thing, but it's obvious that the sole purpose of some of these quickies is to shock and offend. That out of the way, here's the good news. I loved "Dumb, Big, Fat, Stupid Baby," in which an infant becomes grounded by the largest baby dump in history, only to be devoured by flies during his internment. Bill Plympton's "How To Make Love to a Woman" is downright hysterical, as is "Horndog" and "Jurassic Fart." "Empty Roll" is a brief yet fall-down funny solution to an age-old problem, while "Baby's New Formula" and "Dogpile" prove that dog is not always man's best friend.
For sheer gross-out, there's three vignettes called "Lloyd's Lunchbox." Watch in horror as Lloyd treats himself to some pretty masochistic practices. Thank God this was animated or I would have lost my lunch. There's more, and like all collections, some are better than the rest. The nice thing about DVD is you can jump to the next entry without having to fast-forward.
COMPLETE CHECK-UP
VISION: [ ] EXCELLENT [ ] GOOD [ x ] RESUSCITATE [ ] D.O.A.
Definitely not 20/20. Pretty much what you would expect from such a hodgepodge collection. It's hard to tell if the lack of quality is due to the original material (most or all of it done on 16mm) or the transfer. It's not bad, but it won't win any awards either.
HEARING: [ ] EXCELLENT [ ] GOOD [ x ] RESUSCITATE [ ] D.O.A.
Major drawback. Some of the tracks are so low you have to pump up the volume just to hear them. Needless to say, don't expect DVD quality sound. Animation is supposed to be about the visuals anyway.
ORAL: [ ] EXCELLENT [ ] GOOD [ ] RESUSCITATE [ x ] D.O.A.
You were expecting sub-titles or closed captioning?
COORDINATION: [ ] EXCELLENT [ x ] GOOD [ ] RESUSCITATE [ ] D.O.A.
Hey, someone took the time to make these wild and wildly inventive animated films available on DVD. What more do you want?
PROGNOSIS: [ ] EXCELLENT [ x ] GOOD [ ] RESUSCITATE [ ] D.O.A.
Only if this is your bag. While the compilation would seem more at home in a small theater near a college campus at midnight, it's nice to capture some of that magic at home. A great conversation piece, makes you look hip if it's in your collection.
VITALS: $29.99/Not Rated/100 Min./Color and B&W/Snapcase/#1997
ATTENDING RESIDENT: John Larsen
PATIENT: SPIKE & MIKE'S SICK & TWISTED FESTIVAL OF ANIMATION
BIRTH DATE: 1997
HMO: Lumivision