Looney Tunes: Back In Action
You can't keep a good duck down, as "Looney Tunes: Back in Action" attests. While not as novel as the groundbreaking "Who Framed Roger Rabbit," "Back in Action" is much better than "Space Jam," the 1996 blend of live action and Warner Bros. cartoon animation featuring Michael Jordan and Bugs Bunny.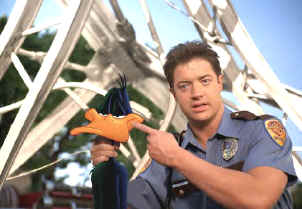 While "Space Jam" was limited in its scope (an intergalactic basketball game), "Back In Action" is all over the place, a wild ride that benefits from the direction of Joe Dante, whose best films have been live action cartoons like "Gremlins," "Innerspace" and "Small Soldiers." This isn't just a job for Dante, it's an opportunity to put his best foot forward, and the results have the giddy effect of a kid in a candy store. Just when you think you're full, Dante and writer Larry Doyle open up a new Pandora's box of goodies and the fun starts all over again.
It's contract negotiation time on the Warner Bros. lot, and Kate Houghton (Jenna Elfman), Vice- President of Comedy, wants to dump Daffy Duck. It doesn't help Daffy's cause when he aligns himself with part-time stuntman/security guard DJ Drake (Brendan Fraser, no stranger to playing live action cartoons), who gets fired after an accident involving the legendary Warner Bros. water tower. With Daffy gone, Houghton learns that Bugs is a one-note performer, Abbott without Costello.
That means tracking down Daffy and DJ, who are hot on the trail of DJ's father Damien (Timothy Dalton), Warner's biggest star, who has been kidnapped by The Chairman (Steve Martin, so over- the-top he makes a complete circle) of ACME. Like in "Roger Rabbit," Doyle's screenplay allows the Looney Tunes characters to frequent the real world, creating an abstract reality that perfectly suits the larger-than-life antics of the human and animated performers.
The gags come fast and furious, visual and verbal jokes that respect the memory of animator Chuck Jones, including nostalgic nods that remind us why we feel in love with the Looney Tunes so many years ago. Dante, whose attention to detail fills every frame with something interesting, understands the power of brevity, and doesn't waste a moment tossing us into the action. "Back in Action" is so fast and frenetic it feels like an extended Looney Tune rather than a feature length film.
Brendan Fraser is the perfect choice to play the earnest DJ (who looks suspiciously like Brendan Fraser, don't ask), full of wide-eyed innocence and bravado (the "Indiana Jones" search for a missing diamond is a hoot). His interaction with the animated characters is just as animated, creating a synergy that helps us immediately suspend disbelief.
DUCK AND COVER
Daffy goes "Looney" in "Tunes" treat
LOONEY TUNES: BACK IN ACTION
Brendan Fraser, Jenna Elfman, Steve Martin, Timothy Dalton, Heather Locklear, voice of Joe Alaskey. Directed by Joe Dante. Rated PG. 83 Minutes.
LARSEN RATING: $7.00