Something About Mary DVD
There's something about Mary, all right. She's a babe. Not just any babe, but a sweet, good-natured, smart and successful babe. From the moment we meet Mary (Cameron Diaz), it's love at first sight. You can see why the male characters in "There's Something About Mary" fall all over themselves trying to be the light in her eyes.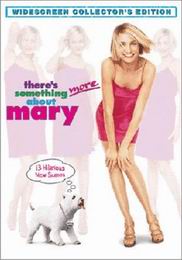 In any other film maker's eyes, "There's Something About Mary" would be a sweet and innocent romantic-comedy with the emphasis on romance. Lucky for us, director brothers Bobby and Peter Farrelly are not like other filmmakers. Their first two films, "Dumb and Dumber" and "Kingpin," proved that they had the ability to push the envelope without sacrificing the characters or plot. Even at their most extreme, their characters manage to stay grounded, making their outrageous behavior even more funny. "There's Something About Mary" is their most accomplished film to date, and their most audacious. I was amazed that "Kingpin" skirted by with a PG-13 rating. "Mary" is rated R, and with good reason. The jokes are bigger, bolder and nastier, the laughs uncontrollable. Ben Stiller is wonderful as the nebbish Ted Stroehmann, a high school senior with a mouth full of metal and a geek haircut. That doesn't stop new student Mary Jenson (Diaz) from asking Ted out to the prom after he stands up for Mary's retarded brother Warren (W. Earl Brown). It's one of the film's many magical moments, the honest emotional bridges that connect the jokes. When Ted arrives to pick Mary up, he uses the bathroom to relieve himself while Mary fixes a broken strap. Nervous about the date, Ted catches his frank and beans in the zipper. Needless to say, Ted doesn't make the prom. Fifteen years later, Ted is still pining over Mary. Even his psychiatrist sneaks out during sessions. To help Ted move on with his life, his friend Dom (Chris Elliott) suggests that he hire a private detective to find Mary. Enter Pat Healy (Matt Dillon with one of those wonderfully sinister pencil moustaches), a smarmy P.I. who takes the assignment. Mistake number one. When Healy finds Mary, he's instantly smitten, and decides to use his eavesdropping skills to learn her likes and dislikes and then walk into life as the perfect man. Healy reports back to Ted that Mary is a 250 pound wreck with three kids and on her way to Japan as a mail-order bride. Disappointed, Ted backs down, leaving Healy all the room he needs to move in on Mary. Classic set-ups and not-so-classic payoffs permeate the proceedings. When Ted realizes that he's been duped, he heads down to Florida to stop Healy. His trip is filled with all sorts of unexpected roadblocks, including being arrested and inadvertently confessing to being a serial killer. Poor Mary. Little does she know what she's in. The Farrelly brothers, along with screen writers Ed Decter and John J. Strauss, have stacked the cards against her, but with Diaz at the helm, she navigates the indignities with charm and innocence. The film finds lots of politically incorrect targets to shoot at, and on most occasions they hit the bull's-eye. Even the tasteless moments are presented without apology. You can't help but laugh. Hit the head before you see the film, because you might wet yourself laughing so hard. Jonathan Richman's musical interludes are a sweet way to advance the story, sort of a Greek chorus for geeks. Stay for the closing credits, as the entire cast presents a rather unorthodox music video. I laughed until it hurt. This "Mary" is quite contrary.
COMPLETE CHECK-UP
VISION: [ X ] 20/20 [ ] Good [ ] Cataracts [ ] Blind
Extremely bright, cheerful digital transfer is as colorful as the film. Delivered in the film's original widescreen aspect ratio, the DVD features sharp, vivid images with excellent color saturation and no noticeable digital compression artifacts. Blacks are solid and sincere, while flesh tones are extremely flattering. Depth of field is strong, and attention to detail is amazing. Thanks to a pristine negative, the whites and shadows are clean. Nicely done.
HEARING: [ X ] Excellent [ ] Minor Hearing Loss [ ] Needs Hearing Aid [ ] Deaf
The DVD features a nice selection of audio features, including an impressive 5.1 Dolby Digital Surround soundtrack, plus 2.0 stereo tracks in English and French. The 5.1 Dolby Digital soundtrack comes alive with an excellent dialogue mix, superior ambient noise and effective stereo effects. Basses are okay but not overused, while middle and high ends purr. Rear speakers feature lively mixes of musical cues and the occasional surround effect, while the front stereo split is honest and natural. No audible hiss or distortion.
ORAL: [ ] Excellent [ X ] Good [ ] Poor
Closed captions in English for the hard of hearing, subtitles in Spanish.
COORDINATION: [ ] Excellent [ X ] Good [ ] Clumsy [ ] Weak
First and foremost is the lively feature-length audio commentary with the Farrelly brothers. Even though they have a tendency to point out very friend and relative they cast in the film. The brothers did the same thing with their audio commentary on "Kingpin." Okay, we get the idea. However, the rest of the offering is pure gold, a collection of observations and insights that are eye opening and hilarious. For instance, the brothers clue us in on some of the behind-the-scenes stuff that is visible on film, like Cameron Diaz's response to an impromptu line. It looks all pure and innocent on film, but when you know what the actress actually said, the scene is even funnier. There's also lengthy discussions about Mary's hair gel, and the gentleman who handled the special effects goo. Highly entertaining stuff. There's also a nifty selection of outtakes that make the experience unbeatable, plus the original and Karaoke versions of the "Build Me Up, Buttercup" song. Toss in the film's original theatrical trailer and some sketchy bios, plus colorful and animated main and scene access menus (watch out for the dog), and what you get is a nice little package of extras.
PROGNOSIS: [ X ] Excellent [ ] Fit [ ] Will Live [ ] Resuscitate [ ] Terminal
Yes, there is something about this DVD! It's a keeper….
VITALS: $34.98/Rated R/119 Minutes/Color/30 Chapter Stops/Keepcase
ATTENDING RESIDENT: John Larsen
PATIENT: THERE'S SOMETHING ABOUT MARY
BIRTH DATE: 1998
HMO: 20th Century Fox Home Entertainment