Slums of Beverly Hills DVD
"Slums of Beverly Hills" is one big grin, an awkwardly funny tale that proves that no matter how low you rate on the social scale, you can always depend on family. Even when I doubted writer-director Tamara Jenkins' sincerity, I still found "Slums of Beverly Hills" entertaining and morbidly funny.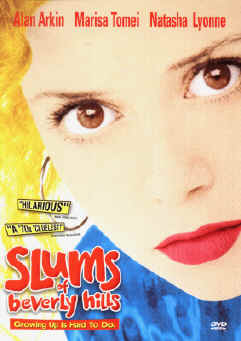 How else do you describe a comedy with a preoccupation for teenage breasts, vibrators, dead cats and female plumbing? "Slums of Beverly Hills" is Jenkins' first feature film, and she displays amazing skill with actors and engaging dialogue. Her clever script and stellar cast makes it easy for us to empathize with characters trying to make the best of a bad situation. Set in 1976, "Slums of Beverly Hills" evokes the period with small touches: classic rock songs, outrageous clothes, the occasional period automobile, plush orange carpet.
Instead of pouring on layers of nostalgia, Jenkins focuses on the interesting characters. Alan Arkin is splendid as Murray Abramowitz, a man willing to do what ever it takes to get his kids a decent education. To Murray, a car salesman in a slump, that means living within the city limits of Beverly Hills. To his three kids, that means moving in the middle of the night when Murray can't pay the rent. As told from the perspective of Vivian Abramowitz, it's a give and take situation that's getting old. Viv is at the age where she needs some stability in her life.
Much to her dismay, she's filling out. She hates her new breasts because guys can't keep their eyes off them, and they have become the topic of jokes for her two brothers, Ben (David Krumholtz) and Rickey. Afraid to commit to anything or anyone, Viv takes her life in stride. There's a mother back East, but they don't talk about her. There's also Murray's older, well-to-do brother (Carl Reiner) who occasionally helps out. That's where Rita (Marisa Tomei) comes in. Actually, she enters the film by flashing her breasts (there's that breast thing again) to stop a truck so she can run away from her latest rehab center.
Rita is Murray's brothers 29-year-old train wreck of a daughter. Constantly strung out on uppers or alcohol, Rita is a handful, and that gives Murray an idea. He agrees to keep Rita safe and sane in exchange for a monthly check from his brother. Murray enrolls Rita in a school for nurses and moves his kids to an apartment with real shag carpeting and furniture. The Abramowitz's have hit pay dirt for the first time in a long while, yet Vivian is cautious and withdrawn. She knows the drill. Even though she's attracted to him, Vivian keeps the pseudo-hunk drug dealer across the street at a distance. Vivian is turning into a woman, and doesn't know what to do. Rita does what she can to help the situation, including turning Vivian on to a vibrator, which she calls her "boyfriend." One of the film's most playful moments comes when the two play hot potato with the device.
In reality, Rita is pregnant. Some hunk actor in the rehab who won't return her calls. So she fits perfectly into this dysfunctional brood. This isn't a nuclear family, it's a nuclear explosion waiting to go off. Murray isn't the ideal role model, but he honestly loves his children. Arkin is wonderful as a man who once had everything and now sacrifices what little he has left to provide for his kids. Even at his most irresponsible, you can't but help like Murray and admire his actions. You root for him when he finds a "Beverly Hills" matron (Jessica Walter) who laughs at his jokes. I couldn't imagine "Slums of Beverly Hills" without the awesome Natasha Lyonne as Vivian. She's truly amazing, a poor white trash Lolita who grows up in front of our eyes.
Her wild mop of red hair and striking features are the perfect accessories for the character that instantly grows on you. Vivian is the Marilyn of this "Munster" clan, the only sane person in the room. You want her to find happiness, but that's not this movie. David Krumholtz is hilarious as Vivian's older brother Ben, an aspiring actor who does a mean version of "Luck Be a Lady" from "Guys and Dolls" in his underwear.
I've always liked Krumholtz (he was very funny as the chief elf in "The Santa Clause"), and here he gets a chance to shine. Kevin Corrigan has some outstanding moments as Eliot, the drug dealer (it's the business he dropped out of high school to pursue) across the street with a fixation on Charles Manson. Corrigan plays dense well real. Tomei really sizzles as the self- destructive Rita. Just the sight of her in a nurse outfit with those nose bleed platform shoes is worth the price of admission. Jenkins shows a real flair for writing dialogue that sounds real and honest.
You'll find yourself laughing at the most inappropriate things (a dead cat in an oven, a fancy dinner that ends badly), yet Jenkins never takes the low road. She just finds humor is real situations. She has a unique voice that deserves to be heard. "Slums of Beverly Hills" looks economical, and I can't imagine it costing a lot. That works in its favor. That puts the emphasis on the characters, and that's the film's real strength. You may not like this family, but you won't soon forget them. I liked "Slums of Beverly Hills" because it made me smile. I believe that's enough to recommend the film.
COMPLETE CHECK-UP
VISION: [ X ] 20/20 [ ] Good [ ] Cataracts [ ] Blind
The film's wonderful blend of sub drenched exteriors and warm, almost muted interiors look sensational on DVD. The digital transfer does present a minuscule amount compression artifacts, but not enough to warrant any kind of anxiety attack. The images are sharp and vivid, with fluid color saturation and impenetrable blacks. The flesh tones are sincere and honest, while the color scheme runs the gamut from dull to bright and cheery. For instance, there's little depth and detail in the drab apartments, while the film explodes with deep, gorgeous colors and detail when the world opens up. It's a cinematic trick that demands and gets respect on the DVD transfer. Delivered in the film's original 1.85:1 widescreen ratio, the images look marvelous.
HEARING: [ X ] Excellent [ ] Minor Hearing Loss [ ] Needs Hearing Aid [ ] Deaf
The DVD features a buoyant 2.0 Dolby Surround track, which we will get to later. In the meantime, the back cover says that there's also a 5.1 Dolby Digital Surround soundtrack and a French language soundtrack. When I go to the language set-up menu, there are click-able icons for the closed captions and subtitles, but no where to click for additional soundtracks. There's a large piece of artwork that says "Language Selection," but you can't click to it. The DVD also doesn't let you change audio tracks while the movie is playing, so you can't change the soundtracks there. Either the listing on the back cover is a mistake, or there's some magic word needed to get to the soundtrack menu. If anyone learns this secret, please pass it along. Now back to the available soundtrack. Excellent sound quality throughout, including distinct stereo separation and directional ambient noise. The kitschy musical numbers sound terrific, while I didn't notice any audible distortion or hiss. The sound is full-bodied, and even though it doesn't kick your sound system's butt, it will slap it around a little. Strong, clear dialogue makes every great one-liner come through loud and clear.
ORAL: [ ] Excellent [ X ] Good [ ] Poor
Closed captions in English for the hard of hearing, and subtitles in Spanish.
COORDINATION: [ ] Excellent [ X ] Good [ ] Clumsy [ ] Weak
Colorful, keeping-within-the-theme main and scene access menus, plus a healthy selection of chapter stops, cast & director bios and filmographies, and the original theatrical trailer.
PROGNOSIS: [ X ] Excellent [ ] Fit [ ] Will Live [ ] Resuscitate [ ] Terminal
There's a lot to admire about writer-director Tamara Jenkins' dark comedy about the 1970's, from it's excellent performances to it's wry, retro look and soundtrack. The DVD offers the best possible presentation.
VITALS: $34.98/Rated R/91 Minutes/Color/29 Chapter Stops/Keepcase/#4110379
ATTENDING RESIDENT: John Larsen
PATIENT: SLUMS OF BEVERLY HILLS
BIRTH DATE: 1998
HMO: 20th Century Fox Home Entertainment