Sin City
A lot of characters in Sin City lose their head, and if you' re a fan of the graphic novels, you' ll probably lose your head too over Frank Miller's Sin City, pulp fiction so thick and perverse it literally oozes off the theater screen. Director Robert Rodriguez, the independent firebrand who changed the face of low budget cinema with El Mariachi and Spy Kids, doesn't borrow from Miller's series of graphic novels about the thugs, pugs and jugs.
With Miller at his side (and with an assist from Quentin Tarantino), Rodriguez replicates each and every frame, delivering a dazzling hybrid that is unlike anything you have ever seen.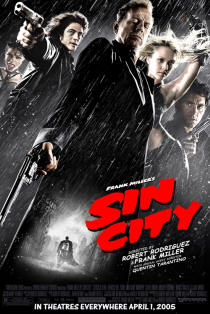 However, once you get it, the novelty wears off, forcing Rodriguez and company to keep delivering on that promise. For the most part they succeed. What distinguishes Frank Miller's Sin City from other attempts to crack the Pulp Fiction Code is the director' s passion. Like a big kid, Rodriguez delights in being our underbelly tour guide, taking us places and showing us things with a broad smile on his face and a devilish twinkle in his eye.
Frank Miller's Sin City is the dark, flip side of Pulp Fiction after partying with Jose Canseco for a weekend. Sin City is pumped up, fueled by dark characters who live in an even darker world. Using a series of cinematic tricks, Rodriguez captures the printed page on film with startling black and white images punctuated by flashes of color. Think Pleasantville if that little hamlet were overrun with the worst, most vile creeps to rise from the sewers of hell.
Told in three chapters with a prologue and epilogue, Frank Miller' s Sin City makes no apologies about its origins. In fact, the movie revels in the obvious, introducing each character with their ink and pen counterparts. This is to remind us what we are about to witness isn't really odd or out of place in this corrupt little world. This is who these characters are, where they live, and what they have to do in order to stay alive. The opening allows Rodriguez to tell the story without stopping the action every time a new character enters the frame.
Good thing, because Sin City is littered with dozens of comic book-inspired characters who literally leap from the page. If we stopped and took notice every time someone famous dropped by we would miss half the fun. Or carnage, or both depending on how you like your entertainment. If you find fun in carnage, then step right up, because Sin City more than lives up to its name. Severed limbs and heads, nasty strippers, crimson rivers of blood, and enough slicing and dicing to make a salad are Sin City's calling card.
The first character to dial in is John Hartigan (Bruce Willis), an aging, on his last heartbeat cop, ready to retire but with one loose end to tie up. Hartigan is the last of a dying breed, an honest cop in Basin City (Sin City, get it?), and before he hangs up his gun and attitude for good, he has his sites set on rescuing an 11-year-old girl named Nancy from the clutches of the abhorrent son of a corrupt senator. Even though he successfully saves Nancy, Hartigan is gunned down by his corrupt partner (Michael Madsen). Supposedly dead, Sin City abandons Hartigan and jumps into three semi-related tales of greed, sex, corruption, cannibalism, true love, and a beastly encounter with a man named Marv (Mickey Rourke under tons of make-up) looking for true love but willing to settle for revenge.
Each chapter is more disturbing than the previous, leading to an explosive showdown that proves the old adage: If you can't beat them, then beat them to the punch. Some people will be put off by the look and feel of the film, and perhaps by the hard-boiled dialogue that was lifted word by word from the frames of the graphic novels. Those coming to stargaze might feel cheated, because more than half the cast is unrecognizable. As a sleazy undercover cop, Benicio Del Toro looks like an exaggerated version of himself.
My enthusiasm derives from seeing so many run-of-the-mill films. When something as daring, novel, and edgy as Frank Miller's Sin City comes along, it's hard not to get excited. Drag me through the mud and muck, I don't care, as long as I don't have to sit through another movie delivered on two-ply toilet paper rather than celluloid.
IT's Miller Time!
FranK's City is a Sinful Treat
SIN CITY
Bruce Willis, Clive Owen, Benicio Del Toro, Brittany Murphy, Jessica Alba, Mickey Rourke, Elijah Wood. Directed by Robert Rodriguez, Frank Miller and Quentin Tarantino. Rated R. 124 Minutes.
LARSEN RATING: $8.00