Marci X
Who let the dogs out? Welcome to Hollywood's Hall of Shame, late August, a favorite dumping ground for mindless movies. No, this isn't a case of saving the best for last. On the contrary, the Dog Days of Summer are reserved for films aimed at audiences not smart enough to sneak out of town for one last hurrah.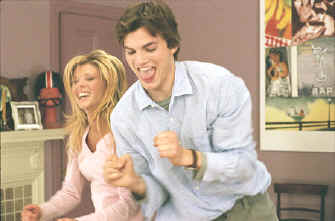 When movie stars get a break, they go on vacation. When television stars get a break, they make movies. While most of these "summer break" movies end up being just one degree from a direct- to-video release, there are exceptions.
"Marci X" and "My Boss's Daughter" are not among them.
What makes "Marci X" and "My Boss's Daughter" so unnerving is they come from directors I respect, Richard Benjamin ("My Favorite Year") and David Zucker ("Airplane"). If either of these films were their calling cards, both men would be working in the mail room, hidden in the back, far away from the clients.
"Marci X" is the bigger disappointment because I like Lisa Kudrow. In the films "Analyze This" and "Romy & Michele's High School Reunion," Kudrow bared her sharp comic chops. Now she plays Marci Feld, spoiled, rich Jewish princess whose idea of a good time is spending daddy's money.
When daddy's empire (which includes a Hip-Hop record label with a foul-mouthed star) becomes the target of an outraged U.S. Senator (Christine Baranski), Marci must part the waters of dissent and come up with a solution that will save the day. That means getting the notorious Dr. S (Damon Wayans) to clean up his act. Funny stuff, say, ten years ago.
"Marci X" feels so dated I wonder if it's been sitting on the shelf. The screenplay by the usually reliable Paul Rudnick ("In & Out" "Addams Family Values") also feels dusty, a collection of obvious jokes and fairytale posturing. It's "My Fair Lady" updated for the hip hop crowd. Benjamin is a hit and miss director, but with "Marci X," he doesn't even get close to the target. The film doesn't work on any discernable entertainment level.
The performances, even from seasoned players like Wayans and Baranski, feel like an obligation. Kudrow is appropriately bubbly, but like the squirrel that got nailed by a semi-truck, the rest of "Marci X" is flat.
Not surprisingly, "My Boss's Daughter" has been sitting on the shelf for a while, a long while, and is now making the rounds in theaters on its quick trip to home video. Why now? Is it star Ashton Kutcher's headline grabbing romance with Demi Moore? Or the buzz off his last film "Just Married"? Or just an opportunity for the studio to clean house and get some of those creditors off their backs.
I suspect all three. Kutcher delivers his usual one-note performance as Tom Stansfield, a researcher at a prestigious publishing house. The only man standing between Tom and his dreams is owner Jack Taylor (Terence Stamp). Tom wants a promotion, and oh yeah, to date Jack's daughter Lisa (Tara Reid). So when Tom receives an invitation from Lisa to housesit the family house, he sees it as an opportunity to prove how responsible he is and to get close to Lisa.
The dream job turns into a nightmare for Tom when various family members and friends drop by and help destroy the house. Kutcher's sense of disbelief as the walls of Jericho come tumbling down is endearing, for about two minutes. The screenplay by David Dorfman ("Anger Management") has screwball moments, some perfectly realized by Zucker, but Kutcher fails in his obligations as their go-to guy.
Tara Reid adds yet another pretty but oblivious blonde to her resume, eye candy with the wattage of an Easy Bake Oven. Terence Stamp is dressed to kill as the ravenous boss, someone capable of firing his secretary (Molly Shannon) over bad coffee.
Did either film make me smile? No, not really. Any uncontrollable laughter? Hardly. Why would I waste my time on either one? Because I wasn't smart enough to get out of town for one last hurrah.
THE DOUBLE MINT TWITS
TV stars grin and we have to bare it
MARCI X
Lisa Kudrow, Damon Wayans, Richard Benjamin, Christine Baranski, Jane Krakowski, Paula Graces. Directed by Richard Benjamin. Rated R. 100 Minutes.
MY BOSS'S DAUGHTER
Ashton Kutcher, Tara Reid, Jeffrey Tambor, Andy Richter, Michael Madsen, Jon Abrahams, Molly Shannon, Terence Stamp. Directed by David Zucker. Rated PG-13. 85 Minutes.
LARSEN RATING: $1.00