Short Cinema Journal 1:1
For years, those of us outside the film festival circuit have been deprived of the fascinating and experimental little films that have landed their makers big studio contracts. We get to hear all of the hoopla and read what gems they are, but with the exception of eclectic cable stations like "Sundance" and "Independent Film Channel," they have been inaccessible to the majority of us.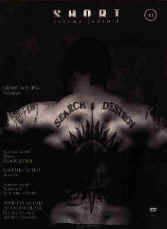 The innovative folks at 2014 have done something about it. Taking advantage of the DVD format, 2014 has done a magnificent job of gathering those little seen gems and compiling them on their "SHORT CINEMA JOURNAL" series of DVDs. The first volume available is a terrific blend of fun and fantasy, intriguing drama and documentary, and in-depth looks at the artists and talent who make it all come to life.
Volume 1:1 is entitled "Invention," and contains some prize-winning short subjects and animated features that entertain as well as challenge. Included are "Some Folks Call It A Slingblade," the short film that impressed enough folks to become the Oscar-winning "Slingblade." Also included are the animated features "Mr. Resistor," and "The Big Story," an interview with filmmaker Michael Apted, a tribute to John Lee Hooker, and the Academy Award-winning short, "Black Rider." The short films are tied together by a series of vignettes featuring Ryan Stiles ("The Drew Carey Show") and Sean Masterson as two Hollywood-type wannabes scheming to make it big. I truly appreciated the format's ability to constantly surprise me. Expect the unexpected.
COMPLETE CHECK-UP
VISION: [ ] EXCELLENT [ X ] GOOD [ ] RESUSCITATE [ ] D.O.A.
Due to the nature of the beast, some of the short films look better than others, but a lot of time and care went into the transfer to provide the best possible picture. Compilations are a varied lot, so getting into which short films are presented in widescreen as opposed to full screen would be fruitless. Suffice it to say that the folks behind this DVD made sure that you get your money's worth.
HEARING: [ ] EXCELLENT [ X ] GOOD [ ] RESUSCITATE [ ] D.O.A.
The 5.1 Digital Dolby Surround and 2.0 Surround tracks are superior considering their varied quality.
ORAL: [ ] EXCELLENT [ ] GOOD [ ] RESUSCITATE [ X ] D.O.A.
Nada, but then, what did you expect?
COORDINATION: [ ] EXCELLENT [ X ] GOOD [ ] RESUSCITATE [ ] D.O.A.
There's much more, a total of thirteen short films, some taking full advantage of DVD's capabilities. Albert Watson's performance piece by singer Henry Rollins has several alternate audio tracks. "The Big Story," a hilarious animated newspaper vignette starring Kirk Douglas in all the roles, also has an alternate video track that presents the short in it's sketch form. Nothing earth-shattering, but a comprehensive collection of cool short films presented in a fun, respectful line-up.
PROGNOSIS: [ ] EXCELLENT [ X ] GOOD [ ] RESUSCITATE [ ] D.O.A.
You don't have to be a cinema student or fan of short films to appreciate this effort. Highly recommended.
VITALS: $24.95/Not Rated/Color-B&W/137 Min./Cardboard Sleeve/#440 046 562-2
ATTENDING RESIDENT: John Larsen
PATIENT: SHORT CINEMA JOURNAL 1:1
BIRTH DATE: 1998
HMO: 2014/Polygram