Radio
Despite good intentions, "Radio" suffers from a weak signal. That signal is the too-good-to-be- true screenplay by Mike Rich ("Finding Forrester") which takes the true story of a mentally challenged black man nicknamed "Radio" and turns his life into a moderately engaging television movie of the week.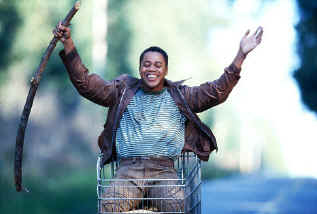 As large screen entertainment, this "Radio" is desperately in need of new batteries.
After suffering through severe career setbacks as "Boat Trip" and "Rat Race," Cuba Gooding Jr. jumps into the role of James Robert Kennedy, a local fixture in the small town of Anderson, South Carolina. Nicknamed "Radio" for his love of music and collection of radios, Kennedy hovers around town like a small child let loose in a toy store. With his always present shopping cart, "Radio" is barely a fringe player in the football town, until a cruel incident lands him in the good graces of football coach Harold Jones (Ed Harris).
After his players frighten "Radio" by locking him a shed and pelting it with footballs, Jones recruits "Radio" as a good luck charm, mascot, and cheerleader. In real life, Kennedy became a fixture on the team for forty years, inspiring legions of players, coaches and locals, even the mean- spirited local banker who sees "Radio" as a distraction rather than an asset. Aside from the obvious speed bumps, there are no mountains to climb in Rich's script.
One of Rich's major missteps is condensing Kennedy's remarkable life, captured in a Sports Illustrated article (on which the script is based), to a mere year. "Radio" would have been a much better film if we were able to check in on Kennedy throughout his incredible journey, to witness how each new generation embraced his courage and spirit. Instead, every emotion seems compact and guaranteed to evoke just the right response.
Director Tollin, a former producer whose feature debut was the pedestrian "Summer Catch," isn't seasoned enough to distinguish between good and bad manipulation. He milks every emotional scene until it's barren, leaving us feeling drained and used. There's very little conflict in Rich's script, which strikes me as odd when you consider that element was what made "Finding Forrester" so rich.
Tollin and his production team paint picture perfect small town ambience, a Norman Rockwell magazine cover come to life, the perfect setting for larger than life characters to rise above the ordinary. Gooding Jr. is okay as "Radio," but his contribution feels more like a performance than an investment. Harris fares better as the kindly coach with a sympathetic wife (Debra Winger) and neglected daughter, while Alfre Woodard is strong as the school principal.
"Radio" isn't a bad movie, but with a little fine tuning, it could have been an emotional epic about the human spirit.
Short Wave "Radio" Inspirational story suffers from weak signal
RADIO
Cuba Gooding Jr., Ed Harris, Alfred Woodard, S. Epatha Merkerson, Debra Winger. Directed by Michael Tollin. Rated PG. 109 Minutes.
LARSEN RATING: $4.00