Seabiscuit
Underdogs and dreamers, compelled by adversity, hardship and heartbreak, race to the finish line in "Seabiscuit," a nostalgic tale of heroism, hope and history that emerges as a thoroughbred of summer movies.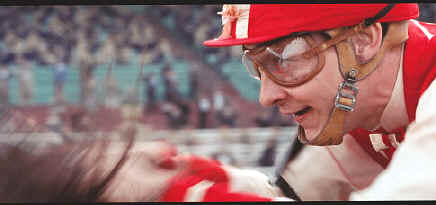 Not your typical throwaway summer movie, "Seabiscuit" comes with a pedigree that has Oscar written all over it. Sturdy, passionate direction by Gary Ross ("Pleasantville"), colorful, lively performances, and a perfect sense of time and place that magically transports us back to a simpler but not necessarily kinder era. Movies like this aren't usually let out of the gate until the end of the year, but the Trifecta releasing team of DreamWorks, Universal and Imagine Entertainment are playing the odds that "Seabiscuit" will not only place and show, but win the race.
Historical dramas are always a tricky investment, sort of like used cars passing themselves off as current models. Anyone familiar with the story of "Seabiscuit" will know how the story ends long before the characters on the screen. The trick is to make the characters and their story so vivid and alive that we become part of the action and not just passive viewers. Writer-director Gary Ross doesn't just pull a rabbit out of his hat, he keeps diverting our attention with fascinating and enjoyable story arcs that make everything old feel new again.
Like myself, the audience I saw "Seabiscuit" with (including one of those notorious cow chewers) was swept off their feet, cheering and clapping each and every time the story took a winning turn. It's rare for a film to evoke that kind of emotion and response, but "Seabiscuit" earns it. This definitely is a horse of a different color, shaded with strokes of amazing fortitude and heart.
Narrated by historian David McCullough (reminding me of narrator Rex Allen and those great Walt Disney nature documentaries), "Seabiscuit" covers a lot of territory, introducing and then allowing us to grow with the characters before setting them on a collision course with history. Toby McGuire rides high as Johnny "Red" Pollard, a book smart rider separated from his family by the Great Depression and forced into violent boxing matches to earn money.
The Great Depression also takes its toll on businessman and auto manufacturer Charles Howard (Jeff Bridges), who springs back from calamity by investing in a race horse, a runt picked and trained by Tom Smith (Chris Cooper), a true cowboy who can talk to horses (whisper?) and prefers sleeping in the wide open. When all three men come together, the pieces of a winning puzzle are in place, creating a kinetic energy that is unstoppable.
What I most appreciated about the screenplay by Ross was its ability to educate as well as entertain, seamlessly touching on numerous historical bases in order to score a home run. One doesn't have to be familiar with the events and characters in order to appreciate the trials and tribulations endured on the way to the winners circle. Ross provides just enough insight to give the characters depth and purpose. Behind the camera, Ross brilliantly calculates the perfect balance of pathos and human comedy, allowing the actors to carry the film without weighing it down with unnecessary emotional baggage.
The synergy between man and beast drives McGuire's performance, a smart kid who becomes an equally smart man. Even when all hope is lost, we believe Red Pollard will rise from the ashes like a Phoenix and fly again. The character's relationship with the underdog race horse is filled with truth and respect.
Bridges is warm and reassuring as Howard, who goes from working on an auto assembly line to producing his own make and model. There are glimpses of Bridges' character from "Tucker" on view here, but "Seabiscuit" allows him to dig deeper and expose a man who struggles through heartbreak and disappointment with perseverance and the notion that no matter what race he's involved in, the finish line is the future.
Hiding underneath a thinning head of gray hair, chameleon actor Chris Cooper is outstanding as a man who not only works with horses for a living, but understands them on their own level. He's the voice of reason that drives the story, a wise sage always in tune with the elements around him.
Filled with colorful, exciting images, gorgeous production design that transports us back in time, and a rousing musical score that emphasizes the natural flow of events, "Seabiscuit" is a film that looks and sounds great, and has a lot to say about the human condition. Any film that can rally an audience to its feet has not only done its job, it raises the bar for all that follow in it's foot, I mean, horse steps.
Horse Sense Historical drama gallops to the finish line
SEABISCUIT
Toby McGuire, Jeff Bridges, Chris Cooper, Elizabeth Banks, William H. Macy, Eddie Jones. Directed by Gary Ross. Rated PG-13. 140 Minutes.
LARSEN RATING: $8.00