Good Morning, Vietnam
By the time Robin Williams arrived in Thailand to film Barry Levinson's "Good Morning, Vietnam," his film career was in full swing. Having jumped from the lightning-in-a-bottle television show "Mork & Mindy" to the big screen, Williams proved that through thick and thin he can deliver the goods.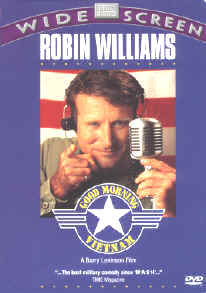 He survived the Robert Altman debacle "Popeye," and managed to float to the surface of such sinkers as "Survivors" and "The Best of Times." His star turns in "The World According to Garp" and "Moscow on the Hudson" proved that Williams was capable of more than making people laugh. Then came "Good Morning, Vietnam," which is possibly the consummate Robin Williams performance. "Good Morning, Vietnam" allowed Williams to have his cake and eat it too: a juicy dramatic role that allowed him to cut loose every now and then.
Williams is absolutely brilliant as Army deejay Adrian Cronauer, whose transfer from Greece to Saigon sets the war and his superiors on their ears. Set in 1965, "Good Morning, Vietnam" is based on the genuine exploits of the real Cronauer, who left the jungles of Vietnam to become a popular deejay in Detroit. Director Barry Levinson does a spectacular job of creating the time and place, while Mitch Markowitz's script keeps the film grounded with it's intelligent dialogue and honest human emotions.
It would have been so easy to go overboard, and yet by holding back, the films delivers so much more. There isn't a bad performance in the whole film, from Williams' dazzling performance to the Vietnamese extras who flesh out the background. Like "M*A*S*H," "Good Morning, Vietnam" embraces the absurdity of war in truly comical fashion. Cronauer is a nonconformist who finds ways around the strict rules and regulations of the military. He constantly butts heads with his superiors while making friends with the locals.
When Cronauer's popularity soars, he becomes both an asset and a liability to the military. This eventually leads to some intense confrontations that pit Cronauer's conscience against his duty. Using Thailand locations, Levinson has recreated Saigon with and the jungles of Vietnam with perfection. The illusion is complete, and at times, breathtaking. This makes it a lot easier to accept the characters and their situation. Williams really shines when Cronauer encounters several truck loads of men on their way to battle.
At first reluctant to talk to them, Cronauer really comes alive when he realizes how much his presence means to the men. It's a scene that showcases Williams' ability to switch from drama to comedy with little effort. Music plays an important role in "Good Morning, Vietnam," none more so than Louis Armstrong's "What a Wonderful World" playing over images of war and destruction that is both lyrical and horrific. The supporting cast is superb, from Forrest Whitaker's aid and friend, to Bruno Kirby's terribly unfunny Lieutenant and J.T. Walsh's anal superior officer.
They're great foils. I liked "Good Morning, Vietnam" when it first came out, and I enjoy it every time I see it again. It's timeless in that regard. One of Williams' best roles and films.
COMPLETE CHECK-UP
VISION: [ X ] 20/20 [ ] Good [ ] Cataracts [ ] Blind
A superior digital transfer in the film's original 1.85:1 widescreen ratio. Excellent color saturation, defining blacks, and extremely life-like flesh tones. Only a minuscule amount of compression artifacts, and no pixelation. The images are sharp and vivid, the colors vibrant and alive. I am very seldom disappointed with a Disney transfer, and "Good Morning, Vietnam" is sharper than some of writer Mitch Markowitz's witty dialogue.
HEARING: [ X ] Excellent [ ] Minor Hearing Loss [ ] Needs Hearing Aid [ ] Deaf
It says 5.1 Dolby Digital, but the separation sounds more like Dolby Surround. That's not a bad thing. What is there is extremely expressive, from the thundering bass lines to the strong dialogue mix that never wanes. The rear speakers channel the ambient noise and musical cues nicely, while the front speakers do a superior job of defining direction. "Good Morning, Vietnam" is filled with a rocking score, and it sounds tremendous. The transfer doesn't produce any noticeable hiss or distortion.
ORAL: [ ] Excellent [ X ] Good [ ] Poor
Closed captions in English for the hard of hearing.
COORDINATION: [ ] Excellent [ ] Good [ X ] Clumsy [ ] Weak
Main and scene access menus, the original theatrical trailer, and some titles selections of other Disney DVDs.
PROGNOSIS: [ X ] Excellent [ ] Will Live [ ] Resuscitate [ ] Terminal
War may be hell, but this DVD presentation of "Good Morning, Vietnam" is pure heaven.
VITALS: $29.99/Rated R/121 Min./Color/22 Chapter Stops/ Keepcase/#15279
John Larsen
Attending Resident
ATTENDING RESIDENT: John Larsen
PATIENT: GOOD MORNING, VIETNAM
BIRTH DATE: 1987
HMO: Touchstone Home Video