Rushmore
Even though "Rushmore" is set in the present, the film has the feel of old school. Set in an elite boys academy in Texas, "Rushmore" is filled with remembrances of things gone by. The soundtrack is lined with songs from the 1960's British Invasion, while the look and feel of the Academy, it's students and the small town it's located in all recall a quieter, simpler time.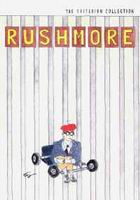 This simplicity works in the film's favor, allowing writer-director Wes Anderson and co-writer Owen Wilson's fascinating characters to stand out. Like their previous effort, the quirky yet ultimately winning "Bottle Rocket," Anderson and Wilson understand the importance of strong character over action and antics.
The characters in "Rushmore" are so vividly drawn that they instantly grab you from their first introduction. There's Max Fischer (Jason Schwartzman), described by Rushmore's principal Dr. Guggenheim (Brian Cox) as the worst student at the academy. Max really doesn't fit in at "Rushmore."
While the other kids come from wealthy families, Max's father is the town's barber. Max is at Rushmore on a scholarship, but instead of using his brains to excel at schoolwork, Max immerses himself in every extracurricular activity on campus. He's either the president, founder or on the board of almost every club and organization on campus.
The plays that he writes and directs are legendary in their scope and ambition. Yet Max has little time to pursue his studies or women. All that changes one eventful week in September. Not only is Max placed on probation by Guggenheim, he falls head over heels in love with Rushmore first grade teacher Rosemary Cross (Olivia Williams).
Although Rosemary is young and beautiful, she's still too old for Max. There's also that tricky teacher- student thing. Max doesn't let any of that get in his way of courting Rosemary, whose husband died just over a year ago. He manages to punch all the right buttons, including saving the school's Latin program from extinction. No matter what Max does, Rosemary keeps their relationship on a friend level.
Enter school alumni and wealthy financier Herman Blume (Bill Murray), who is also smitten with Rosemary even though he's still in a loveless marriage and has two sons (twins no less) attending Rushmore. When Max learns of Herman's pursuit, he sees it as an intrusion, and begins a campaign of harassment to drive Herman away.
"Rushmore" is a rarity, a comedy that doesn't dare you to laugh. It's smarter than that. The filmmaker's wisely trust their material and cast. The one thing I really like about "Rushmore" is that it's not showy. The gags and jokes are there, but they're not designed to pummel you over the head. Instead, the humor is sly. It sneaks up on you and nails you when you least expect it.
I also liked the look and feel of the movie. Director Anderson set the film in Texas, even though it could have taken place almost anywhere else. That helps make the film and it's message more universal.
Newcomer Jason Schwartzman, the son of actress Talia Shire (whom Jason favors), is outstanding as Max. It's one of the most assured debut performances I have ever seen. Schwartzman isn't just playing Max, he becomes Max. With his jet black mop of hair and black, thick-rimmed glasses, Schwartzman perfectly embodies the spirit of a young man who masks his insecurities by overcompensating.
After watching "Rushmore," I was surprised that Bill Murray didn't garner an Oscar nomination for Best Supporting Actor for his role as Herman Blume. Unlike his previous attempts at playing it straight, Murray displays much wisdom as a man who has it all and yet feels empty. It's such a joy to see Herman come alive after he meets Rosemary, and Murray shines all the way.
"The Postman" was such a mess that not even the lovely and talented Olivia Williams could survive the fallout. Williams fares much better here as a young woman who finds redeeming features in both Max and Herman, but still is in love with her dead husband. There's such a sweet tenderness in Williams' performance that no matter how Max and Herman fare, you really want Rosemary to come out on top.
What makes "Rushmore" such a pleasure is that the background is stocked with interesting, colorful characters as well. Brian Cox is delightful as the harried principal, while Seymour Cassel proves once again why he's the best at what he does. The moments between father (Cassel) and son (Schwartzman) are honest and believable.
I was also impressed with the intensity of Mason Gamble's performance as Max's study mate Dirk Calloway. Gamble was good as "Dennis the Menace," yet his performance here shows that he's matured both as a person and as an actor. With "Rushmore," director Wes Anderson has avoided the sophomoric jinx. Instead, "Rushmore" proves that Anderson, like a fine wine, gets better with age.
Everything about "Rushmore," including Robert Yeoman's visually enticing photography and David Wasco's clever production design (the set for Max's Vietnam play "Heaven and Hell" is a keeper), combines to make the film a complete experience.
While it's not the best film or 1998, "Rushmore" is definitely a film that deserves, even demands, your attention. It's unlike anything playing out there right now, and even though it deals with mature people doing things on a childish level, the film itself is never childish. It's smart, sharply written and beautifully acted.
COMPLETE CHECK-UP
VISION: 20/20
2.35:1 Widescreen
Outstanding 2.35:1 widescreen digital transfer is virtually flawless. Except for a couple of flecks, the transfer looks as sharp and vivid as they come. Thanks to a clean original negative, the transfer looks pure. The colors are bright and vivid, the flesh tones to real you'd swear you could reach out and touch them. Color saturation is strong but not brutal, while the whites and shadows are clean. Blacks are industrial strength, while attention to detail and depth of field is exceptional. I was especially impressed with the honesty of the colors. The film has a very distinct look, and not one pixel is lost during the transfer. Honestly a sight to behold.
HEARING: Excellent
5.1 Dolby Digital Surround
Joyful, boisterous 5.1 Dolby Digital Surround soundtrack. My sound system came alive when I plugged in the DVD of "Rushmore." Outstanding basses, a strong middle range and sparkling high ends combine to make a most pleasant aural experience. The stereo split is definitive while the front to rear spacial separation sounds exact. Dialogue mix is excellent, while ambient noise is sharp and vivid. The film's bouncy musical score sounds so pure you'd swear the songs were being performed live. No audible hiss or distortion. Instead, you get a soundtrack that is just as impressive as the film itself.
ORAL: Good
Closed captions in English for the hard of hearing.
COORDINATION: Excellent
The Criterion Collection version of "Rushmore" contains a bevy of wonderful extras. Here's the low- down:
Excellent audio commentary featuring director Wes Anderson, writer Owen Wilson and actor Jason Schwartzman.
"The Making of Rushmore," a fun documentary by Eric Chase Anderson that is both playful and informative.
The complete "Charlie Rose" show featuring interviews with Bill Murray and Wes Anderson.
Storyboard-to-Film comparison on the opening sequence, plus additional storyboards.
Original Theatrical trailer.
Cast auditions.
MTV Awards spoofs of "Armageddon," "Out of Sight" and "The Truman" by the Max Fischer Players.
A photo gallery featuring props, stills and on-the-set photos.
An insert Map featuring "Rushmore" highlights.
Collectible poster.
PROGNOSIS: Excellent
"Rushmore" was one of 1998's best films, and deserves a place in every DVD library.
ATTENDING RESIDENT: John Larsen
PATIENT: RUSHMORE – CRITERION COLLECTION
BIRTH DATE: 1998
HMO: Touchstone Home Video