Prizzi's Honor
After enjoying the antics of "Analyze This," what better time to reacquaint myself with another great mob comedy, "Prizzi's Honor." Has it really been 14 years since director John Huston unleashed this outrageous comedy on us?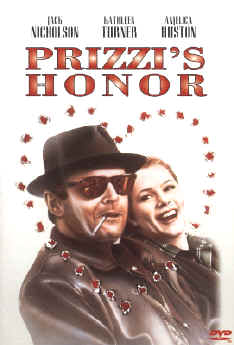 Everything about the film holds up well, making it timeless. How delightful to spend more time with Charley Partanna (Jack Nicholson), professional hit man for the Prizzi family. Partanna is the ultimate Nicholson character, both charming and deadly. He is sincere about everything he does, from falling love with professional hit woman Irene Walker (Kathleen Turner), to honoring the Prizzi name no matter what.
Even though he's a member of a notorious crime family, Partanna is respected by everyone he meets, from city officials to the police. He's generous to a fault, and he always gets what he wants. What he wants is Irene, whom he meets at a Prizzi wedding (one of those "Godfather" style affairs), and later pursues even though he knows nothing about her. That is the beauty of the Richard Condon and Janet Roach screenplay (based on Condon's novel).
Characters are expected to do extreme things, but in this world, at this time, it all seems perfectly normal. The characters talk like characters in a Condon novel, providing for some colorful dialogue. We understand Partanna's obsession over Irene, even when he learns that she has been lying to him from moment one. They're good in bed together (possibly one of the funniest trysts I have ever seen outside of "The Tall Guy") and share mutual interests.
Their relationship advances to the point where they feel comfortable carrying out hits together, which also becomes their downfall. When Irene accidentally kills a prominent official's wife during a hit, the family decides enough is enough. Unbeknownst to either of them, both Partanna and Irene are hired to kill each other. Most couples only have to work mother-in-law or stinky feet problems. Imagine having to set up the hit of the one you love? That complication is only one of many in Huston's frothy comedy.
There is also Partanna's on-again, off-again relationship with Prizzi daughter Maerose (Anjelica Huston in her Oscar- winning performance), which provides the film with some of its most dizzying dialogue. Director Huston wisely stocks the film with familiar faces, including William Hickey as the frail mob patriarch who still rules with an iron fist, and John Randolph as Partanna's father. Turner is brassy and bad as Irene, a woman who knows which way the wind blows and isn't afraid to set sail for better times.
Nicholson proves why he is the best at what he does, filling his performance with the sort of flourishes only he can get away. His vocabulary is a scream, while his double takes are priceless. A good mob comedy ("Married to the Mob" comes to mind) is able to transcend the dark elements so that the comic moments shine. "Prizzi's Honor" glows as bright as can be expected.
COMPLETE CHECK-UP
VISION: [ X ] 20/20 [ ] Good [ ] Cataracts [ ] Blind
Outstanding 1.85:1 widescreen transfer (there is also a full-frame version on the flip-side) delivers sharp, crisp images. Kudos to Anchor Bay for finding someone who knows how to make an excellent digital transfer. The colors are rich and satisfying, while the blacks are so strong they could double as black holes. Pristine negative (only one or two glitches noticeable) provides are an exemplary image. Flesh tones are so accurate the characters look three-dimensional, while the whites and shadows are as pure as they come. Depth of field is better than expected, with nice attention to detail. No noticeable compression artifacts of any sort.
HEARING: [ X ] Excellent [ ] Minor Hearing Loss [ ] Needs Hearing Aid [ ] Deaf
Quite impressive for a Dolby Digital stereo soundtrack. Lots of action in the rear speakers (including the clean sounds of Alex North's catchy musical soundtrack) puts you in the middle of the film. The dialogue mix is outstanding, while the stereo split is uncommonly productive.
ORAL: [ ] Excellent [ ] Good [ X ] Poor
No closed captions or subtitles.
COORDINATION: [ ] Excellent [ ] Good [ X ] Clumsy [ ] Weak
There's nothing here but the main and scene access menu.
PROGNOSIS: [ X ] Excellent [ ] Fit [ ] Will Live [ ] Resuscitate [ ] Terminal
"Prizzi's Honor" is such a great film, and since it looks absolutely stunning on DVD, I recommend adding it to your DVD library even though it lacks any extras.
VITALS: $24.98/Rated R/129 Minutes/Color/16 Chapter Stops/Keepcase/#DV10833
ATTENDING RESIDENT: John Larsen
PATIENT: PRIZZI'S HONOR
BIRTH DATE: 1985
HMO: Anchor Bay Entertainment