Out of Sight DVD
As first dates went, it was one for the record books. While some couple invariably end up in the back seat of a car during the middle of a date, this one began in the trunk. That's where bank robber Jack Foley and Federal Marshal Karen Sisco end up when Sisco accidentally stumbles on Foley's prison break.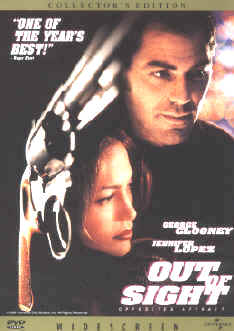 Locked in the trunk of the getaway car, Foley and Sisco exchange views on life, guns and movies. She says that he reminds her of Clyde Barrow from "Bonnie & Clyde," and can't understand how someone like Bonnie Parker could fall so quickly for the gangster. It's a bristling bit of dialogue, just one of many in Scott Frank's screenplay of Elmore Leonard's book, "Out of Sight." As directed by Steven Soderbergh ("Sex, Lies & Videotape"), "Out of Sight" is the third Leonard novel to make it to the big screen with all of the quirks and perks one expects from a Leonard book. Frank, who also wrote the screenplay for Leonard's "Get Shorty," seems to know the author inside and out. Frank has the unique ability to move the furniture around without upsetting the balance of the room. Like "Get Shorty" and Quentin Tarantino's "Jackie Brown," "Out of Sight" is filled with sparkling dialogue and likeable criminal types. George Clooney hits pay-dirt as Foley, a charming bank robber who has never used a gun in his lengthy career. Now serving time a hot and steamy correctional institute in Florida, Foley is anxious to stretch his legs. He gets his chance when he piggybacks on an underground prison break, and manages to make it to the outside. That's where Karen Sisco steps in. At the prison to serve some papers, Sisco stumbles across Foley and attempts to subdue him. She's stopped by Foley's friend, Buddy Bragg (the wonderful Ving Rhames), and locked into the trunk with Foley. Bathed in the red glow of the reflection of the rear lights, Foley and Sisco immediately connect, so much so that he refuses to leave her behind when they reach their rendezvous. "Out of Sight" is filled with interesting characters doing interesting things. Lopez shines as the determined Marshal who would rather get a gun for her birthday rather than flowers. She perfectly captures the desire of someone who enjoys the danger of her job. Steve Zahn is hilarious Glenn Michaels, Foley and Bragg's point-man who is one planet away from being a space case. Zahn milks Michaels for everything he's worth. His loyalties are about as whacked as his surfer-dude mentality. When Foley and Bragg jet up to Detroit for a diamond heist, Sisco follows close behind, hoping to score another date with the handsome felon. They get their chance when Foley discovers Sisco is in town, and tracks her down. Their encounter in a hotel room is hot and sexy without being raw, the real sign of an intelligent director. The heist is complicated when another felon, a bad dude named Maurice (Don Cheadle at his best), decides to cut in on the action. A confrontation at the mansion of millionaire Richard Ripley (Albert Brooks undercover) brings out the worst in everyone. There's so much to recommend "Out of Sight," from it's snappy score that so reminded me of movies like "Three Days of the Condor" and "Killer Elite," and the handsome cinematography of Elliot Davis. Yet it's the delicious performances (not a bad one in the bunch), the striking, intelligent dialogue and the smart direction that make this one of the summer's best films.
COMPLETE CHECK-UP
VISION: [ X ] 20/20 [ ] Good [ ] Cataracts [ ] Blind
Once again, a superior digital transfer in the film's original 1.85:1 widescreen ratio, mastered in anamorphic widescreen. Outstanding, true color saturation and definitive blacks make the film an exciting, visual experience. Pure colors abound, from natural earth tones to the steel blue exteriors of Detroit. Reds are especially vibrant, while the flesh tones are since and honest. Shadows are strong, while the transfer shows great detail. No compression artifacts visible. The transfer is as clean as they come. The company that mastered the DVD was so sure of their work that they even included the step-by- step process. Take a bow, because "Out of Sight" is anything but.
HEARING: [ X ] Excellent [ ] Minor Hearing Loss [ ] Needs Hearing Aid [ ] Deaf
Highly charged 5.1 Dolby Digital Surround Track (there's also Dolby Surround tracks in French and Spanish) puts you right in the middle of the action. Perceptive stereo separation pinpoints even the smallest of ambient noise, creating an aural sensation that seems real. The dialogue mix is superior, an important factor in a film that relies heavily on it's clever dialogue. There's not a lot of booming basses, but the intricately mixed soundtrack does take control of your sound system and gives it a good workout. The sensational David Holmes musical score pours out of the speakers with breathtaking clarity. No noticeable distortion or hiss. A superlative soundtrack for a superlative film.
ORAL: [ ] Excellent [ X ] Good [ ] Poor
Closed captions in English and subtitles in Spanish.
COORDINATION: [ X ] Excellent [ ] Good [ ] Clumsy [ ] Weak
Not only is "Out of Sight" one smart movie, this Universal Studios Home Video Collector's Edition is one smart collection of extras. Here's what you get:

A very smart and engaging feature commentary with director Steven Soderbergh and screenwriter Scott Frank. While I would have appreciated additional commentary from someone like George Clooney, these two seem to be having such a great time that there's little room left to breath. The dialogue is compelling and user friendly, with both men taking us through the process of making such a fun and engaging film. There's lots of personal observations, some witty, some serious, but all vital.

My favorite: deleted scenes. Not just one or two deleted scenes, but 22 minutes worth of deleted scenes. You ever notice that most deleted scenes on DVD's seem like filler? Not here. Not only do you get director Soderbergh's original five-minute, one-take trunk scene with George Clooney and Jennifer Lopez, you also get some great scenes featuring all of the main characters. While none of these scenes are essential, I still would have placed "Out of Sight" on my Top Ten List with these scenes included. There's not a bad apple in the bunch. The one-take trunk scene is a testament to Clooney and Lopez's talent as professional actors. Even though it runs on a little long, it's a fascinating scene. One of my favorite new scenes? Ving Rhames discussing the virtues of a good bath.

An excellent behind-the-scenes documentary "Inside 'Out of Sight.'" Join director Soderbergh as he takes some good natured ribbing from the cast and crew, plus some excellent candid footage shot during the making of the film. All of the major talent clocks in with their personal observations about making the film, including writer Elmore Leonard. You'll love the documentary as much as the film.

A music menu that allows you to jump to your favorite song in the film.

The original theatrical trailer, plus production notes and the usual cast & crew bios and filmographies.

Outstanding, animated menus that perfectly capture the flavor of the film.

Web links to Universal Studios Home Video web site.

An informative booklet with stills from and behind-the-scenes of the film.
PROGNOSIS: [ X ] Excellent [ ] Fit [ ] Will Live [ ] Resuscitate [ ] Terminal
There's nothing "Out of Sight" about this extraordinary film. The DVD extras add to it's high visibility.
VITALS: $34.98/Rated R/123 Minutes/Color/RSDL/51 Chapter Stops/Keepcase/#20340
ATTENDING RESIDENT: John Larsen
PATIENT: OUT OF SIGHT: COLLECTOR'S EDITION
BIRTH DATE: 1998
HMO: Universal Studios Home Video