Harry Potter And The Prisoner of Azkaban
In "The Prisoner of Azkaban," blossoming teenage wizard Harry Potter is in a whole world of hurt. First he turns his Aunt Marge into a human dirigible, and upon returning to Hogwarts, learns that convicted killer Sirius Black (Gary Oldman), implicated in the death of his parents, has escaped his cell. Further complicating Harry's third year at Hogwarts is puberty, turning the confused boy into a frustrated, complicated young man.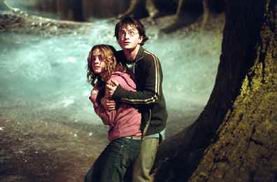 While the words literally jumped off the pages in the first two Harry Potter films, writer Steve Kloves and new director Alfonso Cuaron streamline "The Prisoner of Azkaban" into a different beast, one that has more bite yet ultimately more heart. Kloves maintains the integrity of the story while altering the tone with noticeable additions and deletions.
"The Prisoner of Azkaban" is decidedly darker than the first two films, when Harry (Daniel Radcliffe), Hermione (Emma Watson) and Ron (Rupert Grint) became friends and formed an alliance against the dastardly Draco Malfoy (Tom Felton). As their bodies and powers grow, so does the danger surrounding them, forcing Harry to turn to Professor Lupin (David Thewlis), the new Defense Against the Dark Arts teacher, who prepares Harry for the confrontation of his life.
At first glance, Cuaron, whose sexually charged "Y Tu Mama Tambien" melted theater screens, seems like an odd choice to direct a "Harry Potter" film, but all one has to do is look at his 1995 adaptation of "A Little Princess" to understand the decision. Cuaron is a master of merging darkness and light, creating images that are beautiful yet foreboding. That sensibility allows Cuaron to avoid the pretty postcard images of the first two films, turning every frame into a brooding reminder that we are leaving childhood behind.
It's not that "The Prisoner of Azkaban" doesn't have its lighter moments, including some wonderful new additions to the staff. Emma Thompson is the essence of irony as the blind-as-a- bat seer, while Thewlis fulfills his objective to protect Harry while hiding a secret of his own. Oldman, who revels in playing bad eggs, fries in the griddle as the infamous Sirius. Back for another year at Hogwarts are Dame Maggie Smith, Alan Rickman, Robbie Coltrane as groundskeeper Hagrid, and Michael Gambon replacing the late Richard Harris as a more robust, spirited Dumbledore.
Like a fine ensemble, the cast gets better with each film. Even the new cast members feel right at home, as if they have been waiting off in the wings for their big scene. At first we are taken aback by how much the kids have grown, gone are the pudgy cheeks and wide-eyed innocence. They have become young adults right in front of our eyes, and their acting ability has matured as well.
As for whimsy, "The Prisoner of Azkaban" conjures up more than enough oohs and awes, especially a beautifully shot magical ride on a Hippogriff. There are also a number of scary moments (the ghostly Dementors that guard Hogwarts are truly creepy) that test the boundaries of the PG rating but should provide fans of the book a good scare.
Wild About Harry
Potter and Pals lighten up dark tale
HARRY POTTER AND THE PRISONER OF AZKABAN
Daniel Radcliffe, Emma Watson, Rupert Grint, Tom Felton, Robbie Coltrane, Michael Gambon, Gary Oldman, Emma Thompson, Richard Griffiths, Alan Rickman, Dame Maggie Smith. Directed by Alfonso Cuaron. Rated PG. 141 Minutes.
LARSEN RATING: $8.00