Frailty DVD
In my lifetime, I have only had occasion to watch two movies through the gaps between my fingers, not counting the last three Pauley Shore films. Both "The Exorcist" and "Jaws" generated the unwilling response, perhaps because those two films managed to depict their fantasy world with such reality (okay, so the shark looks fake by today's standards).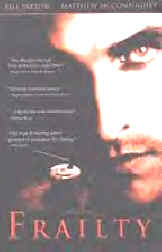 Now I can add "Frailty" to that list, a film so compulsively wicked in nature that I had no choice in shielding myself from the horror coming off the screen. Directed by and starring Bill Paxton ("Twister"), making a most assured debut behind the camera, "Frailty" is the kind of film that haunts you because it could be true.
Writer Brent Hanley, also making his debut, lays down the groundwork so efficiently and effectively that you have no recourse but to be swept up in his nightmare world that offers a chilling bond between a father and his sons. In a world torn by religious strife, "Frailty" examines what happens when one man takes his beliefs to the extreme, forcing his beloved and devoted sons to make a difficult decision.
Is dad nuts, or did God really reach out to him and tell him to rid the world of demons disguised as humans? Sounds far fetched, but as we have seen time and time again in the news, religious zeal can make people do strange, sometimes awful things. "Frailty" isn't a condemnation of religion, just a small glimpse of what happens when people take it to the extreme.
When we first meet him, Bill Paxton's dad is like any another hard-working single father trying to raise two young sons. He works as an auto mechanic, is extremely devoted to his boys. Since their mother died, oldest brother Fenton (Matthew O'Leary) has taken over the responsibility of looking out for his younger brother Adam (Jeremy Sumpter).
Fenton and Adam are inseparable, but all that changes when dad wakes up one morning and confesses to his sons that God came to him and told him the world is going to end soon. The good news is that they will all be together with their mother in heaven. The bad news is that God has also told him that demons are roaming the Earth, and it's up to him to kill them. God even supplies dad with a list of the first seven demons, and clues where to find the weapons needed to slay them.
Fenton thinks dad is nuts, but Adam, who literally worships and believes everything his dad says, goes along for the dark ride. Fenton's attempts to stop his father fail, forcing him to turn against God and his family in order to maintain his convictions. All of this is told to us, and FBI agent Wesley Doyle (Powers Boothe) by the adult Fenton (Matthew McConaughey), who has come forward to confess his family's sins and seek solace.
The adult Fenton's confession frames the actual story, which unfolds with such unrelenting suspense and tension that anyone without nails might want to invest in some of those press-on ones. "Frailty" is definitely a nail-biter, and not because it's gratuitous or gross. There's very little blood on the screen, and all of the murders, committed with an axe, are done out of the camera's range.
What makes the film so frightening is the relationship between dad and Adam, who probably doesn't know better. Even more chilling is that dad commits the murders in front of his boys, allowing them to see the anguished, terrified looks in the victim's eyes. It's powerful, creepy stuff that stays with you.
Not only does Paxton deliver as a director, his performance is also a triumph. Paxton really digs deep into the role, creating a man who may be a monster, but a monster who believes he's doing the right thing. Paxton makes us squirm every time dad shows up with a list in his hand. As a director, Paxton creates plenty of mood and atmosphere, alternating between dark and light with finesse. Even a simple, sit-down dinner leaves us with the feeling that something horrible is going to happen.
Matthew O'Leary reminded me of a young River Phoenix, shading young Fenton with equal layers of respect and doubt. His desperation rings true, especially after dad begins to suspect his disbelief. You don't just feel sorry for Fenton, you want to climb up on the screen and protect him. Jeremy Sumpter is equally skilled playing young Adam, whose innocence gets caught in a tug-of-war between Fenton and dad.
The confession McConaughey shares with Boothe is more than just a framing and storytelling device, it stands alone as part of a more sinister plot. McConaughey appears appropriately tortured, while Boothe effectively dispenses plot exposition without sounding like a check list.
There's great care behind the camera as well. Bill Butler's photography serves the story well, while Arnold Glassman's editing eases us into the nightmare without pushing and shoving. Not for everyone, "Frailty" will please audiences looking for a smart, sharp, well-acted, directed and written thriller.
COMPLETE CHECK-UP
VISION: GOOD
1.85:1 Widescreen
16:9 Enhanced
The transfer perfectly captures the dark tone of the film, with strong shadows and decent detail. Colors are strong and natural, with no noticeable bleeding or fading. No edge enhancement visible, and attention to detail is maintained throughout. Depth of field is also good for such a dark film. Artifacts are absent, and whites and blacks look pure. Flesh and earth tones are natural and realistic.
HEARING: EXCELLENT
5.1 Dolby Digital Surround
Powerful 5.1 surround soundtrack literally puts you right in the middle of the maelstrom. Excellent attention is given to all sound fields, including ominous basses, gripping surround, and a rear sound stage that works overtime pumping out detailed ambient noise and crystal clear and creepy musical cues. Front sound stage is well designed, with pinpoint left to right stereo split, strong dialogue mix, and clean high and low ends. Surround speakers contribute to the overall experience.
ORAL: GOOD
Subtitles in English and Spanish
COORDINATION: GOOD
I understand some viewer's need to dig through the supplemental features first, but if you haven't seen the film, skip the commentaries and documentaries and watch the film first. Once you've experienced the power of the film, you will appreciate the extras even more.
Feature-length commentary with director/star Bill Paxton, a lesson is self-motivation and casting.
Production commentary with producer David Kirschner, editor Arnold Glassman, and composer Brian Tyler, who spend the time reflecting on the project, but bring very little to the party. Every now and then someone says something valuable, but it's not worth the wait.
Feature-length commentary with screenwriter Brent Hanley, who confidently clues us in on the process of bringing a story to the screen. Hanley has more to say than the other two commentary tracks combined, and provides valuable insight into the trials and tribulations of getting the script right, even during the editing process.
I saw "Anatomy of a Scene" on the Sundance Channel before I saw the film, and after seeing the film, I was sorry I had because Paxton and his crew went through extraordinary steps to create several on-the-set illusions, and when I saw them on the screen, some of the magic was lost. Still, I love knowing how filmmakers accomplish their tricks, and this 25 minute documentary is a great teacher.
The Making of "Frailty," a twenty-minute behind-the-scenes documentary that dishes up the usual interviews, on-set shots, and off-camera moments that make these "making of" projects so delightful.
Four deleted scenes that add up to about eight minutes of screen time, available with and without commentary by Paxton. If you're like me, you'll watch these twice, first without commentary to get the full impact, and then with commentary to understand why Paxton through they were unnecessary.
Photo gallery and three storyboard presentations.
PROGNOSIS: GOOD
A great film arrives on DVD with just enough extras to keep those who like bells and whistles happy.
PATIENT: FRAILTY
BIRTH DATE: 2002
HMO: Lion's Gate Home Entertainment
PATIENT HISTORY