The Endurance: Shackleton's Antarctic Expedition
Making history come alive is always a daunting task, especially if the medium is documentary film. I can understand audience's aversion to documentaries. Most of us associate documentaries with those grainy, black and white 16mm films we were forced to sit through in high school. You remember them, the ones with flat narration, grade school graphics and no sense of wonder.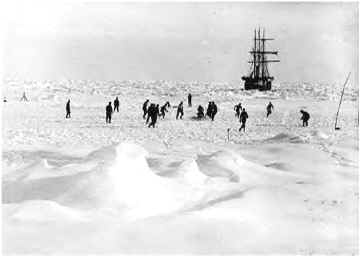 There have been, and will always be, exceptions. Making history come alive is a daunting task, but in the right hands, a rewarding one. With the introduction of cable television channels like History and Biography, the documentary finally came into its own. They were no longer stuffy and stodgy, but entertaining, engaging, and even challenging.
I wouldn't normally recommend a film like "The Endurance: Shackleton's Antarctic Expedition," but the documentary about the English explorer's doomed 1916 attempt to cross the South Pole is so vivid in its recreation you become part of the experience. Director George Butler, working from a detailed blueprint of a script by Caroline Alexander and Joseph Dorman, utilizes all the tricks of the trade to replicate the immense hardships faced by Sir Ernest Shackleton and his crew of 27.
Still photographs, paintings, diary entries, live interviews, modern day footage, and sturdy narration by Liam Neeson are inter-cut with stunning film shot by Frank Hurley, the expeditions' photographer. Butler and his editing team deftly mix all of these components into a gripping tale of survival of both man and the human spirit.
Hurley's filmed record of the expedition is the documentary's ace in the hole. The footage is extremely vintage, but the black and white images literally take your breath away. It's like stepping back in time. Actually seeing what Shackleton and his crew went through leaves you with an appreciation of life.
I was amazed at how much history the filmmakers managed to squeeze into 90 minutes. You learn so much, not just about Shackleton, but about the South Pole region. The writers skillfully weave details into the story so it never feels like we're being taught a lesson. In fact, the story is so engrossing that it's impossible to shake. You develop an appreciation for filmmakers (and teachers) who are limited to the facts and can still tell a compelling story.
And what a story it is, an adventure filled with harrowing close calls, death defying weather, and the indomitable will to survive. What happened to Shackleton and his crew was so incredible that reading about it in a book would never do it justice. You have to see it to believe it, and "The Endurance" provides a front row seat.
After two failed attempts at reaching the South Pole in the early 1900's, adventurer and explorer Sir Ernest Shackleton launched an expedition to walk across the South Pole. Shackleton's trip was instantly dismissed by England, which was preparing to enter the first world war. Through a newspaper ad promising very little in exchange for adventure and fame, Shackleton was able to recruit 27 men to accompany him on his quest.
Shackleton's attempt to beat winter failed and his boat The Endurance became trapped in a flow of ice. Literally one day from their destination, the men of The Endurance found themselves prisoners. It's here where we learn of Shackleton's ability to command, defuse discontent, and rally the troops when morale was low. Shackleton almost sounds too good to be true, but as the story progresses, we learn that he is the real deal.
Even though we, like the English government, suspect that Shackleton's expedition is more about ego than exploration, all that changes when mother nature steps in and puts her foot down. As the expedition is pounded by one disaster after another, Shackleton always rises to the occasion, putting the safety of his crew ahead of himself. We really get a sense of who the man was, and what he was capable of.
That's why it's heartbreaking to learn that his heroic efforts were totally eclipsed by the war. People didn't care that the men of The Endurance survived 18 months in a frozen wasteland, or that Shackleton made sure that every one of them returned alive. Instead, Shackleton was accused of using the expedition to run away from the war.
Shackleton and his crew were fighting a war of their own, this one against a relentless enemy that never gives up. The film and still images of Hurley make their war personal. The men of The Endurance aren't just characters in a history book, but life and blood people we get to know. Even though actors read their thoughts, the black and white images get us up close and personal with most of the men.
So when one slips through a crack in the ice and is rescued just in the nick of time, we find ourselves on the edge of our seat. We spend so much time with the sled dogs that when it comes time to kill them or let them starve, the decision is heartbreaking. The still images are just as striking When Shackleton and a small crew sail away in a 22-foot lifeboat on an 800 mile rescue mission, we see the rest of the crew wave from the shore. It's hard to tell if it's posed, or if the wave is one of good luck or goodbye.
HELL FREEZES OVER
Explorer Shackleton endures Mother Nature's wrath in compelling documentary
THE ENDURANCE: SHACKLETON'S ANTARCTIC EXPEDITION
Narrated by Liam Neeson. Written by Caroline Alexander and Joseph Dorman. Directed by George Butler. Not Rated. 93 Minutes.
LARSEN RATING: $6.00