Fiddler On The Roof
Tradition! That's what "Fiddler on the Roof" is all about. The Jerry Bock-Sheldon Harnick-Joseph Stein musical made it's Broadway debut in 1964, and by the time it reached the big screen in 1971, had gone on to become of the most beloved stage musicals of all time. The stage role of Tevye, the Jewish dairyman trying to marry off his five daughters, was originated by Zero Mostel.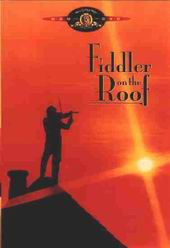 For the film version, director Norman Jewison hand-picked Israeli actor Topol, who had performed the role on stage in Tel Aviv and London. Since Topol was much younger than Tevye, the actor went through a daily transformation to age him. Shot in Yugoslavia (standing in for turn-of-the-Century Russia), "Fiddler on the Roof" was a major hit for United Artist. It was produced at a cost of $9 million, and returned more than $40 million by the end of its theatrical run. Audiences fell in love with the film, which was release as a road show attraction. Jewison had never directed a musical before, but you couldn't tell based on "Fiddler on the Roof." The film is sensational. Jewison allows the musical numbers to unfold naturally, instead of staging them as such. This makes for a more human experience, allowing the cast to stretch their vocal cords without stretching credibility.
The cast is sensational, especially stage actress Norma Crane as Golde, Tevye's understanding and patient wife. Leonard Frey shines as the ambitious Motel, while Molly Picon is just precious as matchmaker Yente. Look for a young Michael (Paul) Glaser ("Starsky & Hutch") as one of the young suitors. Finally, a stage musical that commands respect on film. Crank up the volume and fill your room with such great songs as "If I Were a Rich Man," "Tradition," "Sunrise, Sunset," and "Matchmaker."
COMPLETE CHECK-UP
VISION: EXCELLENT
One of the most beautiful transfers I have seen on a DVD. Full, rich colors splashed across strong blacks and shining whites. No trace of artifacts or streaming, despite numerous opportunities. Presented in it's original 2.35:1 widescreen aspect ratio, the dual-layered disc does an excellent job of balancing the earth tones of the town and the costumes with the flesh tones of the actors.
HEARING: EXCELLENT
The Bock-Harnick songs come across loud and clear thanks to the newly re-mastered 5.1 Dolby Digital Surround. The musical score, adapted and conducted by John Williams, fills the room with vibrant basses and sharp trebles. Fine-tuned digital split puts all of the music and dialogue where it belongs. The fiddle solos by Issac Stern are rich and pure, sending chills down the spine.
ORAL: EXCELLENT
"Fiddler on the Roof" features subtitles in English, French and Spanish, but no Yiddish?
COORDINATION: GOOD
Just having "Fiddler on the Roof" on DVD is enough for me. I love this movie, but I love the DVD even more because it features a alternate audio commentary track with director Jewison and star Topol, who provide insight and humorous asides on the making of the film. You'll definitely have to watch the film twice, first with the "traditional" soundtrack, and then with the commentary. There's a lot of interesting information being disseminated here, including a fascinating tale of how the production rescued Tevye's horse from the glue factory, and how star Topol and the horse bonded. Then there's a funny little story about how they applied gray beard trimmings from a make-up man to Topol's eyebrows to get a natural look. If you love these little tidbits as much as I do, then you will cherish each and every story and observation. Toss in the traditional scene selections, interactive menus, and original theatrical trailers, and you have a wonderful package worth celebrating about.
PROGNOSIS: EXCELLENT
You don't have to be a rich man to enjoy this must-have DVD.
ATTENDING RESIDENT: John Larsen
PATIENT: FIDDLER ON THE ROOF
BIRTH DATE: 1971
HMO: MGM Home Entertainment