Antz DVD
For an ant, life is no picnic. As part of a colony, there's a lot of work to be done. Food has to be gathered. Tunnels have to be dug. The queen has to be tended to. There's no room for individuality. Try telling that to Z, a worker drone who dreams of a better life. Z (voice of Woody Allen) may swing the axe all day in the tunnels, but he'd rather swing all night at the nightclub for worker ants. That's where Z and his best friend Weaver (a bigger, stronger ant) hang out after a hard day's work. That's also where Z meets and falls in love with Princess Bala (Sharon Stone), who goes slumming with her girlfriends one night as a kick.

While the other ants dance in unison, Z and Bala cut a rug. Their act of independence starts a bar fight that is just one of the many delightful highlights of "Antz." "Antz" is the second full-length computer generated animated film, and like "Toy Story," is a perfect melding of clever storytelling and voice talent.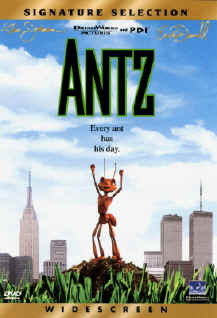 With their expressive faces and soulful eyes, it's easy to believe in the characters that inhabit this world. Directors Eric Darnell and Tim Johnson have created a wonderful film that plays across the boards.
Children will love the action and antics, while adults will appreciate the sharp and witty dialogue and engaging story. "Antz" brings together a collection of celebrity voices that one does not normally associate with the genre. Where else are you going to find Woody Allen, Sylvester Stallone, Sharon Stone, Anne Bancroft, Gene Hackman, Danny Glover and Christopher Walken all in the same picture? "Antz" is a visual marvel from the first frame to the last.
What a terrific arena in which to present a love story filled with flights of whimsy and heroics. The screenplay by Todd Alcott, Chris and Paul Weitz is just as colorful and animated as the film. When we first meet "Z," he's lamenting to his pals Azteca (Jennifer Lopez) and Weaver about the colony's conformity. While he's not a rebel (and very much like Woody Allen), "Z" does believe in life beyond the colony. He's kept in line by a flunky foreman (Grant Shaud) and General Mandible (Gene Hackman), who by decree is engaged to Princess Bala.
Mandible plans to use his arrangement to take charge of the colony. He wants to create the perfect army, and that doesn't include the worker ants. He's a true villain. To impress Bala, "Z" talks Weaver into allowing him to march with the other soldier ants, unaware that they're being sent into battle with the deadly termites. The reluctant "Z' is saved by the heroic Barbatus (Danny Glover), and through sheer luck, emerges as the only survivor of the battle. "Z" is welcomed back home as a hero, but when Mandible learns that he danced with Bala, orders him arrested.
In a desperate, even cowardly act, "Z" uses Bala to escape. Chased by the guards, "Z" and Bala are swept down a garbage chute and into the outside world. Bala insists they return to the colony, while "Z" insists they look for a bug utopia where food and friend are prevalent. It's in the world outside the colony where "Antz" really excels. The computer animators create a "Honey, I Shrunk the Kids" playground for "Z" and Bala to wander through, filled with one obstacle after another.
They first encounter a kid with a magnifying glass who delights in toasting Mandible's guards. When he turns the glass on "Z" and Bala, there's a real sense of danger. You root for the two to make it to safety. They do, but only briefly. Then there's an encounter with two honest-to-goodness WASP's who look down on "Z" and Bala. Chip (Dan Aykroyd) doesn't want anything to do with them, while Muffy (Jane Curtin) wants to add them to her list of causes. It's a hilarious exchange that ends suddenly with the presence of a flyswatter.
I really liked "Antz." It works on so many levels. There's romance, there's action (the termite invasion is truly scary), there's lively dialogue, and a sense of honor, even among "Antz." The film features a spirited score by Harry Gregson-Williams and John Powell that equally adventurous. It's amazing what Hollywood can create in a computer. Not only do the character's have depth, so do their surroundings.
Check out the picnic scene and tell me it doesn't look like the real thing. As the can of Mountain Dew shimmers in the hot sun, little droplets of sweat race down it's side. The gum-on-the-shoe sequence is truly inspired, and leads up to a grand finale that will leave you smiling from ear to ear.
COMPLETE CHECK-UP
VISION: [ X ] 20/20 [ ] Good [ ] Cataracts [ ] Blind
Eye-candy of the highest order. "ANTZ" looks sensational on DVD, with it's bold, bright colors and strong imagery that never wavers. Delivered in the film's original 1.85:1 widescreen ratio (in Anamorphic widescreen, no less), "ANTZ" is a dazzling display of hard core blacks, outstanding and clean whites, superior shadows, and colors that are so realistic they come alive on your screen.
The images are sharp and vivid, with excellent attention to detail (the depth of field is awesome). I didn't catch one iota of compression artifacts, allowing for one of the cleanest transfers I've seen in a while.
HEARING: [ X ] Excellent [ ] Minor Hearing Loss [ ] Needs Hearing Aid [ ] Deaf
No, that's not a colony of army ants circling your screening room, but a fantastic 5.1 Dolby Digital Surround track that puts you right in the middle of the movie. The ambient noise is outstanding, making you feel like the action is happening live. Excellent demonstration of high and low ends, with powerful basses that suck the air out of the room, and trebles so clean and smooth they float in the air.
The stereo separation is excellent, with distinctive left-to-right movement, while the front-to-rear spatial separation sounds natural. The dialogue mix is strong and succinct, while the musical score by Harry Gregson-Williams playfully dances out of each speaker. I didn't notice and hiss or distortion, even while playing "ANTZ" at a high level.
ORAL: [ ] Excellent [ X ] Good [ ] Poor
Closed captions in English for the hard of hearing.
COORDINATION: [ X ] Excellent [ ] Good [ ] Clumsy [ ] Weak
First and foremost, I must commend Dreamworks Home Entertainment on their extraordinary main and scene access menus. The DVD menus on "ANTZ" are just as exciting and engaging as the film itself. While I'm not saying that all DVDs should come with such creative menus, it's such a refreshing change of pace from the plain still and artwork menus that adorn most DVDs. Here's what else you get with this second Dreamworks Home Entertainment Signature Selection:

A production featurette that sounds and plays like a television featurette. I'm not against that as long as it contains useful information and not just plugs for the film. The featurette contains interviews with the talent behind and in front of the camera, with the exclusion of star Woody Allen, which really isn't a surprise.

Numerous production featurettes on the making of the film, hosted by directors Eric Darnell and Tim Johnson, who take us through the prolonged task of creating a computer generated film. The featurettes are broken down into three sections: "Basics of Computer Animation," "ANTZ Facial System," and "ANTZ Character Design." All three are quite excellent in their depiction of the animation process, from the rough draft storyboards, to the various stages that end up as the final product. To emphasize the different stages, each featurette ends with all four stages on screen so you can see how close the beginning and end product match. The character design section was my favorite as it showed the various stages the characters went through before arriving at their final version. Some very interesting ideas came and went here.

Less than stellar cast list and director bios, plus some extensive production notes.

The original theatrical trailer and numerous television spots.

Finally, an animated discussion with the directors on an alternate audio commentary track. Finally, two directors (Eric Darnell and Tim Johnson) who are excited to share their secrets with the audience. Instead of sitting there counting down the scenes (yadda yadda yadda), these guys take us through the marvelous world of computer information, and fill in the gaps whenever necessary. Films like "ANTZ" deserve commentary tracks due to their uniqueness, and I was more than thrilled to sit in with these two guys and listen to them comment on the state of the art and beyond.
PROGNOSIS: [ X ] Excellent [ ] Fit [ ] Will Live [ ] Resuscitate [ ] Terminal
They may be small, but these "Antz" are bigger than life on DVD. Watch where you step when you go out to buy a copy for your collection.
VITALS: $34.95/Rated G/83 Minutes/Color/26 Chapter Stops/#84199