The Eternal: Kiss of the Mummy
Remember that wonderful Three Dog Night song, "Mummy Told Me Not to Come." Well, the characters in this new horror film from director Michael Almereyda ("Nadja") should have taken that advice. Meet husband and wife Nora (Alison Elliott) and Jeff (Jared Harris).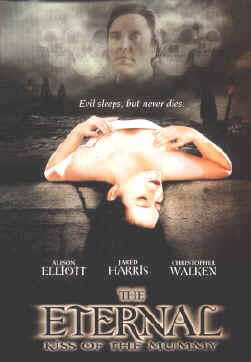 Even though they have a young son, their major preoccupation is getting drunk. They drink a lot, and when Nora begins suffering migraines from hell and blackouts, they immediately blame the hair of the dog. Well, this is one rover who isn't going to roll over. When Nora's mother (Lois Smith, so good in "Twister") falls ill back home in Ireland, Nora packs up the family.
Nora's headaches and trances intensify when the family reaches Ireland, so much that she ends up crashing their rental car. Luckily, the fender bender happened just over the hill from Nora's family home. When they arrive, Nora can't wait to have a drink, but her crazy Uncle Bill (Christopher Walken) has something more sobering in mind. He escorts Nora down to the basement, where the body of a 2,000 year old druid lies on a table.
Faster than you can say "Bewitched," Nora learns that her headaches and visions are the result of her being a witch. Just like her mom. The whole house is full of them, and the 2,000 druid has plans to take over Nora to continue her reign of terror. Almereyda, who did such a splendid job of evoking a guttural experience in "Nadja," manages to create a sense of constant dread in this film.
You just wish that his script was playing in the same ballpark. The premise is preposterous and silly, and the dialogue is so lame that you can almost see the actors winking at you as they recite the lines. The film is all style and no substance. The film's complete title is "The Eternal: Kiss of the Mummy," but that title is a misnomer.
There isn't a mummy in the film, but rather a druid. Obviously an attempt to ride the crest of the two other mummy films in production (the good "Mummy," starring Brendan Fraser, and the bad one, "Russell Mulcahy's Tale of the Mummy," which is absolutely dreadful and will be reviewed closer to street date). You feel sorry for the actors, especially Elliott and Harris, who came from "The Wings of the Dove" and "Happiness" to make this film.
Christopher Walken eats the scenery as fast as they can feed it to him, obviously doing the director a favor after starring in "Nadja." Technically the film is sound, with atmospheric cinematography and set design, and a Gaelic soundtrack that is more ominous than the film. Fans of horror film might want to give this one a spin, but most everyone else will be disappointed by the film's lack of genuine thrills and chills.
COMPLETE CHECK-UP
VISION: [ X ] 20/20 [ ] Good [ ] Cataracts [ ] Blind
Handsome 1.85:1 widescreen transfer, enhanced at 16:9 for widescreen televisions. Colors are strong without being to cold or hot. Flesh tones are natural and flattering, while the blacks are strong. Whites and shadows are clean thanks to a pristine negative. No trace of compression artifacts present. Good depth of field and attention to detail. The digital transfer captures the film's eerie look and tone without reservation.
HEARING: [ X ] Excellent [ ] Minor Hearing Loss [ ] Needs Hearing Aid [ ] Deaf
Generous 5.1 Dolby Digital Surround soundtrack. Great definition in the left-to-right stereo and front-to- back spatial split. Good dialogue mix makes it easy to hear every word, while ambient noise is realistic and vivid. Basses are adequate, while the high ends purr. No noticeable hiss or distortion. Musical soundtrack pours out of the speakers with robust clarity.
ORAL: [ X ] Excellent [ ] Good [ ] Poor
Closed captions in English for the hard of hearing, and subtitles in Spanish and French.
COORDINATION: [ ] Excellent [ X ] Good [ ] Clumsy [ ] Weak
Handsome main and scene access menus, plus the film's original theatrical trailer. There's also two more coming attraction trailers hidden in the Trimark logo on the main menu ("The Cube" and "Carnival of Souls"), plus production notes and cast & crew bios & filmographies.
PROGNOSIS: [ ] Excellent [ X ] Fit [ ] Will Live [ ] Resuscitate [ ] Terminal
This Gaelic ghost story is good for a rental if you are a fan of horror movies.
VITALS: $24.99/Rated R/95 Minutes/Color/30 Chapter Stops/Keepcase/#7065D
ATTENDING RESIDENT: John Larsen
PATIENT: THE ETERNAL
BIRTH DATE: 1998
HMO: Trimark Home Video