Affair of the Necklace
"Affair of the Necklace" is as pretty as a Parisian postcard, and just as flat. The filmmakers hang opulent production values on a wire-hanger thin script, creating a sagging epic that feels more like an exclamation point than a period piece.
Director Charles Shyer, whose forte has been light comedies like "Father of the Bride" and "Baby Boom," lacks the gravity needed to make this all talk, no action drama rise to the giddy level of such similar fare as "Dangerous Liaison" and "Dangerous Beauty." The only thing dangerous about "Affair of the Necklace" is how much Shyer allows the cast to mug.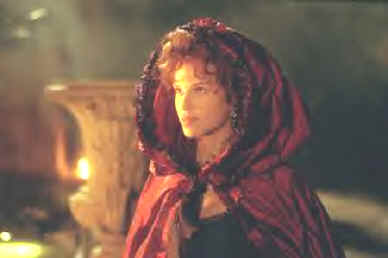 No one seems to be having a good time, especially Oscar-winner Hilary Swank, whose sexually ambiguous performance in "Boys Don't Cry" showed amazing depth. In "Affair of the Necklace," Swank plays a similar type of role, a woman who uses cunning and deception in order to get what she wants. Unfortunately, Shyer never gives Swank the opportunity to swim in the dramatic deep end.
As Jeanne de la Motte-Valois, Swank looks the part. Her streamlined features make her the perfect choice to play the 18th century protagonist whose desperation to reclaim her family name helps lead to the downfall of the notorious French monarchy led by Louis XVI and his Queen Marie Antoinette.
Unfortunately, Swank's portrayal lacks the conviction needed for us to believe in her cause. After losing her father and ancestral home to the monarchy, and then being orphaned after her mother dies, the character of Jeanne should arrive with more emotional baggage than writer John Sweet gives her.
Jeanne's motivations are more mechanical than emotional. Revenge should be sweet, filled with passion and intensity. Swank looks content just to be able to stand up in the multi-layered costumes.
Even though Sweet's screenplay is equally multi-layered, each layer is just as thin and transparent as the next. 18th Century French parlor games should be filled with intrigue and mystery, yet "Affair of the Necklace" is vacant on both fronts. It's a history lesson delivered as a picture book.
After growing up in abject poverty despite being a direct descendent to Henry II, Jeanne sets out to reclaim her family name and honor. That means appealing to the Queen (Joely Richardson), which also means acquiring a title. As a means to an end, Jeanne marries roguish Count Nicolas de la Mote (Adrian Brody), a philanderer who provides her with a title and little more.
When her marriage of convenience doesn't open doors, Jeanne turns to court gigolo Retaux de Vilette (Simon Baker), who agrees to help her. Together they create an elaborate ruse involving an expensive necklace presented to the Queen (but originally intended for another woman), a power hungry Cardinal (Jonathan Pryce), and a psychic Italian Count (Christopher Walken).
With all of these elements in place, what transpires should be filled with high conspiracy and suspense, but the film never rises to that level. Even director Richard Lester's comic romp "The Three Musketeers," which dealt with similar themes, brandished more suspense.
Shot on location in Europe, "Affair of the Necklace" is tasty eye candy. Thanks to director of photography, every frame feels like a celluloid time machine. Production designer Alex McDowell recreates the period with breathtaking accuracy, taking us inside (and occasionally out) a world of wealth and privilege that looks and feels decadent and palatial. You just wish the characters were as well defined.
The production design is so majestic and the script so thin that the performers overact out of necessity. They're forced to chew the scenery instead of being engulfed by it. The result isn't pretty.
Richardson plays Marie Antoinette as a bit of a snot, the sort of woman who constantly flaunts her station in life. Walken is bigger than life (and so is his hair) as the Italian Count whose psychic abilities are as questionable as his motives, while Baker relishes his role as the court stud who enjoys getting even with the peremptory royals.
As the covetous Cardinal Louis de Rohan, so desperate to get into the Queen's good graces that he naively falls into Jeanne's trap, Pryce is appropriately contemptible. Pryce chews the scenery better than anyone else, but it's still not a satisfying meal. Holding his own, however, is the delightful Brian Cox, who narration frames the story.
Behind the camera, Shyer seems completely overwhelmed. He spends so much time getting the details right he neglects the actors and fails to ascertain the weaknesses in the script. Since "Affair of the Necklace" is primarily a chamber piece, that's a fatal flaw. A better director would have made sure the characters and dialogue were more colorful than the wallpaper.
REVOLUTIONARY BORE
Necklace is as artificial as costume jewelry
AFFAIR OF THE NECKLACE
Hilary Swank, Jonathan Pryce, Simon Baker, Adrien Brody, Joely Richardson, Christopher Walken, Brian Cox. Directed by Charles Shyer. 109 Minutes. Rated R.
LARSEN RATING: $3.00