Camelot
Alan Jay Lerner and Frederick Loewe's musical based on the King Arthur-Camelot legend made it's debut on Broadway in 1960. The musical starred Richard Burton, Julie Andrews and Robert Goulet, and introduced such standards as "I Wonder What the King is Doing Tonight," "If Ever I Would Leave You," and "What Do the Simple Folks Do?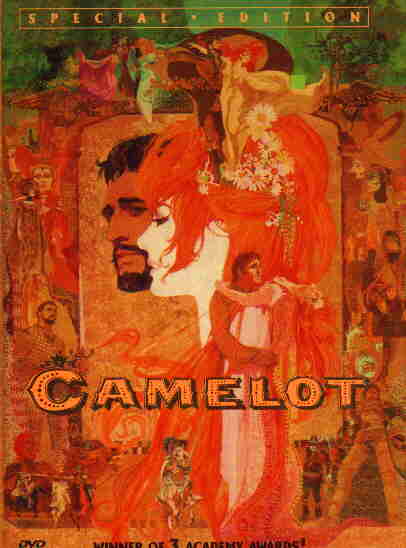 " It took seven years for "Camelot" to make it from the stage to the screen, and arrived there under the tutelage of director Joshua Logan ("South Pacific") and producer Jack L. Warner. It was Warner's second Lerner and Loewe musical, having produced "My Fair Lady" three years earlier. It was also the second Warner musical to pass over the original stage leading lady (Andrews) for someone less melodic.
Audrey Hepburn took over the role of Eliza Dolittle in "My Fair Lady," while Vanessa Redgrave was tapped to play Guenevere in "Camelot." I can't remember if I ever saw the film version of "Camelot" in a theater. 1967 was a long time ago. I do remember seeing numerous stage versions of "Camelot," so my memory may be of those productions.
Which is why I approached the new DVD release of "Camelot" with some hesitation. Would it destroy those wonderful memories? After all, Logan was the director who ruined "South Pacific" with those awful colored gels. Would he sabotage "Camelot" the same way? And what about the casting? Richard Harris as King Arthur? The disc goes in and we're off and running. Much to my surprise, Harris is wonderful as King Arthur. He's not the greatest singer (even if he did have a hit with "MacArthur Park" in the sixties), but then again, neither was Richard Burton.
The role, in a way, is bulletproof as long as you get someone who can talk through the songs, like Rex Harrison did in "My Fair Lady." Harris redeems himself nicely as the once and future king. Redgrave takes some time to get used to, but finds the heart and soul of Guenevere. Then there's Franco Nero. Ouch! What were the creative team behind the film thinking? Nero is simply awful as Lancelot, the brave knight who rules the infamous round table. With porn star looks and the talent of someone rescued from the Hollywood school of over-acting, Nero is out of his league here. If this film were the Hindenburg, Nero would have been the lightning bolt that brought it crashing down.
That aside, "Camelot" looks terrific. John Truscott's production and costume design is superb, capturing a time and place that no longer exists. Logan's direction is both playful and respectful. With the right cast, "Camelot" would have been a film for the ages.
COMPLETE CHECK-UP
VISION: [ x ] EXCELLENT [ ] GOOD [ ] RESUSCITATE [ ] D.O.A.
"Camelot" gets the royal treatment on DVD. The film's original 2.35:1 widescreen aspect ratio is maintained on the dual-layer disc. For the most part, the transfer is excellent. There were a couple of trouble spots towards the end (lots of smoke, snow), but overall the colors are strong and true. There was a lot of tricky lighting used in "Camelot," and it survives intact. Interestingly, some of the scenes I thought would produce artifacts (the candle-lit wedding scene; the opening moments in the winter wonderland outside of the castle) were sharp and vivid. There's no pan-and-scan version, which would seem unnecessary.
HEARING: [ x ] EXCELLENT [ ] GOOD [ ] RESUSCITATE [ ] D.O.A.
The soundtrack has been re-mastered in 5.1 Dolby Digital Surround, and it sounds superb. The music (supervised by Alfred Newman) is alive and boisterous. Nice digital mix fills the room, creating a full-bodied experience. There's also an alternate music-only track for those who love the score.
ORAL: [ x ] EXCELLENT [ ] GOOD [ ] RESUSCITATE [ ] D.O.A.
Sub-titles in English, French and Spanish.
COORDINATION: [ ] EXCELLENT [ x ] GOOD [ ] RESUSCITATE [ ] D.O.A.
This "Special Edition" DVD features two documentaries. "The Story of Camelot" goes behind the scenes and explores the technical difficulties that awaited the production crew as they tried to bring "Camelot" back to life. Everything had to be constructed from scratch, and the emphasis is on production designer Truscott and director Logan. You'll marvel at how Truscott turned Warner Brothers' largest sound stage into a royal chamber, while Logan tackles an International cast and his desire to have the songs rendered live on film. Then there's "Camelot World Premiere," a television special that is a hoot and a half. Dig those crazy cars and get-ups, man. Watch as two totally inept hosts try to look intelligent as they interview the stars as they arrive for the premiere. It's this short documentary that is the most telling. Not once during the entire premiere does anyone refer to Nero as talented. Logan refers to him as "an exciting young newcomer." hardly words of praise. It's also fun to see Richard Harris dance around the interviewers, who seem clueless. Aside from the alternate music-only track, there's the usual tagalong's like interactive menus, productions notes, and five theatrical trailers. The documentaries are grainy and show their age, but are precious in their own way.
PROGNOSIS: [ ] EXCELLENT [ x ] GOOD [ ] RESUSCITATE [ ] D.O.A.
Harris and Redgrave breathe life into this gorgeously transferred DVD. Nero is the Dr. Kervorkian who constantly threatens to pull the plug. My recommendation: Buy "Camelot" only if you really love the film.
VITALS: $24.95/Rated G/180 Min./Color/36 Chapter Stops/Snapcase/#12238
ATTENDING RESIDENT: John Larsen
PATIENT: CAMELOT
BIRTH DATE: 1967
HMO: Warner Home Video